Podcast: Catching Fire, Top 3 Movie Distopia's, Hunger Games Partners – Episode 40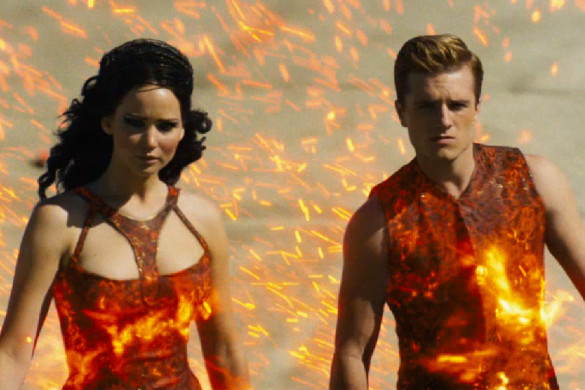 This week on the InSession Film Podcast, the awesome guys from GeekScholars Movie News drop by as we review The Hunger Games: Catching Fire starring Jennifer Lawrence, Woody Harrelson, Josh Hutcherson and so many others. Going off of that we discuss our Top 3 Movie Dystopias and we have a really fun, laid-back discussion as to which other movie characters we would want to bring into the Hunger Games arena with us. And as usual, we finish off the show the some of the latest movie news and films we got to see over the last week.
Fox and Chris from GeekScholars are absolutely amazing people and it was an honor to have them on the show. They are incredibly smart and know film really well so it's always great to have them on the show. It's an absolute pleasure to call them friends and you want to follow them. Anyway, check out the show and let us know what you think in the comment section below. Hope you enjoy and thanks for listening!
– The Hunger Games: Catching Fire Movie Review (4:28)
Grades
JD: A
Scott: A+
Fox: A
Chris: A
– Top 3 Movie Dystopias (28:47)
Movie dystopias have been modeled many times over the years giving us some really interesting choices to choose from. Hopefully we never find ourselves in one of them but some movies have really shown them well with some interesting things happening within those environments. Either way, we came up with some great lists. What would be your Top 3?
NOTICE: 12 Years A Slave is easily one of the best films of the year filled with some of the best performances of the year. Listen to Episode 39 of our movie podcast to hear this review and much more!
– Other Movie Characters We'd Partner With In The Hunger Games Arena (55:18)
So this week, we had a really fun and laid-back discussion on what other movie characters we would like to bring into the Hunger Games arena if we were forced to fight in it. We didn't use superheroes, robots, aliens, etc but human characters that we'd want with us. We did this so this way JD couldn't use Optimus Prime as his partner.
– News (1:04:39)
– New trailer for Nymphomaniac
– Possible new biopic on J.R.R. Tolkien
– Gravity spin-off short, Aningaaq
– The Amazing Spider-Man spin-off movies
– Movies We've Seen This Week (1:20:00)
JD: The Hunger Games: Catching Fire, The Hunger Games, Delivery Man, Dallas Buyers Club,
Once Upon A Time In The West
Scott: The Hunger Games: Catching Fire, Tokyo Drifter, Dallas Buyers Club, Take Shelter, Europa Report,
Weekend
Fox: The Hunger Games: Catching Fire, More Than Honey, Dear Mr. Watterson
Chris: The Hunger Games: Catching Fire, More Than Honey, Dear Mr. Watterson, Day of the Doctor
– Music
Who We Are – Imagine Dragons
Dragon Rider – Two Steps From Hell
Men In Black – Will Smith
Best Day Of My Life – American Authors
The Return of the Eagle – Atli Örvarsson
Subscribe to our Podcasts RSS
Subscribe to our Podcasts on iTunes
Listen on Stitcher
InSession Film Podcast – Episode 40