Hey everyone, JD here, and I just wanted to thank everyone for your support. We work really hard to bring you the very best content possible. Whether it's the main InSession Film Podcast, our Extra Film podcasts, Women InSession, Movie Series, polls and everything in between, we hope that you enjoy our work and content we provide for you. We LOVE doing it for you. That being said, we'd love to ask for your help. Your donations can come in many forms, and not just financially, and anything you give is extremely appreciated. We are very thankful for any way that you can help!
So how can you help?

Paypal Financial Donation – Any Amount & Subscriptions
InSession Film is listener-supported and every donation is welcomed and extremely appreciated. As mentioned, the resources given go directly into the show, the website and everything we do here at InSession Film. Your generosity means the world to us and we thank you very much from the bottom of our hearts. With our PayPal donate feature, you can donate as much or as little as you want with the one-time donation feature, there are no restrictions. You can also pick from one of the four subscription options as well. Thank you again for your support. Please CLICK ON THE BUTTON below to give via PayPal.
---

InSession Film Store
Want an InSession Film t-shirt? Or perhaps an InSession Film coffee mug? Well check out the InSession Film store and you can pretty much get anything you want with the InSession Film logo on it! Not only will you help support us in the process, but you'll also get some really cool gear in the process. To visit the InSession Film store, click here now!
---

Become a Patron
Your financial support means everything to us. Every penny you give goes directly into supporting the show to help keep production at the high level you've been hearing from the beginning. Whether it's production costs, new equipment or costs to host and maintain the podcast, all donations help support those necessary functions. Also, everyone who donates will receive some free gifts, depending on the level that you choose! If you would like to support us on Patreon, you can click on the banner above or CLICK HERE.
---

Support Our Great Sponsors
We are very thankful for our sponsors and the support they show us. We would love to show that gratitude back to them by encouraging you to check them out. Whether it be Koffee Kult, Audible, Amazon Music, Libsyn, and all the others, we are proud to partner with these great companies. We are confident that you'll love their products/services and it really helps us out when you support them in the same ways they lift us up.
---

Subscribe and Listen To The Podcast
One of the biggest donations you could give us is by subscribing to our InSession Film Podcast. There are a several different ways you can subscribe to our podcasts, which include Apple Podcasts, Spotify, Stitcher Radio and Soundcloud. We work hard to give you the best movie podcast you'll listen to and your subscription would mean the world to us. We have an amazing time and we're very proud of the analysis we offer on every show. Every week, we review new releases, discuss Top 3 lists, explore various movie series, and so much more. It's a lot of fun and we would be extremely honored to have you subscribe to the podcast. Also, your feedback is crucial to our growth and it means a lot to us here at InSession Film. So while you're on Apple Podcasts, Spotify or Stitcher, please leave us a review!
---

Follow Us On Social Media
Another great way for you donate and support us is by following us on social media. You can find us on Facebook, Twitter, Instagram, Tik Tok, YouTube and Letterboxd. This is a great way to help spread the word about our latest shenanigans, and who knows, maybe your friends will enjoy it. Social media is a great way to engage with us away from the podcast. You'll of course catch all of our reviews, essays and featured posts there as well. From time to time, we even hold contests where you may have a chance to win free movie and other great prizes. Leave us a comment, share or like anything we post. We would greatly appreciate it. Your support means everything to us.
---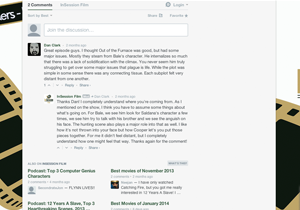 Leave a Comment on our Website
Every comment you leave on the website will be answered and is very much appreciated. We hope that you enjoy our reviews, essays, polls, and all the great content we post each week. If you agree or disagree with our thoughts, or maybe you just have an opinion you want to share, please leave us a comment. We'd love to know your thoughts as your feedback and interaction is gold to us. I know I'm beating a dead horse, but again, another great donation that we'd love.
Thanks again to all of our wonderful listeners and fans who visit us and support us! You are all very wonderful and appreciated way more than you'll ever know!