Top Ten: Gregory Peck Essentials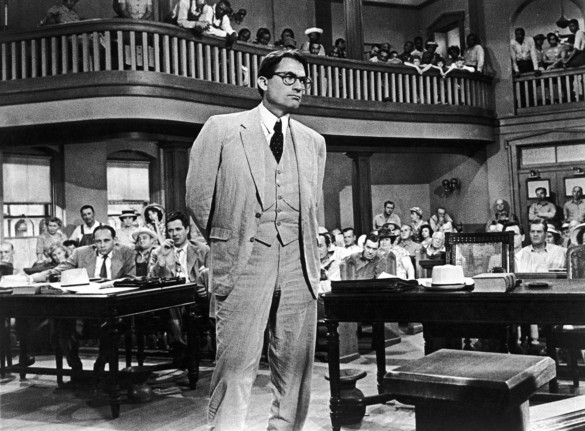 A tall, dark, and handsome comfort from the classic silver screen, Gregory Peck's multidimensional performances remain necessary, noble, entertaining, and relevant. Here are ten essentials to kindle your Gregory Peck obsession – paragons, outstanding performances, and quiet pieces.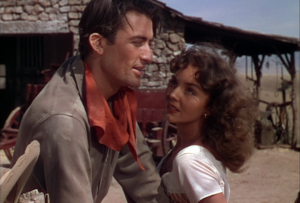 10. Duel in the Sun
Well, well, this time Good Old Gregory is playing the villainous lothario in David O'Selznik's notorious 1946 hot mess. While the film is a little full of itself with narrations, a prelude, overture, and exit music, the epic is marred by all over the place comments on love, rape, and racism. Supposedly sexy Jennifer Jones (The Song of Bernadette) comes off as insipid and good brother Joseph Cotton (Citizen Kane) is limp compared to Peck's naughty boy Lewt. The juicy ne'er do well lifts the film whenever he's onscreen, both despicable and charismatic, no matter how shameless. Duel in the Sun is really only worth seeing for Gregory's swarthy.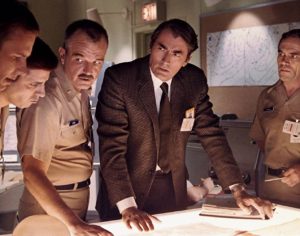 9. Marooned
Real footage from Apollo heights and mission control anchor this 1969 NASA nail biter looking great without the need for abundant CGI and special effects as disaster-ready Peck battles tense action at home, claustrophobic capsule hysteria, retro rockets malfunctions, and hurricanes over the Cape. Though slow to start and at times tedious with minuscule, technical details and procedures, a desperate ticking clock, daring rescues in experimental craft, and precious, precious oxygen running out add to the peril. All the intensity of a modern disaster flick is here along with impressive realism. No camera tricks, edgy film making, or punched up orchestration is needed when we have Gregory Peck to save the day!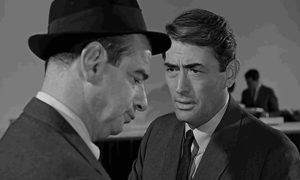 8. Mirage
Atmospheric blackout photography, plenty of shadows, flashlights, and silhouettes open this 1965 black and white suspense thriller, and the visual tricks add to the dream-like recollections and feelings of déjà vu. With Gregory Peck as our classy, relatable star, however, there's a particular sensitivity amid the great chases, zooms, and carefully orchestrated frantic. The strong script, psychology debates, and ethical analysis create a pleasing confusion as clues and character pieces unravel. Modern intelligence and contemporary energy match the noir intensity and old espionage adventure. Blacklisted director Edward Dmytryk (The Young Lions) doesn't dump the answers in your lamp as the suspicions mount, and the characters themselves build excellent clues and twists. Whom do we trust? Gregory Peck, right?
7. The Bravados
Often Peck director Henry King (The Snows of Kilimanjaro, David, and Bathsheba) helms this colorful 1958 western with heavy, dark plots. Questionable reasoning and vengeful motivations are understandable thanks to Peck's embittered determination. His Jim Douglass is worn and dangerous – the kind of man you don't want to cross if you've done him wrong. His unyielding physical presence sticks out in church. Jim's a good guy but blinded by what he'll do for what he perceives as justice, and this tug of war is terrific. While with stereotypical Spanish and American Indian elements, cultural miscasting, and a slightly rushed pursuit lose some luster; the doubts, gritty surprises, and complex characters provide Peck delights.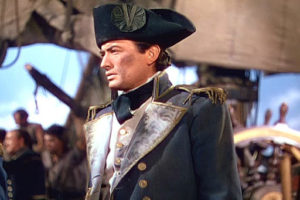 6. Captain Horatio Hornblower 

A seafaring hero such as dear Gregory would never have a French affair, so portions of the C.S. Forester novels are absent from this 1951 adaptation. Nevertheless, director Raoul Walsh (They Died with Their Boots On) wonderfully combines spirit and adventure with vivid globe hoping naval action, great ship designs, and high seas flair. Despite the on-page depth and inner angst, Peck portrays the introverted and often melancholy Hornblower smashingly with layers of charm, subtly, and humanity while being no less masculine. Point blank, I loved this movie so much the first time I saw it that I became obsessed with the literary Hornblower, and they remain some of my most favorite books!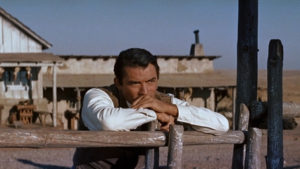 5. The Big Country
Our Man Peck goes toe to toe with the perfectly rugged Charlton Heston (The Ten Commandments) over the delightfully sassy Jean Simmons (Guys and Dolls) and feisty Carroll Baker (Baby Doll) in this larger than life 1958 western directed by William Wyler (Ben-Hur). He fights off bad boy Chuck Connors (The Rifleman), Oscar Winner Burl Ives (singer of that perennial classic 'A Holly Jolly Christmas'), and the big Texas wilds. Peck's old-time non-landlubber casting is delicious against the rough, gruff, angry, and jealous. Sprawling Texas isn't going to tame this compass using bowler wearing gentleman, oh no! There are principles to be learned amid the adventurous, rousing charm as rival cattle barons, water rights, and mistaken romance lead to carriage racing, horse pursuits, and epic shootouts.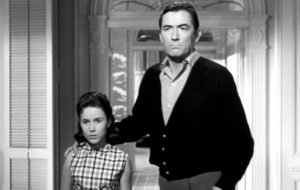 4. Cape Fear
Peck's lawyer Sam Bowden fears for his family's safety thanks to an ex-con with a grudge Robert Mitchum (Night of the Hunter) in this 1962 domestic thriller, and so do we thanks to threatening encounters, violence, and scandals. Our ideal family man Bowden decides to take matters into his own hands, getting ruthless in protecting his wife and daughter. It's serious when he toes the line of the law with tense confrontations and exciting physicality. We're rooting for Gregory Peck because he is doing what any one of us would do. We don't question him or his performance, for he's the good guy in a world that's seemingly turned against him.
3. Spellbound
Oscar-winner Ingrid Bergman (Gaslight) and a very young and dashing Gregory Peck mix mystery, romance, asylums, and psychoanalysis in this 1945 Alfred Hitchcock (Psycho) thriller oozing suspense. Is our amnesiac Peck the killer? Surely no! Can gentle Bergman heal his mind before she's the next victim? Exceptional performances by the leads question dreams and memory amid tight black and white direction and visual panache. Even when you've seen this a dozen times or more – as I have because it is my favorite Gregory Peck film – the mental layers and parallel clues keep on giving.

2. Gentleman's Agreement
Academy Awards followed this 1947 tour de force on antisemitism from Best Director Elia Kazan (On the Waterfront). Best Actor nominee Peck is joined by fellow nominees Dorothy McGuire (Swiss Family Robinson) and Anne Revere (National Velvet) and more for the hard-hitting, gracefully told story with an honest script and heavy post-war subject matter. Granted, some today may think this tame, simplistic, on the nose, and an overly innocent exposé, but dang if it wasn't ahead of its time then and still relevant for prejudices in the 21st century. Mature, classy people of old were supposed to be so sophisticated – but that veneer gets pressed from all sides by our delightful, honest, and heartfelt Mr. Peck. If we could all be taught about the differences on religion with his soft-spoken earnest, more people might be apt to listen! These 2 hours start off going undercover for a story, and it's disturbingly excellent to see how people change for the better – or worst – throughout the film. Camera work accentuates the statements and frank thoughts, and simply put, there's no reason not to see this movie.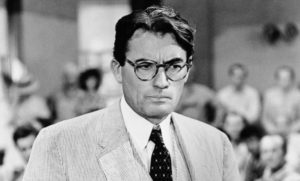 1. To Kill a Mockingbird
Atticus! Atticus! This utterly exceptional 1962 adaptation of Harper Lee's modern literary classic from Oscar-nominated director Robert Mulligan (Fear Strikes Out) is the one film that is as perfect as its source. The American Film Institute knows its stuff, and they named Peck's Academy Award-winning portrayal of Atticus Finch as America's Greatest Movie Hero of the 20th Century. Not Luke Skywalker nor Indiana Jones or Batman, but a white lawyer who defends a wrongfully accused African American man named Tom Robinson (Brock Peters) in a small Southern town back in the 1930s. Atticus is the best example of someone who is always trying to do the right thing. Read it, watch it, study this, shed a tear, and learn to walk in another man's shoes.