Movie Review: Labor Day Is A Horrible Mess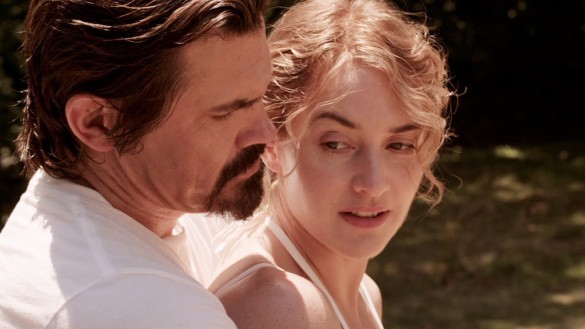 Director: Jason Reitman
Writers: Jason Reitman (screenplay), Joyce Maynard (based on the novel by)
Stars: Kate Winslet, Josh Brolin, Gattlin Griffith, Tobey Maguire
Synopsis: Depressed single mom Adele and her son Henry offer a wounded, fearsome man a ride. As police search town for the escaped convict, the mother and son gradually learn his true story as their options become increasingly limited.
DIRECTION
This is a pretty sad day for me, as I love Jason Reitman in general and Juno was one of my favorite movies of 2007. However, what Reitman does with Labor Day is just dreadful on all accounts. Although his screenplay was much of the culprit, his direction wasn't great either. There are many elements that are introduced that aren't explored very well and the pacing was very poor. The set up to the story in the first act was amateur and contrived on almost every level. Reitman uses flashbacks or dream-like sequences in several instances but none of it is used to further the story well. This elements not only lack depth but almost add a layer of ambiguity that works against the film. Reitman tries to add elements of suspense but not one time do yu feel that nor do you believe in the situation. You never feel the mystery of the characters or the story and instead it just feels like a big yawn. The 80's aesthetic works on some occasion, which was a nice touch, but there's not much else working for it. The use of Tobey Maguire to narrate the story seems odd at first but is used well and is one of the other few good parts of the film.
Grade: D+
SCRIPT
Seriously, I don't even know where to begin. The dialogue for this film is atrocious, forced and in some cases unbelievable. And I don't mean that sarcastically. Reitman forces situations and themes into this story that on their own merits are great, but make absolutely no sense in this film. If he would of explored one of those elements well, the movie could of worked but instead there are several themes not explored well and it works against itself, especially in this context. The romantic dynamics are rushed and never feel natural. There are characters introduced with no real purpose and humor that was badly needed, but when it arrives it feels very distant still.
Grade: D-
MOVIE REVIEW: That Awkward Moment
PERFORMANCES
It's pretty hard for me to imagine how Kate Winslet was nominated for a Golden Globe for this performance. Don't get me wrong, she's pretty good but I wouldn't classify this as a nomination worthy role. This isn't a make-up performance for Josh Brolin either, which he needed after last year's Oldboy. That being said, it's not really their fault. Reitman wasn't sure what to do with this film or where to take this story and it's reflected in the ambitious performances from Winslet and Brolin. Their chemistry wasn't quite there either, but again, that can be blamed on awful, awful writing. Shout out to Gattlin Griffith though, who play Winslet's son and he was easily the most believable. He plays a young boy who's timid, scared and unsure of what to do with his young teenage life. Clark Gregg has a small role as Winslet's ex-husband and is fine in the role.
Grade: B
SCORE
Rolfe Kent's score is subtle, quite and doesn't add much to this movie. Normally, scores for these kinds of films need to be in that ballpark, however, Reitman wanted to add suspense and urgency in some parts of the film and the score doesn't reflect that well. This score would of worked more if some other themes were more prominent but as an overall package, it doesn't fit the bill.
Grade: C
FINAL THOUGHTS
Labor Day is a tragic mess on all kinds of level. It's not that you'd expect this movie to win awards or anything, but you can expect a lot more from Reitman, who really misses the mark big time here. While the aesthetic was fun to see a little, there's not much to like about this film. It tries to be playful and subtle but really just falls flat and shallow.
Overall Grade: D+