Movie Review: Certain Women is contemplative and compelling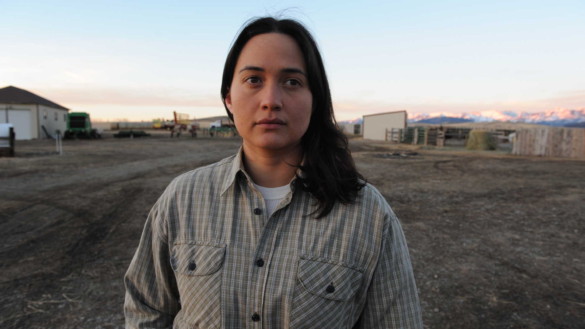 Director: Kelly Reichardt
Writers: Kelly Reichardt
Stars: Laura Dern, Michelle Williams, Lily Gladstone, Kristen Stewart
Synopsis: The lives of three women intersect in small-town America, where each is imperfectly blazing a trail.
Kelly Reichardt is a filmmaker who has set herself apart over the course of the last decade with films such as Meek's Cutoff, Night Moves and Wendy & Lucy. Her style isn't for everyone, but if you're willing to submit to her methodical and patient approach, she will reward you. Her new film, Certain Women, is no different.
The film features three short stories on the lives of three women who live in rural Montana. Laura (Laura Dern) is having to deal with a client who doesn't seem to have a clue. Gina (Michelle Williams) is having marital problems and struggles to connect with her daughter as a result. Jamie (Lily Gladstone), a farm rancher, is quiet, lonely and seemingly eager to connect with a stranger named Elizabeth (Kristen Stewart).
The three narratives will feel disconnected on the surface, with some connective tissue here and there, however there is one glaring commonality. All three stories are about women who feel desperate and isolated. Gina, although married and with a family, first appears on a hike by herself. Even in contact with her loved ones, there is something between them that has fostered some animosity. As for Jamie and Beth, despite sharing some genuine moments together, they eventually find themselves in familiar places by the film's end. There are several occasions where characters, not only struggle to connect with another person, but they cannot find the words to process their current circumstances.
"Why didn't you write me back?" one character says to Laura near the end of the film. She replies, "I didn't know what to say." There is an intentional emphasis on how little dialogue we hear from our characters. They simply linger in awkward silences, and it's in those moments where Reichardt's characters exist the most. Reichardt isn't interested in conventional storytelling or presenting high narrative states, she's more interested in the encounters her characters experience, which they wrestle with in realistic and profound ways. These situations may seem mundane, but to these characters, it's everything. Reichardt's stakes are the moments of reflection that will reap severe impacts later, especially when you consider their isolation and desperation for connectivity.
Michelle Williams, Kristen Stewart and Laura Dern are all fantastic here, but it's newcomer Lily Gladstone that is a true revelation in Certain Women. She offers an effortless, yet captivating performance that brings warmth among this film's cold setting. Her sense of longing for companionship is beautiful and heartbreaking, but it's her subtlety that makes it such a magical performance. She isn't trying to make you cry, you just sympathize with her the less she does.
Certain Women also thrives on Reichardt's direction. The art direction and cinematography isn't very glamorous, and it's not meant to be. The depiction of this film's imagery beautifully couples with the movies themes and tones. The use of natural sound also amplifies its authenticity. There is very little score and the little we do have is quite good.
Overall, Certain Women is a Kelly Reichardt film through and through. Again, her style isn't for everyone, but if you fall into her rhythm, there's some proactive and cinematic gold here that is sure to satisfy.
Overall Grade: A
Hear our podcast review on Episode 193: