Podcast: The Eyes of Tammy Faye / Top 3 Jessica Chastain – Episode 449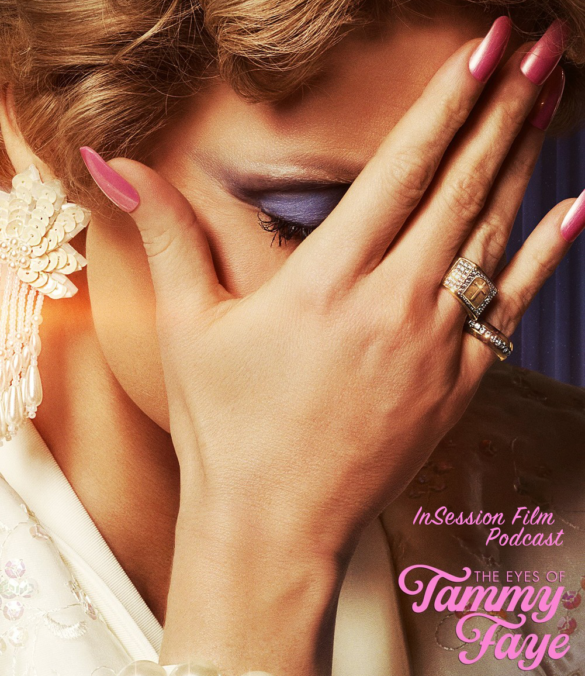 For our latest campaign, we are trying to reach 200 reviews on iTunes. We are getting closer and closer to our goal, but we need your help. Leave us a review today and you may even receive a free InSession Film t-shirt!
This week on the InSession Film Podcast, Ryan Terry from RLTerryReelView.com joins us to review The Eyes of Tammy Faye and we discuss our Top 3 Jessica Chastain Scenes in film!
On last week's show we talked about the great Oscar Isaac and some of the best scenes of his career thus far. Given that Jessica Chastain and Isaac have a history together, including their new show out right now Scenes From a Marriage, the timing of this could not be more perfect. It just made sense to not only talk about Tammy Faye, but also do our favorite Chastain scenes. And boy did we have a lot of fun with it.
On that note, check out this week's show and let us know what you think in the comment section. Thanks for listening and for supporting the InSession Film Podcast!
– Movie Review: The Eyes of Tammy Faye (4:58)
Director: Michael Showalter
Writers: Abe Sylvia
Stars: Jessica Chastain, Andrew Garfield, Vincent D'Onofrio
– Notes / Discussion (1:17:14)
For our break segment, we had no other films to review or bring up, but we did have many new iTunes reviews to get to as part of our latest campaign. If you're interested, we are still giving away t-shirts for new iTunes reviews. If you left a review already, or leave one soon, please DM us on social media (or email us) to get a FREE InSession Film t-shirt.
RELATED: Listen to Episode 423 of the InSession Film Podcast where we discussed The Tree of Life!
– Top 3 Jessica Chastain Scenes (1:35:47)
Similarly to Oscar Isaac last week, it's a little early in Chastain's career for this, but it's also Part 1 of a hopefully unlimited part series talking about her best scenes. Also like Isaac, Chastain's rise in Hollywood correlates with our own growth as a podcast, so once again there's a nostalgic factor to her work that's almost hard to seperate. However, she's also one of the best actresses working in film today, so it doesn't take much work to split our feelings from the merits of her craft. There are so many great moments of Chastain's to choose from that made this a very enjoyable exercise. That said, what would be your top 3?
Show Sponsor: First Time Watchers Podcast
– Music
Don't Give Up – Tammy Faye
Abel's Theme – Alex Ebert
Seals Take Off – Alexandre Desplat
The Return of the Eagle – Atli Örvarsson
Subscribe to our Podcasts RSS
Subscribe to our Podcasts on iTunes
Listen on Spotify
Listen on Stitcher
InSession Film Podcast – Episode 449
Next week on the show:
Review: Venom: Let There Be Carnage
Top 3: TBD
Help Support The InSession Film Podcast
If you want to help support us, there are several ways you can help us and we'd absolutely appreciate it. Every penny goes directly back into supporting the show and we are truly honored and grateful. Thanks for your support and for listening to the InSession Film Podcast!
VISIT OUR DONATE PAGE HERE