Podcast: Ender's Game, Top 3 Sci-Fi Movie Scores (Since 2000), November Preview – Episode 37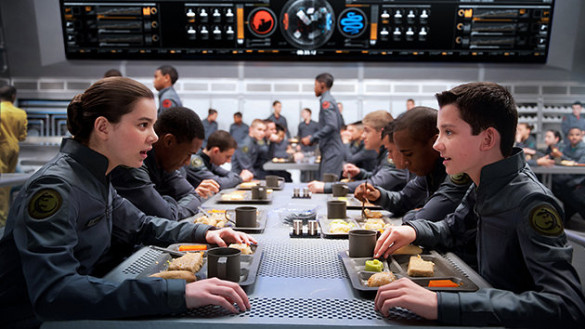 This week on the InSession Film Podcast, the amazing SEO and movie expert Greg Gifford joins us as we review Ender's Game starring Asa Butterfield and Harrison Ford. We then go into one of our better Top 3's we've ever had with our Top 3 Sci-Fi Movie Scores (Since 2000) as well as do our November Preview and what you can expect at the box office this month. And, of course, we finish of the show with some great topics in our movie news segment and with some movies we've seen over the last week.
This week was still a ton of fun and the Top 3 was JD's favorite one so far. Greg is very knowledgable about Ender's Game and was perfect for this week's show. He was very good and it was an honor to have him on this week. Check it out and let us know what you think in the comment section below. Hope you enjoy it and thanks for listening!
– Ender's Game Movie Review (4:02)
Grades
JD: B+
Scott: A
Greg: A
– Top 3 Sci-Fi Movie Scores (Since 2000) (34:54)
This was a lot of fun and as mentioned earlier, it was JD's favorite Top 3 so far as he is a huge Steve Jablonsky fan and movie music fan in general. The lists were a little challenging with so many good one's to choose from but we came up with some great lists while having a lot of fun discussing it.
NOTICE: The Counsleor was perhaps the most unlikable film of the year for some, but either way we had fun discussing it with Time from the First Time Watchers podcast. Listen to Episode 36 of our movie podcast to hear this review and much more!
– November Preview (56:47)
Enders Game, Free Birds, Last Vegas
Thor: the Dark World, About Time, The Book Thief
Nebraska (supposed to be The Wolf of Wall Street)
The Hunger Games: Catching Fire, Delivery Man
Frozen, Oldboy, Homefront
– News (1:09:13)
– Aaron Taylor-Johnson closes deal for Quicksilver in Avengers: Age of Ultron
– X-Men Days of Future Past trailer
– Sigourney Weaver joins Neil Blomkamp's sci-fi comedy movie Chappie
– Joe Cornish set to possibly replace J.J. Abrams as the director for Star Trek 3
– Movies We've Seen This Week (1:20:14)
JD: Ender's Game, Turbo, Wreck-It Ralph, Captain America: The First Avenger, Marvels' The Avengers
Scott: Ender's Game, The Devil's Backbone, From Dust Till Dawn, In A World, Short Term 12, The To-Do List, Muscle Shoals
Greg: Ender's Game, Free Birds
– Music
Dragons Win – Steve Jablonsky
Arrival To Earth – Steve Jablonsky
Sons of Odin – Patrick Doyle
Holler If You Hear Me/Eye Of The Tiger – Tupac/Survivor
The Return of the Eagle – Atli Örvarsson
Subscribe to our Podcasts RSS
Subscribe to our Podcasts on iTunes
Listen on Stitcher
InSession Film Podcast – Episode 37