Podcast: American Hustle, Top 3 Surprises of 2013, Anchorman 2 – Episode 44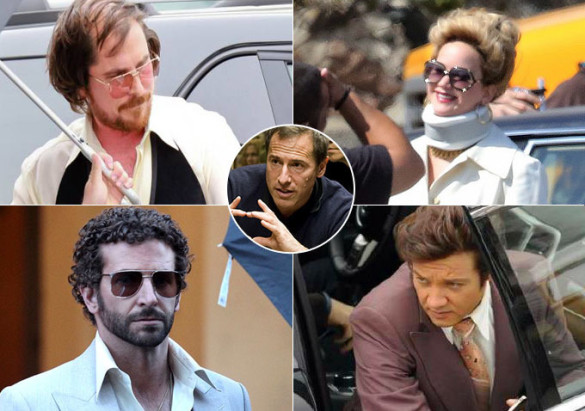 This week on the InSession Film Podcast, the really funny and intellegent Max and Michael, from The Q Filmcast, drop by as we review American Hustle, starring Christian Bale, Amy Adams, Jennifer Lawrence, Bradley Cooper, and Jeremy Renner. We also see what Ron Burgandy has been up to lately as we discuss Anchorman 2: The Legend Continues as well as discuss our Top 3 movie surprises of 2013. Due to time constraints, we cut out our usual discussions of the latest movie news and, instead, just discussed films we've seen over the last week in our final segment.
Fair Warning: We went a little long on this week's show, so you'll have to forgive us and feel free to skip around if need be. However, we had a really great time and, both, Max and Michael were absolutely great. It's obvious they know each other really well and had some really fun banter on the show. And as I just mentioned, we cut out our movie news segment, but we pasted it in the post-credits of the show so you can still hear them if you'd like. Even without that though, we know we went a little long but we just had so much fun, we couldn't help ourselves.
Anyway, I promise you that you'll enjoy the show. We had a blast and these are two films that will end up making December a great month for movies. Check out the show and let us know what you think in the comment section below. Hope you enjoy and thanks for listening!
– American Hustle Movie Review (4:29)
Grades
JD: A
Scott: A
Michael: A+
Max: A
– Top 3 Movie Surprises of 2013 (40:55)
One things about movies that you have to love, is when you walk into a theater just expecting the worse, but you walk out having enjoyed something you didn't think you would. Every year, we see films that just surprise us and 2013 was no different. There were some absolutely great surprises that were worth talking about, so for our Top 3 this week, we break it all down. That being said, what would be your Top 3 movie surprises of 2013?
RELATED: Listen to Episode 42 of our movie podcast where we review The Hobbit: The Desolation of Smaug and much more!
– Anchorman 2: The Legend Continues Movie Review (114:35)
Grades
JD: B
Scott: A
Michael: A
Max: A
– News (post-credits)
We had to cut this section out of the main show this week to save on time, but you can find our movie news discussion in the post credits of the show.
– 22 Jump Street trailer
– How to Train Your Dragon 2 trailer
– Joaquin Phoenix to play Lex Luther in Man of Steel sequel
– Paul Rudd to play Ant-Man character in Marvel's Ant-Man
– Movies We've Seen This Week (1:37:55)
JD: American Hustle, Anchorman 2: The Legend Continues, Like Someone in Love, Equilibrium, Blackfish, Spider-Man 2, Interview with the Vampire, Mandela: Long Walk to Freedom
Scott: American Hustle, Anchorman 2: The Legend Continues, It's A Wonderful Life, Sunrise, The Public Enemy
Michael: American Hustle, Anchorman 2: The Legend Continues
Max: American Hustle, Anchorman 2: The Legend Continues, Die Hard
– Music
10538 Overture – Electric Light Orchestra
Doby – Ron Burgandy
Goin' In – Skrillex, Birdy Nam Nam
Ordinary Love – U2
The Return of the Eagle – Atli Örvarsson
Subscribe to our Podcasts RSS
Subscribe to our Podcasts on iTunes
Listen on Stitcher
InSession Film Podcast – Episode 44