Movie Review: Ron Burgandy is Back in Anchorman 2: The Legend Continues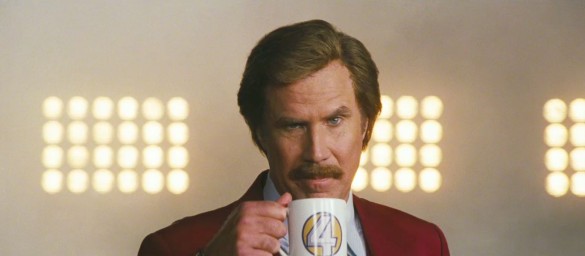 Director: Adam McKay
Writers: Will Ferrell, Adam McKay
Stars: Will Ferrell, Christina Applegate, Paul Rudd, Steve Carell, James Marsden
Synopsis: With the 70s behind him, San Diego's top rated newsman, Ron Burgundy, returns to take New York's first 24-hour news channel by storm.
DIRECTION
Adam McKay, and I'm sure Will Ferrell also had a lot of say in the direction too, takes us back to the 1970's where we are once again reunited with the (in)famous Ron Burgandy. The aesthetic in Anchorman 2: The Legend Continues is done really well and in itself is used as satire at times with things such as perms, outfits and other 70's stereotypes. It's what's in the details that makes this film funny, such as the small line that Sea World was sponsored by BP (British Petroleum). It's a small thing you can miss, but it's those moments that make it great. The uses of music are fantastic and in some cases add big moments to the film. And while some of the performances are ridiculous, it seemed that's where McKay wanted them. McKay's best achievement though was the last 20 minutes of the movie. I don't want to spoil it, but it's incredibly epic. Overall, for a sequel that's been hyped up for a very long time, it's almost as good as you'd want it to be.
Grade: A-
SCRIPT
The film picks up in the 1970's at the dawn of the cable news era and our beloved News crew has disbanded and working in other areas. After working a short while at Sea World, Ron Burgandy is offered a job as news anchor for the first ever 24-hours news network channel. He gathers up his crew in an RV and they head off to New York City. The Sea World and RV scenes are hit or miss. Most of it was gratuitous and the comedy was flat in those areas, but for the people that don't need much to laugh, there is certainly something there for you. As the team gets situated in their new roles, they are left to new rivals and new challenges as team. Steve Carell's has a crazy love subplot, but in some ways actually has some of the better moments. As for Burgandy, while many of his actions are funny, there's a good amount of them that are pretty racist and sexist all at the same time. Depending on your views and how much leniency you're willing to give it, will depend on how the jokes land for you. A few of the jokes border and cross the line in what can be funny. In the second act of the film, after some unfortunate events, Burgandy is isolated in a lighthouse and kind of loses his mind, which was a nice nod to Talladega Nights. The best part of the script is it's blatant satire on cable news and especially the 24-hour news network channels. The references to crazy car chases being the main news items, all the graphics you see on the TV screens, and chaos they deliver to the masses was absolutely brilliant. And while some of that isn't laugh out loud funny, it's what makes the film really good. And where the script is mostly hit or miss throughout, the last 20 minutes is incredibly epic. I don't want to divulge too much, but it's amazing. The overarching story also has some really nice redemptive themes that work well with the comedy.
Grade: B
MOVIE REVIEW: The Hobbit: The Desolation of Smaug
PERFORMANCES
Will Ferrell is Ron Burgandy. He's exactly what you'd want him to be here. While some of the script and lines fall flat, Ferrell delivers them as we would want from Burandy. Ferrell even has a song here, when he and his son adopt this baby shark, which was pretty good. Paul Rudd plays his character pretty straight forward but has some nice moments, especially with his condom drawer. Steve Carell and Kristen Wiig were incredibly over-the-top. But they were so crazy together that it mostly worked and has some shining moments. David Koechner was mostly annoying. James Marsden was very good too, although he didn't have much to do nor did he bring any real threat as the main rival in this film to Burgandy's character. There are a lot of cameos in this movie that I won't talk much about, but when you see them, you will love it.
Grade: B+
SCORE
The score in Anchorman 2: The Legend Continues was done by Andrew Feltenstein and John Nau. The score was alright and while it's never distracting, you also never notice it. The soundtrack music on the other hand is very different and adds a lot to the aesthetic of the film. As mentioned earlier, Ferrell has a track himself that's pretty great. The music here overall, while good, isn't going to blow you away with how they use it here.
Grade: B
FINAL THOUGHTS
This movie was saved for me in the third act of the film. The blatant jokes they were going for fell flat and didn't really grab me the way they were attempting to. The small detailed jokes worked mostly but you can easily miss them. Through the first two-thirds of the movie, while I was having a good time seeing these beloved characters, I wasn't overly impressed. The dramatic elements of the movie seemed to work better than the actual comedic bits, in all honesty. The overarching story was actually good and I liked where they took it. And, as I've said, the third act gets crazy. It's such an amazing work of comedic cinema that really saved this movie in a lot of ways. The cameos are great and it's absolutely what I was looking for. Overall, while it's not as good as the first Anchorman, it's still satisfying.
Overall Grade: B