Monthly Preview: Pacific Rim, The Lone Ranger and sequels rule July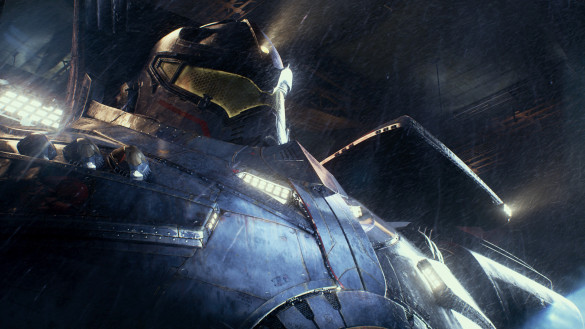 Guillermo Del Toro's Pacific Rim, Johnny Depp and Gore Verbinski's The Lone Ranger and sequels to Despicable Me, Grown Ups and Red appear to be the main attractions as the July film schedule is upon us.
While Pacific Rim, The Lone Ranger and sequels may take over the month, there are also some other films to be on the lookout for including R.I.P.D., The Conjuring, Only God Forgives and The Wolverine. So here it is: A list of some of the top films that are being released this month.
JULY 5
The Lone Ranger
Director: Gore Verbinski
Stars: Johnny Depp, Armie Hammer, William Fichtner
Synopsis: Native American warrior Tonto recounts the untold tales that transformed John Reid, a man of the law, into a legend of justice.
Our Take: We haven't exactly been sold on the latest from the Pirates of the Caribbean team. There has been nothing in the marketing to get us excited about it, but maybe that will change once we actually see the full film.
Despicable Me 2
Director: Pierre Coffin, Chris Renaud
Stars: Steve Carell, Kristen Wigg, Benjamin Bratt, Miranda Cosgrove
Synopsis: Gru is recruited by the Anti-Villain League to help deal with a powerful new super criminal.
Our Take: Who says animated films are just for kids? Not us. We loved the 2010 film (especially the little yellow Minions) and can't wait to see what Gru and Co. have been up to since then.
The Way, Way Back
Director: Nat Faxon, Jim Rash
Stars: Steve Carell, Sam Rockwell, AnnaSophia Robb, Toni Collette
Synopsis: Over the course of his summer break, a teenager comes into his own thanks in part to the friendship he strikes up with one of the park's managers.
Our Take: With a nice cast on board and a nice coming-of-age story, this could end up being the indie hit of the summer.
JULY 12
Pacific Rim
Director: Guillermo Del Toro
Stars: Steve Carell, Sam Rockwell, AnnaSophia Robb, Toni Collette
Synopsis: When an alien attack threatens the Earth's existence, giant robots piloted by humans are deployed to fight off the menace.
Our Take: Giant robots fighting giant monsters from the mind of Guillermo Del Toro? Yeah, we're on board. This is probably our most anticipated film of the rest of the summer.
Grown Ups 2
Director: Dennis Dugan
Stars: Adam Sandler, Chris Rock, Kevin James, David Spade
Synopsis: After moving his family back to his hometown to be with his friends and their kids, Lenny (Adam Sandler), finds out that between old bullies, new bullies, schizo bus drivers, drunk cops on skis, and 400 costumed party crashers sometimes crazy follows you.
Our Take: Surprisingly, we had some fun and a few laughs with 2010's film. And with the entire crew coming back for the sequel, all we're asking for is that same fun and laughs. Based on the trailer, it looks like that's exactly what we're going to get.
JULY 19
Red 2
Director: Dean Parisot
Stars: Bruce Willis, Anthony Hopkins, Helen Mirren, John Malkovich
Synopsis: Retired black-ops CIA agent Frank Moses reunites his unlikely team of elite operatives for a global quest to track down a missing portable nuclear device.
Our Take: The 2010 film was a lot of fun and it will be cool to see all those amazing (old) actors back on screen again, kicking all sorts of butt.
R.I.P.D
Director: Robert Schwentke
Stars: Jeff Bridges, Ryan Reynolds, Mary-Louise Parker, Kevin Bacon
Synopsis: A recently slain cop joins a team of undead police officers working for the Rest in Peace Department and tries to find the man who murdered him.
Our Take: If we had to choose one big-budget film that we dread seeing, this might be it. While it has a solid group of actors involved, it just looks like a poor man's Men in Black.
Turbo
Director: David Soren
Stars: Ryan Reynolds, Samuel L. Jackson, Maya Rudolph, Paul Giamatti
Synopsis: A freak accident might just help an everyday garden snail achieve his biggest dream: winning the Indy 500.
Our Take: DreamWorks Animation has a pretty solid track record with the likes of Shrek, How to Train Your Dragon, Madagascar and Kung Fu Panda. While their latest doesn't necessarily look to be as good as any of those, it still looks to be pretty fun and entertaining.
The Conjuring
Director: James Wan
Stars: Vera Farmiga, Patrick Wilson, Lili Taylor, Ron Livingston
Synopsis: Paranormal investigators Ed and Lorraine Warren work to help a family terrorized by a dark presence in their farmhouse. Forced to confront a powerful entity, the Warrens find themselves caught in the most terrifying case of their lives.
Our Take: After seeing all the trailers and TV spots, it's pretty safe to say that this haunted house film could actually be scary. We're big fans of James Wan's films (Saw and Insidious) and can't wait to see what he has in-store in his latest.
Only God Forgives
Director: Nicolas Winding Refn
Stars: Ryan Gosling, Kristin Scott Thomas
Synopsis: Julian, a drug-smuggler thriving in Bangkok's criminal underworld, sees his life get even more complicated when his mother compels him to find and kill whoever is responsible for his brother's recent death.
Our Take: After teaming up for 2011's Drive, Ryan Gosling and director Nicolas Winding Refn are back with another visually-spectacular, brutally violent film. If this is anywhere near as good as their last effort, we'll be very happy.
JULY 26
The Wolverine
Director: James Mangold
Stars: Hugh Jackman, Famke Janssen
Synopsis: Wolverine makes a voyage to modern-day Japan, where he encounters an enemy from his past that will impact on his future.
Our Take: To say 2009's X-Men Origins: Wolverine was a bad film is an understatement; it was a terrible film. But with director James Mangold (who unfortunately took over for the departed Darren Aronofsky) and Hugh Jackman giving the character a fresh start, this actually looks pretty good.
Blue Jasmine
Director: Woody Allen
Stars: Cate Blanchett, Peter Sarsgaard, Alec Baldwin, Sally Hawkins
Synopsis: A life crisis causes a woman to head to San Francisco, where she reconnects with her sister.
Our Take: Woody Allen's films can be either hit-or-miss, and based on the trailers, it's still up in the air where this one will end up. But it does appear Cate Blanchett will be giving one pretty solid performance.