Op-ed: Phantoms of the Operas!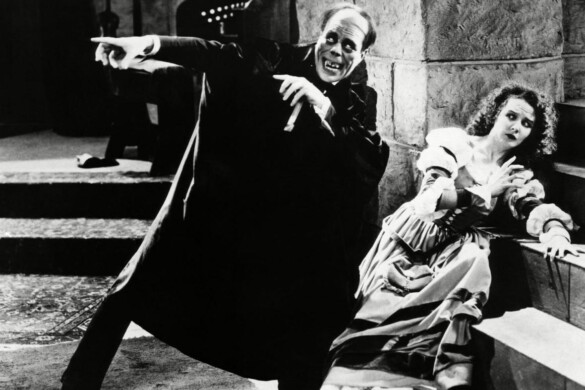 Interpretations of Gaston Leroux's 1910 novel are certainly plentiful, yet each adaptation adds its own musical morose to the opera underbelly. Though listed chronologically, ironically this countdown also ends up from best to…WTF.
The Phantom of the Opera (1925)
The Show must go on as Lon Chaney (The Hunchback of Notre Dame) abducts lovely understudy Mary Philbin (Merry Go Round) in this haunting, silent ode to music and mayhem. Of course, we never hear anything operatic and some naysayers may balk at the over the top silent film acting style. However, the ballets and behind the curtain scenes invoke a chillingly subdued Old World charm. The restored color plates of red, gold, and purple hues between the title cards add more muted ambiance while humorous notes accentuate the wit onscreen and booming crescendos set off the horror. Period costumes, gothic capes, and the freaky makeup designed by Chaney set the old school spooky mood for his sad, possessive portrayal. We fear The Phantom's deadly orchestrations and maniacal kidnapping scares yet weep for the affections he cannot have. Dressed as the skeletal, ironic The Masque of the Red Death itself; The Phantom mocks the opera parties above before his famous disfigured revelation – which is still shocking, frightening, horrifying, and tragic. Every attempt should be made to see this wonderfully deadly chain of love, revenge, and unmasking.
Phantom of the Opera (1943)
Dismissed, disfigured, and misunderstood Paris Opera composer Claude Rains (Notorious) terrorizes patrons until the beautiful Susanna Foster (Star Spangled Rhythm) is allowed to sing in this slightly shrill and dated; but nonetheless delightful Universal spectacle. Oscar winning Technicolor designs, costumes, candlelight, and flashy capes embody the sweeping melodrama. The action, tragedy, and suspense from director Arthur Lubin (The Incredible Mr. Limpet) and Oscar nominated screenwriter Samuel Hoffenstein (Laura) are well paced, balancing the dark implications with full stage numbers and layered love triangles. Though the suave rivals enamored with the would-be diva Christine are one dimensional and underdeveloped, obsessed Erique wishes to protect her charming innocence. She pities him, thus we too empathize with his multi-faceted, pathetic goals even to the murderous extremes. Suspenseful crescendos accent the witty subtext and understudy competition as the climatic action escalates toward an entertaining mask reveal and a whopper chandelier drop.
The Phantom of the Opera (1962)
This 1962 Hammer production directed by Terence Fisher (The Curse of Frankenstein) moves the Toccata and Fugue to the creepy bowels of London, and turn of the century décor, top hats, gas lamps, velvet, and lace provide flavor. Michael Gough (Batman Returns) as Lord Ambrose is a surprisingly slick and snotty opera director, too. However, the presentation isn't as dynamic or colorful as it should be with uninspired Phantom designs and an inferior, dubbed ensemble. Though meant to mirror The Phantom's viewpoint, herky jerky angles and zooms make for a choppy, unpolished feeling. The macabre, carnival atmosphere is stagnant with slow pacing and few stage numbers despite a short runtime. Quality scares and frightful moments are rare, and what should be the perfect match of studio and spectacle erroneously strays from the usual Hammer flair. One has to wonder what this could have been with the likes of symphonic bass Christopher Lee and the rest of Hammer's top tier stars. Hammer completists and the Phantom obsessed can find merit here even if this unique, dark interpretation is flawed and never quite gets off the ground.
The Phantom of the Opera (1989)
Robert Englund's Opera Ghost uses the flesh of his victims to mask his horrendous wounds after a pact with the devil in this macabre 1989 rendition. Contemporary New York opera auditions and bloody Don Juan Triumphant manuscripts begat Victorian London transitions, but the convoluted bookends and muddled point of view create time travel or reincarnation confusion. The murderous opera mishaps move fast with sinister brutality and head rolling gore. Peeping tom stagehands, prostitution, or would-be rapaciousness address the sexual subtext while fiendish make up designs and bloody slice and dice help viewers overlook the laden plot holes. Erik's interest in Christine is secondary to his Faustian upkeep, and although a lengthy skin peeling cashes in on A Nightmare on Elm Street, Englund isn't given enough to deliver a multi-dimensional, menacing villain. Ineffective opera owner Billy Nighy (Underworld) is also wasted amid other nondescript secondary players, and capable eighties scream queen Jill Schoelen (There Goes My Baby) is out of place in the back and forth period piece slow motion battles and unnecessary endings. Atmospheric blue lighting, red reflections, and askew one eye close ups accent the moody score and serviceable Victorian style. However, generic costumes and low budget mistakes deflate any grandiose – both proving a horror update of Leroux is possible yet lacking a cohesive identity as an adaptation. Fortunately, Englund fans can have a gruesome good time if you accept the late night lark.
Il Fantasma dell'Opera (1998)
Dario Argento (Tenebrae) directs Julian Sands in this loose 1998 Italian adaptation opening with our infant Phantom raised by rats in the gilded opera house's dark catacombs. He's telepathic, not disfigured and disemboweling workers below when not immediately caressing Asia Argento (XXX) as the provocative Christine. Preposterous patrons and pointless stagehands dressed like medieval peasants detract from any underworld build, and the gory rat storyline is jarring amid the back and forth romantic creepy. Sands does the erotic predator better in Boxing Helena, and ambiguous romance turned violent sex scenes are uncomfortable to watch because our director is our ingenue's father. Leaving the audience to ponder a love/hate consummation would have been better than The Phantom unbuckling his pants and fondling his rats while candy offering pedophiles chase little ballerinas. Humorous rocket riding rat catchers inappropriately contrast the abuse, and diva violence that starts as fine slow burn suspense is also erroneously made funny. The embarrassingly poor chandelier destruction is likewise played for laughs before Christine inexplicably performs on that same undamaged stage. The costumes are plain, the dubbed dialogue hokey, and while I'm all for full front nudity of all genders and sizes, the Turkish bath house scene is totally unnecessary. I would have liked a horror story with Julian Sands biting the tongues of busty babes who dare venture into his domain, but the mockbuster, nonsensical changes here aren't The Phantom of the Opera. This never decides if it is serious horror or camp parody, and the operatic lip-synching…LOL.