Movie Review: The Zookeeper's Wife is inspiring and emotionally stirring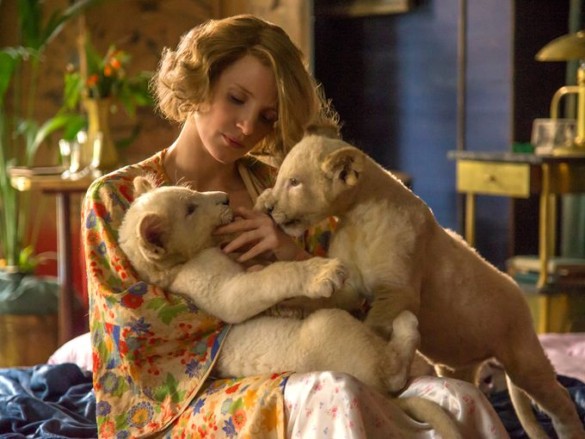 Director: Niki Caro
Writers: Angela Workman (screenplay), Diane Ackerman (book)
Stars: Jessica Chastain, Johan Heldenbergh, Daniel Brühl
Synopsis: The Zookeeper's Wife tells the account of keepers of the Warsaw Zoo, Antonina and Jan Zabinski, who helped save hundreds of people and animals during the German invasion.
If you need to tell a story of unlikely heroes standing up and fighting for something bigger then themselves, then Nikki Caro is the director you seek. How does her latest film, The Zookeeper's Wife, measure up with some of her great works like Whale Rider and McFarland USA?
The Zookeeper's Wife tells the remarkable true story of Antonina Zabinski and her husband, who turn their Warsaw zoo into a safe haven for Jews during the Nazi occupation of Poland. There have been several powerful and inspiring stories about the holocaust, not to take anything away from them, but The Zookeeper's Wife is one of the most inspiring stories ever told about the event, and sadly, just like Hidden Figures I was unaware of this story prior to seeing this film.
War also happens to women, children and animals, and having a female director, screenwriter and heroic lead gives us not only a holocaust story that we have not seen before but also a consciously feminine film that tells its story through emotion and visual imagery. The film primarily takes place in the Warshaw Zoo and everything from the carpets to the zoo itself tells the story.
The first 20-30 minutes of The Zookeeper's Wife is very hard to watch if you love animals like I do, but the images – unfortunately – are part of a realistic situation and the way Caro points her camera during those intense early scenes helps in evoking an emotional response from you. The storytelling may feel manipulative to some, but overall the heartbreaking and tragic nature of this narrative is what drives the emotion, making those devastating images feel earned.
It would not surprise me if this film gets nominated for several awards for its production design and sound mixing. The film is set in the 1930's and the costumes and the set pieces makes it feel like we are in that period. Once the bombing happens, the sound of the various animals was mixed nicely with the explosives.
Jessica Chastain delivers one of her best performances to date. She has some great moments, including an unforgettable scene where she has a simple conversation with a refuge who was a victim of rape. The scene is powerful because she was able to calm this girl after a dramatic experience and I could get a sense of the type of women Antonina was. The only issue I had was Chastain's accent, but eventually it will grow on you.
Tensions are high and the prospect of being caught is always there, however some of that suspense felt false or contrived on occasion. The additional hint of an affair was also not needed, and through me off slightly. Overall, The Zookeepers Wife tells a story worth watching, it is emotional, riveting, and breathtaking. This is a film that you should put on your radar.
Overall Grade: B
Hear our podcast review, coming soon. Stay tuned.