Movie Review (LFF): 'The Intruder' is a Tale Suffering From an Identity Crisis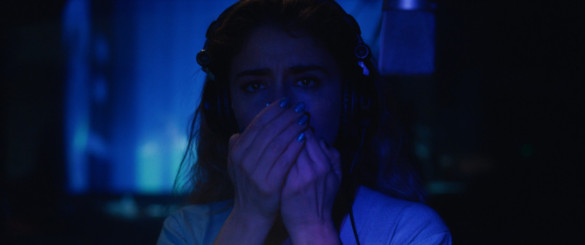 Director: Natalia Meta
Writer: Natalia Meta
Stars: Guillermo Arengo, Mirta Busnelli, Daniel Hendler
Synopsis: The story of Inés, a young woman who after a traumatic episode during a trip with her partner begins to confuse herself between the real and the imaginary.
It's perhaps fitting that a movie concerning a woman facing an identity crisis would have one of its own. With an overextended prologue that feels tonally inconsistent with the rest of the movie and a gossamer-thin plot that only really begins to pick up pace within the last fifteen minutes, it could be argued The Intruder doesn't entirely know what it wants to say. This is a shame because there is potential here – Erica Rivas being one of the standouts – but it never gets realized; The Intruder seems content to play it safe (at least until those last fifteen minutes), refusing to lean into its wilder aspects, and so ends up feeling neutered.
We first see Ines (Rivas) at work in a recording studio. She is a voice-over artist, dubbing an Asian horror movie that viewers might wish they were watching instead. Her face is distorted into a series of horrified expressions, as she screams in terror, the movie projected across her face. Seconds later she drops all pretense as the recording is over and the sound engineer (played by Agustin Rittano) interrupts to cut the scene. It's an interesting start, tinged with 70s paranoia: there are shades of De Palma and Coppola here.
Later, we see Ines and new boyfriend Leopoldo (Daniel Hendler) take a trip to Brazil. Leopoldo is, for want of a better phrase, a possessive jackass. He continually suffocates Ines with demands, pressuring her to take sleeping pills on the flight to combat her fear of flying. This leads to a jarring dream sequence where the air hostess offers to choke a sleeping Leopoldo to death for Ines. Unfortunately, he lives long enough for them to arrive at their hotel, where a frustrated Ines has had enough of Leopoldo's insecurity and locks herself in the bathroom. The tension is well handled here, director Natalia Meta (making only her second feature after Death in Buenos Aires) lets the scene unfold without too many cuts and slowly teases out the drama. It helps that Rivas is a commanding enough presence to keep the viewer's attention.
It is here that their relationship comes to an end, with a finality that seems Ines willed it into existence. Leopoldo's departure feels like the beginning of a mystery in which Ines is destined to untangle and there is an intrigue into how this happened in the first place.
You would be forgiven if you believed you had figured out where The Intruder was going at this point, but you would be wrong. For as a startled Ines heads back to Buenos Aires, the opening titles confirm that this twenty-plus minutes of vague ambling is only the prologue. Unfortunately, the rest of The Intruder doesn't even attempt to follow the tone it has established – albeit through a painstakingly slow and deliberate means.
Back in Buenos Aires, Ines' life begins to unravel. She is unable to sleep, suffering nightmares whenever she does and begins taking a cocktail of medications offered to her from random people with no medical background. Work is also a disaster: there appears to be an electromagnetic interference whenever Ines speaks, which disrupts the recording. An old lady (Mirta Busnelli) who happens to be at the recording studio for no given reason informs her she has an intruder: a man who is haunting her dreams and invading her body.
And really, this is it. The action stalls here as the plot all but dissembles and the viewer is treated to fifty-plus minutes of Ines attempting to discover why this is happening to her. Meta attempts a kind of shlocky horror vibe with an atmosphere of mystery that she can't quite sustain. With somewhat muted visuals (we never see much of Buenos Aires at all, the action taking place mostly in dark rooms) it's up to the sound design to really sell this. This makes sense for a movie this concerned about aural hallucinations, but it's only half a job done. While the music does notch up the tension, using an old pipe organ that evokes the Phantom of the Opera vibes, it does nothing with that tension. Instead, it's left to fizzle out whenever Ines moves on to the next thing, be it dealing with her exhausting mother (Pain & Glory's Cecilia Roth, easily one of the best things about this movie), a potential suitor (who's effeminate nature is amusingly ridiculed by Ines' mother), or her sideline as a soprano in a choir, the maestro of which she has a seemingly over-involved relationship with.
Recurring motifs such as the unseen creature crawling its way up Ines' body as she lies in bed, fall completely flat, given that they are never really explained amid the aural goings-on. The implication is that Ines is having a mental breakdown. This would be an interesting explanation for everything that's been happening if Meta had decided to lean into it, but instead, these little hints are left to wither and die on the vine.
Finally, after all of Ines' attempts to understand what's going on with her (including a head-scratching sequence where her sound engineer is revealed to dabble in electrotherapy and engages in a sexually charged experiment with her), the veil is all but lifted and a somewhat baffling denouement indicates we were dealing with a gender identity issue this whole time. It's puzzling because the abruptness of it highlights how little we know of Ines' character. Amid all of the hallucinations, the nightmares, the interactions, etc, we learn very little of her character and so this late-game "twist" feels unearned and frustrating, like an 'aha' moment that is robbed of an impact because there was no groundwork laid in the first place.
And that's really the problem with The Intruder. There is very little groundwork laid here. The tone shifts so often that you're hard-pressed to know where to invest your energy. Beginning with an ostensible tale of toxicity and potential gas-lighting, which is then summarily dropped in favor of a shlock-horror fantasia with a honey-drip slowness, ending with a statement about gender identity that feels tacked on and doesn't pack anywhere near the punch it thinks it does, The Intruder doesn't know what it wants to say, or what it wants to be. Despite some good acting, and effective sound design, this whole endeavor feels like a frustrating attempt to throw everything at the wall to see what sticks.
Grade: D