Movie Review: Split delivers a thrilling tale about brokenness …and a crazy twist!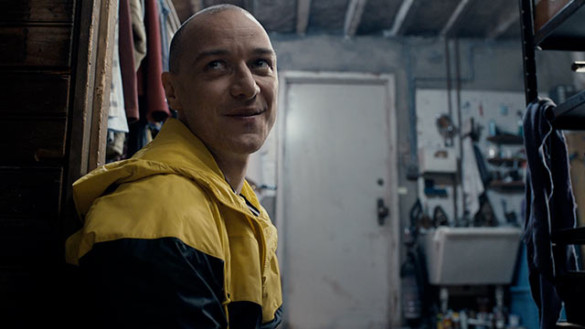 Director: M. Night Shyamalan
Writers: M. Night Shyamalan
Stars: James McAvoy, Anya Taylor-Joy, Haley Lu Richardson
Synopsis: Three girls are kidnapped by a man with a diagnosed 23 distinct personalities, and must try and escape before the apparent emergence of a frightful new 24th.
As someone who struggles with a mental illness, I know how much of a curse it is, but also how it can be a great subject matter for thrillers. Split, deals with mental illness in an interesting way as it centers on dissociative identity disorder (DID) as well as dealing with traumatic events. M. Night Shyamalan has made it a career of surprising audiences and prior to 2015's The Visit has had a rough few years. Split, is an extension of his earlier works and that will sure please anyone who was skeptical about seeing a film with his name attached to it.
The challenge with movies like Split, is keeping the audience engaged since the film primarily takes place in one setting. Unlike the Dallas Cowboys, Shyamalan is able to deliver and live up to the hype. Shyamalan is successful because he gets strong performances from his cast, led by an MVP like performance by James McAvoy. McAvoy plays a character with 23 different unique personalities. Of the unique personalities, we only primarily see five on-screen. McAvoy is so good that we can easily decipher which character has the light, as everything down to the facial mannerisms is different. Those still unfamiliar with Anya Taylor-Joy will see why her stock is rising. Taylor-Joy first mainstream film was The Witch, one of the best horror movies in a long time. Taylor-Joy is able to emotionally connect to her characters rather it is a damaged character or a strong one (Morgan). Taylor-Joy in Split holds her own against McAvoy and every scene with either one of them is able to keep the film going when it loses steam.
If you follow Shyamalan as of late, there is an ongoing theme of a broken family dynamic. I am keeping this review spoiler free, so I will not dive into who is dealing with this in Split. I will say this though; this is probably the most engaging I have seen Shyamalan handle that theme.
Split is not a movie for everybody, as it is very character driven, so if you like movies that explains everything for you, then you will absolutely hate this movie. As a viewer, there is a huge leap of faith Shyamalan is expecting us to take. Those of you know me know that I hate it when directors do that, but it all works out in the end here.
As good as Split is, there are a few things about it that I had trouble with. For example, at one point in the movie there is a scene where Betty Buckley's character was lecturing about DID on a Skype lecture. I understand why it was in the movie, but the placement of it was off. Additionally, the other captive females were badly written, although necessary to tell the story, as I do not think it would have worked with just one captive.
On the other end of that coin, part of what makes thrillers good is the score, and West Dylan Thordson did a fantastic job. The music in Split amplifies the tension in wonderful ways that I appreciated. Split is a must-see film this weekend and looks like Shyamalan is moving past the days of The Happening.
Overall Grade: A
Hear our podcast review on Extra Film, coming soon.