Movie Review: 'Persuasion' Shouldn't Have to Try So Hard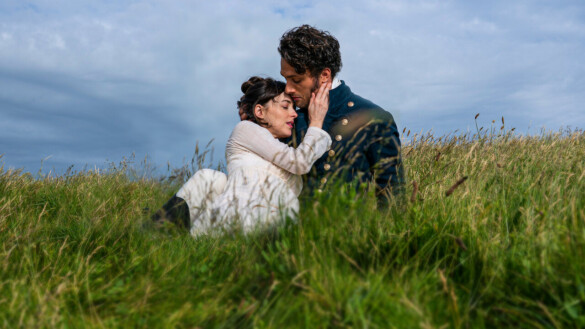 Director: Carrie Cracknell
Writers: Ron Bass, Alice Victoria Winslow
Stars: Dakota Johnson, Cosmo Jarvis, Henry Golding
Synopsis: Eight years after Anne Elliot was persuaded not to marry a dashing man of humble origins, they meet again. Will she seize her second chance at true love?
There's nothing so universal than that icky feeling of running into an ex. It's compounded exponentially when that ex still makes your heart beat faster and your face flush. Not to mention that you dumped them because they weren't all that and now they're on the come up, while you are less than thriving in spite of what your countenance shows the world. This pain and ache is universal so it boggles the mind at why writers Ron Bass and Alice Victoria Winslow thought we wouldn't get it, if it were traditionally presented.
This adaptation of Persuasion has all of the regency trappings of a traditional period romance. However, we as the audience are burdened with the references to many 21st century ideas, slang, and snark. A modern Austen adaptation can be done and done well, see last month's Fire Island, but it's strange to have everything all at once. It's jarring, to say the least, to see a letter arrive written in the clipped form of a text with accompanying emoji. It's even more tiresome when the writers don't believe we can suss out information ourselves. While Dakota Johnson is charming and really sells the breaking of the fourth wall, it's truly unnecessary to our understanding. It's as unnecessary as the very Marvel-esque title cards that block out the screen with large white text for each house and town visited.
Persuasion isn't entirely without merit, though. It has its moments of being genuinely funny. There's a perfectly terrific dinner scene just after Anne (Dakota Johnson) and Wentworth (Cosmo Jarvis) have been reunited. Anne is about to be seated next to Wentworth and instead tries to find a different place. It becomes a game of musical chairs as she tries to avoid Wentworth's gaze. As the dinner goes on, Anne's only contribution to the conversation is to entirely embarrass herself and her hosts as she blurts out that she was the first choice of her younger sister's now husband, then tries to dig herself out of the hole. Director Carrie Cracknell builds this scene perfectly with editor Pani Scott as each cut of the scene lands another perfect reaction or quip.
With this editing style, Cracknell makes some of Anne's looks to the camera bearable. Some are even perfectly timed. They're certainly not a thing that would be what most of us would want in an adaptation like this, but without the expository bits bogging them down, some of the looks are quite funny. When Anne is interacting with her younger sister Mary (Mia McKenna-Bruce) these looks actually add to the already funny, lopsided, and narcissistic viewpoint of Mary. In fact, a lot of the side characters are an utter delight, which makes up for the lackluster central couple.
The main romantic pair is a bit one sided. Cosmo Jarvis is excellent at the smoldering end of his character, but it's hard to believe that his smolder alone could ever rekindle into a fire. Especially as he has to play opposite Dakota Johnson whose smize and direct eye contact are utterly charming. If Henry Golding's Mr. Elliot wasn't made into such an obvious cad, our allegiance would have been turned upside down because of his effortless charm. It's all a bit conflicting.
If you want to make a modern adaptation, make that modern adaptation. Mixing modern thought into period drama doesn't always work, especially when the conceit is that the only way to survive is marrying for money and station and that partner potentially being a cousin. This version of Persuasion has a few terrific things about it, but the overall package is… less than persuasive.
Grade: C