Yellow Fever: The Enduring Series Of Gru And His Minions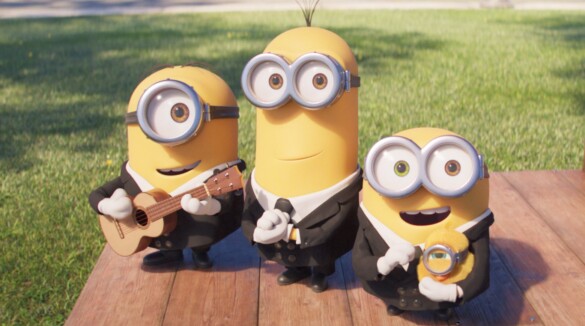 Minions: The Rise of Gru marks the fifth film in the Despicable Me franchise, becoming the leading staple for NBC Universal and Illumination Entertainment. Having become a 21st-century icon, the franchise has been highly profitable on budgets less than what Pixar/Disney gives for their animated films. They are memorable characters and the movies are not high in running length, not dragging out the exposition which is unnecessary for a kids' film. In contrast to other animated franchises, it's a series that is rooted in the 21st century rather than a carryover from decades before. 
A Group Of Minions To Make Minions
The source of this is Sergio Pablos, who would go on to be a character designer for Rio and Ferdinand before making his directorial debut with Klaus. Prior to all of this, the Barcelona-born Pablos worked for rival studio Disney on the latter half of Disney's Renaissance including The Hunchback of Notre Dame, Hercules, and Tarzan, plus Treasure Planet. After leaving Disney, Pablos went to Universal to pitch what was then called Evil Me and his early drawings of the characters. They bought the rights and he was credited with a "Story by" and executive producer credit.
The main key figure in this series is Pierre Coffin, the French animator who was hired to give the minions a voice as well as share directing duties with Chris Renaud for the first two films. Coffin's studio, the Paris-based Mac Guff, was brought in by Universal and renamed Illumination Mac Guff and was given the job of animation and special effects for the series. Writing partners Cinco Paul and Ken Daurio scripted the first three films, Chris Meledandri is the CEO of Illumination, as well as the series producer, Kyle Balda has co-directed both Minions features, and Brian Lynch recently joined as co-writer in the same two prequels. 
An Evolution In Right-Hand Helpers
What makes this such a consistently funny and popular series comes down to one element: an adorable, unforgettable character. Or in this case, characters, in the form of yellow, unicell figures called minions. A minion is someone who follows a single person's orders, in this case, Gru, or Felonius Gru. In the shape of pill-wearing overalls and goggles, the mischief Minions play a role in Gru's creative evil plans for some sort of world domination. The leading trio is Stuart, Kevin, and Bob, while a fourth, Otto, comes into play in Rise of Gru. Then, when it comes to giving the series a heart, the first installation's plot of Gru adopting three sisters (Margo, Edith, and Agnes) puts a bow on being a family-friendly affair.
The gobblygook they speak is actually a mix of multiple languages, according to Coffin. English, Spanish, French, and Italian are blended in together. Listening to the dialogue closely, it is easy to pick out words from all these languages based on how they pronounce them, but they say them rapidly to where it's not easily heard. To kids, they don't care. It's cute. Minions are living, breathing dolls who like to follow an evil leader and who, with their childlike demeanor, fit into the class of attractable figures which keep the kids coming back to them. They are virtually indestructible, as seen in Minions surviving the torture chambers. Plus, it's not just a few of them, but dozens. 
A Dastardly Plan Of Charming Rude Humor
The execution in all five films, including the newly released Minions: The Rise of Gru, is about the anarchy they bring. It is all about the silliness and one-liners ("It's so fluffy!!!") which don't require much thinking or intelligence to follow, even with random gags and references only the adults would know. The Rise of Gru is a 70s throwback with a barrel of the decade's noteworthy cultural moments from a character based on kung fu to a Linda Ronstadt song being a code phrase to a Sanford and Son gag line. A rewatch of the first Despicable Me film has a Lehman Brothers joke and this was two years after the company's collapse. Again, it successfully humors adults and children simultaneously with two sets of gags. 
When it comes to voice casting, getting those golden accents right stamps the character's personality. Steve Carell is perfect as the Russian-Esque Gru who is a villain since when he was a child. Carell has shown to be a master in funny voices such as his multi-faceted persona as Michael Scott in The Office and in various films from The 40-Year-Old Virgin to his Oscar-nominated performance in Foxcatcher, a darker piece in his repertoire. The Q-inspired Dr. Nefario with his deep British accent features Russell Brand, Gru's mother features the glorious Julie Andrews, Lucy Wilde is voiced by Kristen Wiig, and Steve Coogan is both the butler Fritz and leader of the Anti-Villan League, Silas Ramsbottom. ("Bottom. Ha, ha, ha," giggles the Minions.) 
The villains in the series are based on cliched throwbacks of various backgrounds with plans to take over the world. Yes, they are not so original, but we don't care. The first film involves the Bank of Evil (formerly known as Lehman Brothers) and the recent Minions sequel plays up the 1970s pop culture trends with villains coming from those timelines. Noted voice actors in these roles include Jason Segal, Benjamin Bratt, Sandra Bullock, Taraji P. Henson, and Alan Arkin. Like the Pixar films, this series has developed its own side series of short films, 15 in total, six books, and an amusement ride at Universal Studios in both Hollywood and Orlando called Minion Mayhem. Being able to move outside to other mediums really publicizes the characters and puts in a very family-friendly attraction up front. 
The series has recently eclipsed $4 billion in box office total and future releases suggest it can reach $5 billion. As of now, it is the highest-grossing animated franchise, in front of Shrek and Toy Story, and is in the Top 15 highest-grossing franchises overall. This, plus the success of the live-action Fast & Furious franchise, is a major boost to Universal as they remain in competition which the much more powerful Disney and their large stream of franchises. For now, and hopefully, for the next decade, the series maintains its momentum for the upcoming fourth Despicable Me film that is to be scripted by Mike White of School of Rock and The White Lotus fame. 
Follow me on Twitter: @brian_cine (Cine-A-Man)