Movie Review: 'One Night In Miami' is a Soulful South Beach Confessional Surrounding Four Legends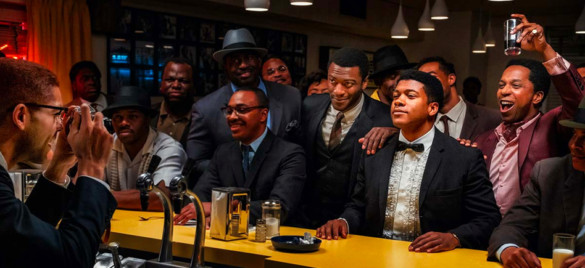 Director: Regina King
Writer: Kemp Powers
Stars: Kingsley Ben-Adir, Eli Goree, Aldis Hodge, Leslie Odom Jr.
Synopsis: On the night of Feb. 25, 1964, in Miami, Cassius Clay joins Jim Brown, Sam Cooke, and Malcolm X, and they discuss the responsibility of being successful black men during the civil rights movement. They boldly challenge each other to be the best versions of themselves.
Joining the recent strong of actors making their directorial debut is Regina King, still riding on the high from her Oscar win in If Beale Street Could Talk and her much recent Emmy win for Watchmen. Most debuts tend to be something grounded and short, but for King's debut, she takes on something a little bit ambitious. Based on the play by Kemp Powers, who adapted it to the screen, One Night In Miami is a good first step for King behind the camera.
The date is February 25, 1964, and Cassius Clay (Eli Goree), before he changed his name to Muhammad Ali, has just defeated Sonny Liston to become the new heavyweight champion of the world. With him is football star Jim Brown (Aldis Hodge), singer  Sam Cooke (Leslie Odom Jr.), and the controversial speaker for the Nation of Islam, Malcolm X (Kingsley Ben-Adir). Like the one-act play version, it is predominantly set in a hotel after the fight where the quad of influences talks about race, fame, and faith. It is Clay and Malcolm X's relationship Clay's plans to announce his membership into the NOI that is a hot subject due to inflammatory comments from the head of the NOI.
The four are equal in fighting for racial equality but have different ways of pursuing that goal. Within the confines of the hotel, the conflict between hardened views from Malcolm X versus Brown's and Cooke's softer line that stays throughout the film. Ben-Adir is the headliner here as he commanders the tough-talking civil rights activist into challenging the successes of Brown and Cooke and what they have done so far is enough. It isn't on the level of Denzel Washington's performance, but that's because it is impossible to do better than what he did, and so for Ben-Adir, it is simply bringing to life his controversial historical figure with dignity. As Cassius Clay, Goree does a superb job of incorporating the late boxer's legendary swag before, during, and after the fight, entrenching himself with Malcolm's ideas and induction into the NOI and following his word throughout the night.
Odom Jr., bringing in his charismatic soul to the role of crooner Cooke, embodies Malcolm X's dislike for bourgeoise figures of black men making it under the thumb of powerful white people. Like a stare down at the weigh-in, Odom Jr is able to rise to the occasion amongst Malcolm's taunts that his music hasn't done anything to advance his cause or his lyrics don't encompass the Black struggle. Cooke cares, of course, but tends to be apolitical in his songs until the end with his performance of "A Change Is Gonna Come." Brown is also a witness and target to Malcolm's confrontations on his fame as the best football player and if it has brought him respect amongst his white bosses in Cleveland. Hodge maintains Brown's real-life calm and physique throughout, even at the beginning of the film when a meeting with his former coach ends with a verbal slap of the N-word as he heads to Miami.
The foursome's get together in a hotel room did not happen, but Kemp Powers is able to put together an electrifying conversation between them in a period of peaks for racial justice. After all, the Civil Rights Act was passed later that year followed by the Voting Rights Act the next; in a similar fashion, Cooke was shot dead in late 1964 and Malcolm X was assassinated in February 1965. It's an imaginary meeting that could've happened amongst the four friends and Regina King helms it all to a single flash moment in time in the middle of America's changes. 
Grade: A-