Movie Review: 'Mulan' reflects pure spectacle, both familiar and foreign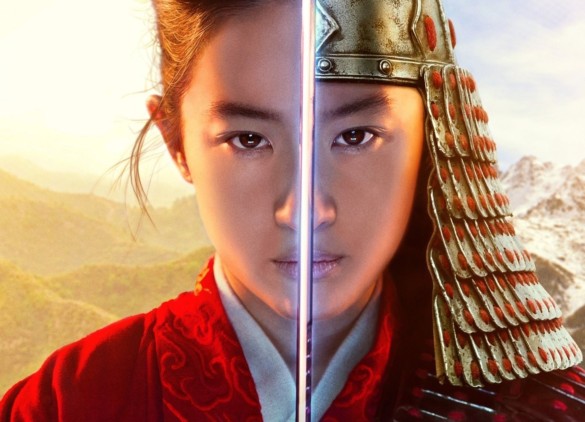 Director: Niki Caro
Writers: Rick Jaffa, Amanda Silver, Lauren Hynek & Elizabeth Martin
Stars: Liu Yifei, Gong Li, Jason Scott Lee, Tzi Ma, Yoson An, Donnie Yen, Jet Li
Synopsis: A young Chinese maiden disguises herself as a male warrior in order to save her father. A live-action feature film based on Disney's Mulan.
It is a tall order to provide a refreshing experience when your blueprint is a Disney Renaissance title born out of Robert D. San Souci's idea, but that is precisely what's served here. Like 2015's Cinderella and 2016's The Jungle Book, the new Mulan, from Niki Caro, wisely sees its reason for being as a chance to explore elements further and, if need be, upgrade them instead of to reanimate and reclothe with assets afforded by a titanic budget. With both respect to what's done and commitment on what can be done, this Mulan is an epic delight — as much as the 1998 film and as its own entity.
The Mulan we get to meet after the brief narration from her "guardian angel," father Hua Zhou (Tzi Ma, always a warm presence), is yet the renowned warrior from the ballad or the startlingly ill-prepared bride-to-be (Liu Yifei). At the moment, she is still a youngster (Crystal Rao) who is chasing a chicken all over her tulou, not caring that she is disrupting everybody's day. Aside from Grant Major's inclusion of an anachronistic — if beautifully constructed — structure and editor David Coulson's semi-manic action cutting, our senses are entertained on the same level as those within this adolescent Mulan; every beat in her poultry chase blazes past just the first of Bina Daigeler's vivid fabrics, of Harry Gregson-Williams' rousing notes (and, at times, subtle cues to the animation's songs) and of d.p. Mandy Walker's near-endless supply of extravagant frames. At the very least, it's the first of the film's many newnesses that pay tribute to and widen the scope of 1998 work. Mulan is an outlier of a daughter not because she's the classic adorably-incompatible-turned-everyone' s-savior character but because she's born-courageous. Here she has an arachnophobic younger sister, Hua Xiu (Xana Tang), who, albeit fleetingly, gives her more pressure to be the model "calm and obedient" woman.
And soon to descend from the north to face Mulan aren't a Hun warrior and his falcon but a Rouran leader, Bori Khan (Jason Scott Lee, with intimidating aura), and his sorceress sidekick Xian Lang (Gong Li, with controlled iciness) who can shapeshift into a falcon. Or possess people.
One can sense that the purists who have been fuming since knowing Mushu and singing won't be in Mulan are approaching supernova. Don't be, please, as with her new, distinctive qualities, this Mulan is still a girl woman worth fighting for. Ensuring this is the script from blockbuster husband-wife team Rick Jaffa & Amanda Silver, Lauren Hynek, and Elizabeth Martin (where are the Asians?) that amplifies Mulan's journey towards validation in thoughtful and suspenseful ways. She expresses pain when she couldn't adhere to the third of the core tenets "Loyal, Brave and True" etched on her family's sword and underscored by the all-male battalion. A scene, directed with solemnity, features a fellow soldier facing the consequence of being untruthful during training. Every tête-à-tête with Xian Lang scratches at the possibility that she and Mulan aren't all that different, just women — or laotong — staking their claim in uber-masculine systems. The protagonist's defining character moment is now purposeful rather than accidental. In these moments, Liu proves she is the actress meant to play this part, boasting only grace while under fire and nothing else besides fire during pivotal wuxia-inspired fights coordinated by Ben Cooke.
For some, these are just temporary lures from the potential elephants in the room. Aside from the aforementioned ones, they include the splitting of Li Shang into a commander (Donnie Yen) and a cocky recruit (Yoson An), the downsizing of the Ling, Yao & Chien-Po trio (Jimmy Wong, Chen Tang & Doua Moua), and the literal personification of Cri-Kee (Jun Yu). Thing is, director Caro and company seem to have set out to make their Mulan a capital-H her story, a "Her" to "Hero" tableau sharing the same roots but grows its own branches — making everything else a distraction. But from what is seen and heard, the film might have chosen the right business to get down to.
It will make a Mulan fan out of you if you aren't one already. And if you already are, it will provide you with an ideal animation-and-live-action pairing.
Grade: A-