Movie Review: Dylan O'Brien Shines in the Sweet Apocalyptic Comedy 'Love and Monsters'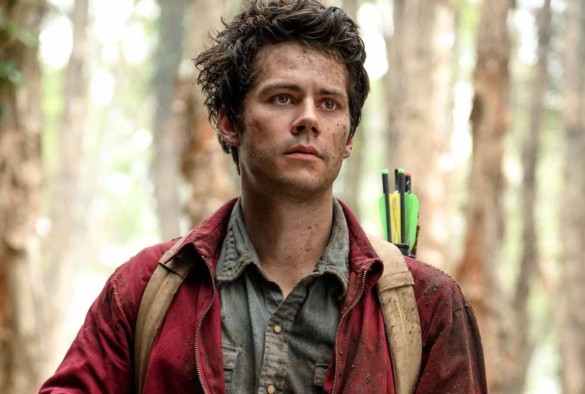 Director: Michael Matthews
Writer: Brian Duffield, Matthew Robinson
Stars: Dylan O'Brien, Jessica Henwick, Michael Rooker, Dan Ewing, Ariana Greenblatt.
Synopsis: In a monster-infested world, Joel discovers that his girlfriend is 80 miles away. Joel discovers his inner hero to try and reunite with her, starting a dangerous journey.
2020 has become the year of terrible nightmares coming to life. Just as something happens, something even uglier and more depressing is waiting for us just around the corner. Therefore, I happily accept sweet and innocent movies that make me feel good for a couple of hours. Here is where Love and Monsters, the new movie by Michael Matthews, appears. This film, which opened on VOD last Friday, is an adorable escapist film, although set in an apocalyptic world, that is vastly enriched by the bright and committed presence of Dylan O'Brien.
O'Brien has been away from the big screen for a couple of years, instead focusing on limited projects on TV such as Amazing Stories and Weird City. The last time that we saw him in movie theatres was in 2018 with the last installment of his blockbuster saga, Maze Runner: The Death Cure. Unfortunately, his appearances on screen have not been as common as his talent demands it. However, with this project and the upcoming The Education of Fredrick Fitzell, this year will have its healthy dose of this actor.
In Love and Monsters, O'Brien plays Joel, a twenty-something guy that has lived underground for seven years after the appearance of gigantic monsters all over the world. Now, lonely and in need of love, he decides to embark on a quest to reunite with Aimee (Jessica Henwick), his teenage girlfriend who he has not seen since the beginning of the apocalypse. However, he is useless and suffers from paralyzing fear, proving that his objectives are wildly optimistic.
Here, O'Brien's character is a hopeless romantic that suffers about the idea of spending the apocalypse on his own, just as he uncomfortably witnesses every single of his peers in a loving relationship (something that awkwardly reflects the world of isolation in our current pandemic). In this regard, Joel dangerously flirts with the possibility of becoming an annoying Ted Mosby kind of guy. The fact that he never stops talking about his former girlfriend does not help. However, he thankfully grows throughout the movie.
In addition, his sensible characteristics are embraced in a genre that is constantly inhabited by self-sufficient, macho, toxic men. Joel is sensitive (and dealing with trauma), fragile and idealistic, characteristics that make him the useless but deeply loved member of his survival squad.
This character works, even during his moments of borderline obsession with Aimee, because of O'Brien's charisma, who offers something similar to what we witnessed in the early seasons of Teen Wolf. He has great chemistry with everyone in the cast, is perfect in the delivery of deadpan and under the breath comments, and is even believable in the numerous scenes of fright and uselessness. These characteristics do not compromise his self-image or the role in his underground home, it just means that survival skills are not his forte.
The platonic relationship between Joel and Aimee deserves a special mention. The idea of starting a quest to reunite with a loved one is something that I embrace in these times. Joel's personal growth regarding Aimee, and his evolving realization about the status of their relationship, are good examples in today's lessons regarding consent and toxic masculinity.
This movie wears its heart in its sleeve, without a hint of cynicism or malice, making it instantly special. This is particularly noticed in the relationship between Joel and his group, or with the characters he encounters once he is out in the open, Clyde (Michael Rooker) and Minnow (Ariana Greenblatt). It could have easily become a horror story, but instead, the good-naturedness of the story continues undefeated.
Regardless of its triumphs, the movie is far from perfect. Love and Monsters shines especially when O'Brien is on his own (or accompanied by Boy, the adorable dog that becomes his sidekick). In the case of Clyde and Minnow, their introduction and presence in the story feels rushed and insufficient, especially when we consider that they develop a significant bond with Joel.
Furthermore, the final act feels equally rushed and unconvincing. The introduction of new characters towards the end implies the development of ridiculous conflicts that threaten the achievements of the movie. In addition, the movie introduces a shift in the psychology and intentions of the monsters that shake everything we previously learned in a new scenario that is not explored.
Love and Monsters is the perfect diversion for these difficult times. The movie, besides providing a light and tender story about love, also offers an inspiring arc about overcoming trauma and becoming one's own hero, strengthened by a solid performance by Dylan O'Brien. This film encourages the idea that anyone can be heroic, and in a movie world where destiny and lineage tend to be the rule, this is welcomed with open arms.
Grade: B-