Movie Review: 'Borat Subsequent Moviefilm' is Both Hilarious and Horrifying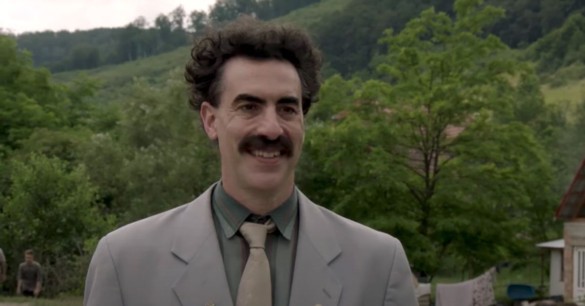 Director: Jason Woliner
Writer: Peter Baynham, Sacha Baron Cohen, Jena Friedman, Anthony Hines, Lee Kern, Dan Mazer, Erica Rivinoja, Dan Swimer
Stars: Sacha Baron Cohen, Maria Bakalova, Dani Popescu
Synopsis: Fourteen years after the release of Borat, Borat Sagdiyev once again journeys to the United States from Kazakhstan in the midst of the COVID-19 pandemic and the 2020 elections.
Sacha Baron Cohen's Borat was a massive hit back in 2006, even earning an Oscar nomination for Best Adapted Screenplay. In the years afterward, Cohen would occasionally recur the character on various comedy shows or on late-night TV, but there was seemingly no sequel on the horizon. There wasn't even a hint at the beginning of 2020 that it would be on its way. Yet, here we are, the release of Borat Subsequent Moviefilm has arrived, and boy is it a doozy.
Borat Subsequent Moviefilm starts off with Borat narrating what happened to him in the aftermath and success of the first film, where he now finds himself in a Gulag prison as Kazakhstan was embarrassed by how Borat made them look to the rest of the world. However, the Kazakhstan government needed him for a new mission, so they sent him back to the U.S. of A. to offer up a gift to Vice President Mike Pence. As you could imagine, chaos ensues and things don't always go according to plan for Borat.
Those unexpected turns may be a hurdle for Borat himself, however, for Cohen, it's where his brilliance blossoms. The last four years have seen a brazen rise in white nationalism, racism, conspiracy theories, and tribalism, notions that have become exacerbated by a pandemic and the government's response to it (or lack thereof). If Borat's anti-Semitism and crass ethos were prevalent in 2006, things are even riper now for Borat to examine given the festering divide we're experiencing in 2020. And Cohen does not miss the opportunity. Borat Subsequent Moviefilm, like its predecessor, once again masks itself as lowbrow comedy, but underneath its silly and boorish gags is a blistering commentary that's equal parts hilarious and horrifying.
Cohen does not pull any punches in exposing the bigotry and toxic behavior from those in power. The humor Cohen finds is remarkable. It's certainly coarse and gaudy, but incessantly hilarious. Yet at the same time, some of the imagery we see is quite disturbing. The scenes of Rudy Giuliani are already making rounds on social media and for good reason. It's a moment where Giuliani preys upon a nervous teenage journalist, and even without context, it's grossly off-putting. However, in context, with how the film formulates the Sandra character, Borat's 15-year-old daughter, it makes the moment all the more powerful. This also comes off the heels of Borat Subsequent Moviefilm cultivating indictments on anti-Semitism, pro-life biases, rampant sexism, obtuse conspiracies, frivolous masculinity, and exhibiting the threat of online disinformation. All of which falls into that dichotomy of involving great levity and biting accusation. Eventually weaving itself through Cohen's subverted satire to somehow find COVID-19 overtaking the plot and further elevating all the material he mined earlier in the film. It's not an exaggeration to say that, in the end, Borat Subsequent Moviefilm is arguably the funniest and scariest film of 2020.
Speaking of duality though, another feature that makes the experience surprising, yet very satisfying, is the father-daughter dynamic of Borat and Sandra. Borat does not offer up any ambiguity as it relates to how he and his culture treat women. This fundamental throughline is continued in the sequel as well, but again, with a twist. Without getting into too many details, Borat discovers more about himself and the world thanks to his daughter. And it's oddly tender and heartwarming. Which may seem jarring given who Borat is as a character, but the film's poignancy is somewhat necessary. Or at the very least, it wonderfully adds further texture to the divide between the behavior being exposed (in the film's commentary) and the evolution of Borat himself. It's smart storytelling.
Like the first Borat, Borat Subsequent Moviefilm relies heavily on Cohen's abilities as a comedian. If you find his sensibilities uncouth and nothing more, then there's not much you'll enjoy here. On the other side of that coin, though, this is among Cohen's better performances as he's forced to find a balance between ignorance and tenderness. You have to believe that Borat, in all his lunacy, still has the ability to be a loving father. And to me, he works his magic to great effect. Bulgarian actress Maria Bakalova, who plays Sandra, is also quite great. Their chemistry is superb and it makes for some of the funniest scenes of 2020.
To put it simply, Borat Subsequent Moviefilm is extremely timely. It's relevant. It's more than just a series of gags and vignettes. There's a robust purpose in planting Borat in the positions that Cohen does throughout the film. Which, yes, offers up great commentary and hilarity, but it's a great set up for some misdirection in the end as well. Borat Subsequent Moviefilm is not only the best surprise of 2020, it's up there with the best films of the year. It holds up a mirror to American ignorance and propaganda in ways that rivals the first Borat. Is it better than its predecessor? Maybe not, but you won't see me arguing against those who do think that is the case. Either way, it's a film worth seeking out.
Grade: A-