Movie Review: 'Home Sweet Home Alone' Can't Capture The Magic Of The Original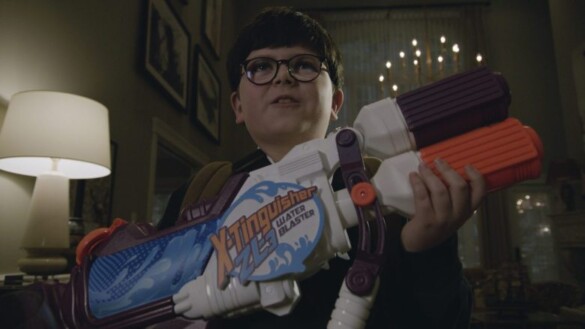 Director: Dan Mazer
Writer: Mikey Day & Streeter Seidell
Stars: Archie Yates, Rob Delaney, Ellie Kemper, Aisling Bea, Kenan Thompson, Tim Simons, Ally Maki, Pete Holmes, Andy Daly, and Devin Ratray.
Synopsis: A married couple tries to steal back a valuable heirloom from a troublesome kid.
During a scene in Home Sweet Home Alone in which the McKenzie family watches a sci-fi remake of the fictional gangster flick Angels With Filthy Souls, Hunter (Tim Simons) aptly says, "Ugh, this is garbage! I don't know why they're always trying to remake the classics. Never as good as the originals." He inadvertently expressed what's likely to be the common consensus towards this terrible sequel/reboot/remake. It was never going to be as great as the original, to begin with. What's even more shameful is that this one could've been really good, considering the acting talent on display and the fact that its production designers literally built an entire house as its main set to have fun with its booby trap-filled climax. But it never seems interested in delivering a modern re-tread on one of the greatest Christmas films ever made and instead constructs its entire plot over one, giant, misunderstanding.
And that misunderstanding ruins the entire movie, and it's even worse when your lead kid is incredibly unlikeable. Ten-year-old Max Mercer (Archie Yates) is left home alone by his family after they all ordered separate Ubers on their way to Tokyo to spend the Holidays there. The kid must now defend his house from Jeff (Rob Delaney) and Pam (Ellie Kemper) McKenzie who are trying to have a conversation with Max, as they believe he stole a valuable Schneider Kinder doll worth over $200,000. Max overhears them talking about "an ugly boy", and thinks they are going to kidnap him (that's right!) so he concocts the most sadistic booby traps of the franchise yet over the biggest misunderstanding possible, inflicting Jeff and Pam, who aren't even criminals, a level of pain they've never experienced in their life before.
Home Sweet Home Alone uses what Roger Ebert calls the "idiot plot" throughout most of its runtime, which requires that everyone in the movie behave like the dumbest person imaginable. None of the characters ever solve their problems in a rational way (otherwise there wouldn't be a movie after all) and jump to the most inane conclusions possible. "Oh, the couple is talking about an ugly boy? Surely, they're talking about me! I guess I should create a wide array of booby traps to possibly kill them, I don't know!" Even worse, Jeff can't bring himself to talk to Max as he believes he is committing a crime, but how are you committing a crime if all you want is to talk to the kid or his mother? He's so afraid of wanting to talk to Max, that he'll devise an evil plan that will transform himself and his wife into burglars (for absolutely no reason at all), whilst the home alone kid is ready to physically torture them. The movie also tries to give us a portrait of both sides of the spectrum, but none of them are compelling in any way since they constantly behave like idiots. One wants to brutally torment the couple over a misunderstanding, while the other can't bring themselves to think rationally. If they did that, the movie would be over in 30 minutes.
What's even worse about this picture is that none of the traps are funny. Instead, the audience is treated to an over forty-minute sequence where the most unlikeable spoiled brat devises violent Saw-like traps, without an ounce of childlike imagination. The first three Home Alone movies understood the mind of a child wanting to defend himself from real criminals who were likely going to inflict pain on him. This led to extremely funny traps bringing a sense of wish-fulfillment fantasy to children who wanted to stand up to bullies. They had their icon in Kevin McCallister, constantly ignored and berated by his extended family, now taking matters into his own hands to not only defend the house but stand up to his own psychological and physical bullies. Max Mercer has no bullies–he's purely evil by nature. In the first scene where we meet him, he gives his mother a hard time and then repeatedly insults Jeff for no reason at all. Who does he think he is? It gets even worse when he starts to swear and thinks the entire world revolves around him. There's no reason for us to sympathize with Max. The movie gives us no reason to–he's just an overly imaginative kid with an extremely twisted mind.
We actually want to sympathize with the "villains" (who aren't really villains, they're looking to get what is rightfully theirs to pay off their debts and avoid selling their house) instead. Both Rob Delaney and Ellie Kemper have great chemistry together and make some of the more cringe-worthy scenes of the film palatable to watch, and I'll admit I laughed at some of the movie's coincidental mishaps. It's a shame to waste Archie Yates' talent like that. The kid was infectiously hilarious through his deadpan line delivery in Jojo Rabbit, and the best part of that movie, and to turn that genius into the most unlikeable child in a Home Alone movie yet is an absolute disappointment. Yes, he's more unlikeable than Fake Kevin in Home Alone 4, which is truly saying something.
Now that doesn't mean that Home Sweet Home Alone is worse than the fourth installment, absolutely not. Aesthetically, it tries to do something different and puts a bigger emphasis on the visual scale of the traps than the physical reactions of the actors in the first three films, which did hold my attention throughout the climax. But its illogical plot comprised of three idiot protagonists, unfunny traps and jokes, and a recycled plot from the first Home Alone doesn't make it worthwhile either. I guess it's best, from now on, that this franchise is better left alone (no pun intended) and concentrate on making original films instead. Now that would be terrific.
Grade: D-