Movie Review: 'Godzilla: King of the Monsters' delivers on monster action, but falters on story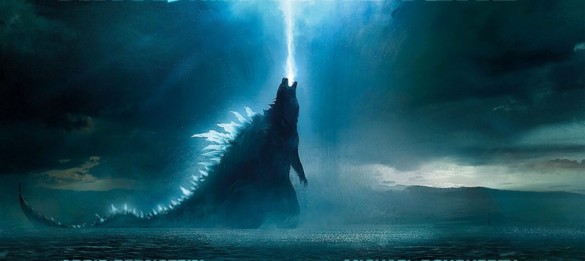 Director: Michael Dougherty
Writers: Michael Dougherty, Zach Shields
Stars: Kyle Chandler, Vera Farmiga, Millie Bobby Brown, Ken Watanabe
Synopsis: The crypto-zoological agency Monarch faces off against a battery of god-sized monsters, including the mighty Godzilla, who collides with Mothra, Rodan, and his ultimate nemesis, the three-headed King Ghidorah.
If you're a fan of the Japanese Godzilla movies from 50s, 60s, 70s and beyond, then Godzilla: King of the Monsters is the film for you! If you want Oscar-worthy acting and a complex story, then you may want to skip this one. I love monster movies and have been obsessing over this trailer since the first teaser was released. While this film is far from perfect, it definitely delivered the titan-fighting action that was missing from the 2014 Godzilla movie.
Godzilla: King of the Monsters has a plot (contrary to popular belief); it focuses on Russell family (Vera Farmiga, Kyle Chandler, Millie Bobby Brown) and the monster tracking secret organization Monarch. Giant monsters, dubbed titans, each with their own cool nickname pulled from legends or history, are waking up and wreaking havoc. Monarch scientist and Godzilla fanboy Dr. Serizawa (Ken Watanabe) is convinced Godzilla will come to the rescue and restore balance. If you have not seen Kong: Skull Island or the first Godzilla, I recommend seeing at least Kong for a better explanation of Monarch, their mission and history (but they are not necessary viewing to understand this film). There are a few returning characters from the first Godzilla movie and many things mentioned from both Godzilla and Kong: Skull Island.
My favorite thing about this film was the plethora of titans they introduced and the way they set the stage for future "MonsterVerse" movies. There were also so many nods to the classic movies- it was obvious the people that made this movie were fans of the old ones. Other than the ridiculous amount of monster fighting action, there's also a ton of cool planes and other gadgets thanks to the extended look at Monarch operations we get in this film. I loved the scale they set, how massive this operation has become, and how hugely impactful Godzilla and the other monsters are. Something cool I noticed in this film is that it's filled with women in powerful places (military command, running senate hearings, pilots, scientists) and they don't make a big deal about it or make it a gimmick. It was nice to see it as "just a normal thing" instead of a selling point of the movie. Ken Watanabe is fabulous, as always, and one of the better acted characters in the film. Millie Bobby Brown also does a decent job in her first big screen appearance. Another positive is the designs of the titans themselves. I loved that Ghidorah, Rodan, Mothra, and others were easily identifiable and basically just big budget versions of their former selves.
Now on to my list of things I didn't like… The acting was kind of cringe-worthy (except Millie Bobby Brown she's perfect), but the thing that really bothered me about it was every line of dialogue sounded like a quip or cheesy one-liner. Especially Kyle Chandler (the dad) and Bradley Whitford (Monarch's nerd character). Much of the CG was good, there were moments where it looked like they forgot to finish it, but I was too distracted by the big monsters fighting to care. The thing I didn't like was Ghidorah and Rodan's eyes, they were too human or something, and it was weird on close up shots. I also felt like this movie fell into the category of "Fantastic Trailer / Okay Movie", which was disappointing. The trailer with Somewhere Over the Rainbow playing in the background is one of my favorite trailers of all time, so I had high expectations and unfortunately, they weren't entirely met. The biggest issue I had with this film was the sound mixing and score. I don't know if I've just been spoiled by epic action movies with equally epic scores lately, but Godzilla: King of the Monsters was severely lacking in that department. There were so many perfect moments that just screamed for a big musical moment, like Godzilla getting back up after getting beat up, and we got nothing. Even when the score was doing something interesting, we could barely hear it over the guns and monster noises. It was such a letdown.
To wrap up, Godzilla: King of the Monsters delivered the epic monster action it promised in the trailers. It was a big budget homage to the classic Japanese films many of us grew up watching. I am really torn on how to rate this film; I feel like it needs two grades- one for "Monster Movie Quality" and another for "General Film Quality". Though it has many flaws, I think Godzilla: King of the Monsters is a solid B+ / A monster movie. I highly recommend it to any Godzilla fan, and suggest seeing it on the biggest screen possible. As for my actual, general film grade, I'm going to have to deduct some points for the score, sound, and script issues. That being said, I can't wait to see what's next for the "MonsterVerse" and Godzilla vs. Kong (2020). if you do see this film the credits are filled with interesting tidbits and there is a post credits scene at the very end, so stick around for that.
Overall Grade: C
Hear our podcast review on Episode 328: