List: Top 3 Giant Monster Movie Scenes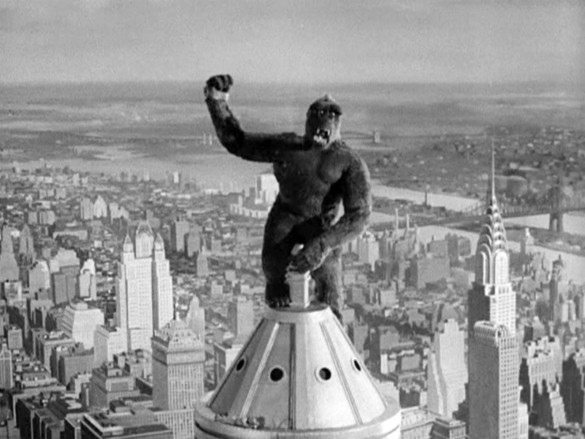 This week on Episode 328 of the InSession Film Podcast, inspired by Godzilla: King of the Monsters, we thought it would be fun to talk about our favorite scenes from giant monster movies. Movies featuring giant monsters have been around for decades and decades, with King Kong having a lasting impact that dates back all the way to 1933. That's pretty wild. There's something about them that is inherently cinematic and it paves the way for captivating adventures the movie goers have loved since the inception of film. So, narrowing down the films themselves was challenging enough, let alone choosing specific scenes that stand out to us. However, we don't think you'll be too disappointed. That said, here are our lists:
(Note: Please keep in mind that we each had different criteria for our selections)
JD
1) Graveyard Scene – A Monster Calls
2) Empire State Building – King Kong (1933)
3) Atomic Breath – Godzilla (2014)
Brendan
1) Theater Scene – The Blob
2) Sunset with Kong and Anne – King Kong (2005)
3) Bear Attack – Annihilation
Garrett
1) Stay Puft Marshmallow Man – Ghostbusters
2) Hulk Reveal / Destroys Chitauri Monster – The Avengers
3) King Kong vs T-Rex – King Kong (2005)
Honorable Mentions (Combined)
Tokyo Sequence – Pacific Rim
Opening Fight – Pacific Rim
Kong vs T-Rex – King Kong (1933)
Ending – King Kong (2005)
T-Rex / Jeep – Jurassic Park
Dinosaurs Reveal – Jurassic Park
T-Rex Banner Moment – Jurassic Park
Velociraptors in Kitchen – Jurassic Park
Kong vs Monster – Kong: Skull Island
Dance Scene – Colossal
Godzilla in Tokyo – Godzilla (1954)
Human Reckoning – Godzilla (1954)
Fish Monster Attack – The Host
Killing Graboid – Tremors
Ripley vs The Mother – Aliens
Rancor Sequence – Return of the Jedi
Beetlejuice Turns Into Snake – Beetlejuice
Introduction of Smaug – The Desolation of Smaug
Balrog Sequence – The Fellowship of the Ring
Cyclops vs Dragon – The 7th Voyage of Sinbad
Rock Monster Fight – Galaxy Quest
Monster Attack – Cloverfield
Learning Monsters Weakness – Grabbers
Jump Out of Water Eye Kill – The Meg
Hopefully you guys enjoyed our lists and if you agree or disagree with us, let us know in the comment section below. As mentioned above, giant monster movies have been around for a long time and there are many great scenes to consider. That being said, what would be your Top 3? Leave a comment in the comment section or email us at [email protected].
For the entire podcast, click here or listen below.
For more lists done by the InSession Film crew and other guests, be sure see our Top 3 Movie Lists page.