Movie Review: Chazelle, Gosling majestically fly us to the moon in 'First Man'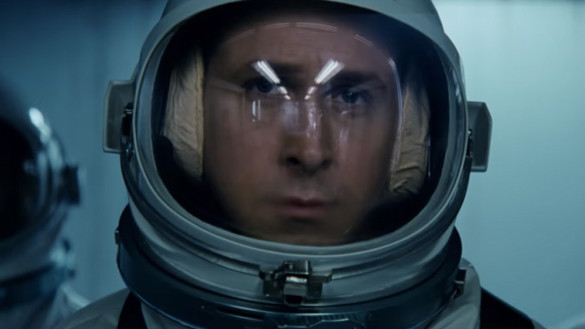 Director: Damien Chazelle
Writers: Josh Singer (screenplay by), James R. Hansen (based on the book by)
Stars: Ryan Gosling, Claire Foy, Jason Clarke, Kyle Chandler
Synopsis: A look at the life of the astronaut, Neil Armstrong, and the legendary space mission that led him to become the first man to walk on the Moon on July 20, 1969.
Damien Chazelle and I have had an up and down relationship over the last couple of years. I thought his first film, Guy and Madeline on a Park Bench, was a good first effort that laid a lot of the ground work for his second film Whiplash. Whiplash was one of my favorite films of 2014 and was one of the most daring, tense films I had seen from this decade. So going two for two so far in his filmography, my anticipation was at its all-time high when 2016's La La Land came out, and while there are aspects of the film I like, I was one of those people that found it to be over hyped and left me more empty than optimistic once the first screening reactions faded away. So a lot questions came running through my head when I found out that the youngest Academy Award winner for Best Director was making his space movie about the single biggest space moment in not just American history but space history period. One could definitely make the argument that I was very skeptical about this project but as every critic should do, I cleared out my La La Land bias, and went into the movie with an open mind. And upon walking out of my screening, I was smiling because I can say that Damien Chazelle has got back on track and made a film that is one of the immersive film going experiences of the year.
First Man follows the key moments of Neil Armstrong's life during the 1960's. We met Armstrong, played by La La Land alumni Ryan Gosling, at a time in his life where he and his family need to make a fresh start after a family tragedy has hit the family. His family moves to Houston where he goes to work for NASA, and with more pain that follows him on the job, and social and political pressures mounting, Armstrong and his team set out to be the first to land on the moon. But while the pressures of the job are building on a global stage, it's his home life with his wife Janet (Claire Foy) and his sons that starts to hang in the balance. Armstrong becomes intensely focused on the task at hand, leading to obsession, and wanting nothing more than walk on the moon, for reasons you don't find out about till the end of the film.
Obsession is something that Chazelle is not uncommon in showing within his films, with Whiplash being about a drummer's obsession to become the best, with La La Land being about two people wanting to become famous even if that means their love has to die. But with First Man, Chazelle takes the nob and turns it to eleven, and that makes sense because the mission these characters are facing is not easy. The way that Chazelle shoots ever shot of the astronauts in the space or in the space shuttles oozes with tension and risks at an all-time high for Armstrong and his fellow astronauts. Chazelle's attention to detail is so focused due in large part to Josh Singer writing the script and allowing Chazelle to focus on his directing strengths and thus making this film flourish.
Gosling is the perfect person to play Chazelle/Singer's vision of Armstrong, which is quiet, calculated yet confident man that will finish his mission at all costs. His interactions with people, including his family, are cold yet not his fault because as more trauma he has continue to face, the more he throws himself into this mission and never looks back. With a performance that is a combination of his performances from Drive and Blade Runner 2049, Gosling brings Armstrong to life and makes us thoroughly invested in this journey till the very end even though we know how it's going to end. Foy gives a small yet powerful performance and shows that she can stand toe to toe with Gosling with as he is in every scene of the film. She shows that while Neil was fighting to get to space, Janet was the real one in the relationship fighting to keep it together. She is the only one that can get to him and when she does in the end, it makes him face his fears, and no not the mission to go to the moon, but his life on earth.
The film has a decent supporting cast with Kyle Chandler, Jason Clarke and Cory Stoll but they are mostly there to help Gosling and Foy and become a little wasted. The cinematography in the film is fantastic and for his first film not about music, Chazelle gets the best score of any of his films from composer Justin Hurwitz, one that might just be my favorite score of the year so far. Along with the great score is the wonderful sound design that makes you feel like you are exactly in Armstrong's seat and can feel ever vibration. The only complaint I would make is that the films editing does seem to be a little messy at times but that doesn't fully ruin the experience of the film. Overall, First Man is a technical marvel and Chazelle has made one of the best films of the year. He has won be back over, for now, and I'm looking forward to seeing what he will have in store for us down the road, and hoping it continues the trend in this film and doesn't involve more jazz.
Overall Grade: A
Hear our podcast review on Episode 295, coming soon!