Movie Review: 'Enola Holmes' is a Charming Surprise from Netflix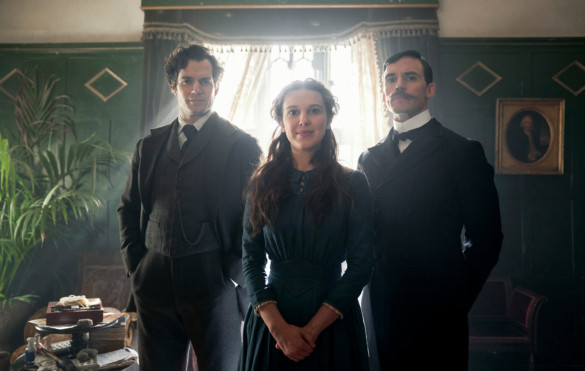 Director: Harry Bradbeer
Writer: Jack Thorne (screenplay by), Nancy Springer (based upon the book)
Stars: Millie Bobby Brown, Henry Cavill, Sam Claflin, Louis Partridge
Synopsis: When Enola Holmes-Sherlock's teen sister-discovers her mother missing, she sets off to find her, becoming a super-sleuth in her own right as she outwits her famous brother and unravels a dangerous conspiracy around a mysterious young Lord.
Netflix original movies can be hit or miss. They've never had trouble releasing film after film to keep new content coming for their subscribers. Their latest film, Enola Holmes, is one of the most charming and easily enjoyable films they have produced. In this "based on a book" flick, Enola Holmes (sister of the infamous Sherlock) finds mysteries of her own to solve. Millie Bobby Brown easily carries the film and stands out in a cast with Henry Cavil, Sam Claflin, and Helena Bonham Carter. 
Enola Holmes tells the story of Sherlock and Mycroft's little sister as she searches for her missing mother while accidentally getting tangled into a dangerous mystery involving a young marquess and his family. She has to solve her case while learning to survive alone in the big city and avoiding her brother's attempts to turn her into a proper lady. Enola is an independent, intelligent, and free-thinking teenager who has no interest in finishing school or becoming a housewife. Her adventures around London with the Viscount Tewksbury, Marquess of Basilwether, or Tewksbury for short, are based on the novel "The Case of the Missing Marquess" by Nancy Springer. There are a total of six books in the series if this film leaves you wanting to solve more mysteries with Enola Holmes.
This movie is best described as "charming". It's a pleasure to watch and is exactly the kind of escapism everyone needs right now. Millie Bobby Brown is an excellent narrator, breaking the fourth wall many times to keep viewers informed, she's funny and charismatic and proves she is every bit as capable of handling a starring role as anyone else in Hollywood. I genuinely can't wait to see what else she does. Henry Cavil -who's best known for his role as Superman in multiple DCEU films- plays a pretty good young Sherlock without pulling attention or making the movie about Sherlock instead of his sister. If there are future Enola Holmes films, I would love to see him return a well. Another highlight of the film is the fight scenes between Millie Bobby Brown and Burn Gorman. They are more entertaining and brutal than what I was expecting from a PG-13 movie about a teenage girl. Another highlight of the film is a scene that takes place in a special tea shop involving Susan Wokoma and Henry Cavill. Wokoma's character, Edith, doesn't have much screen time in the movie, but she's fantastic and leaves viewers wanting to see more from Edith in future films.
As far as criticism of the film, there isn't a lot to say. Fans of the original Sherlock books may not like how Mycroft is portrayed, he's easily one of the most dislikable characters in the movie- despite Sam Claflin looking fabulous with a ginormous mustache. Other than a dislikable Mycroft, the film is wonderful and I have no complaints.
Enola Holmes is a fun, charming, action-adventure flick. Millie Bobby Brown is a star that will inspire viewers to either check out her filmography or convince them to read the books the movie is based on. If Netflix decides to do sequels I will happily watch all of them. Enola Holmes is streaming on Netflix worldwide, so if you have access to Netflix consider giving it a watch.
Grade: A