Movie Review: 'Clara Sola is a Carrie-like Coming-of-Age Tale with Magical Realism Attached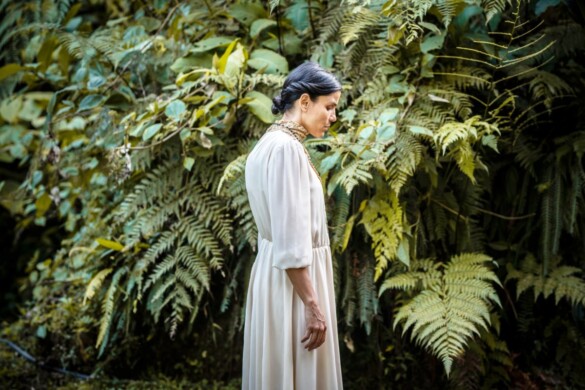 Director: Nathalie Álvarez Mesén
Writer: Nathalie Álvarez Mesén and Maria Camila Arias
Stars: Wendy Chinchilla Araya, Ana Julia Porras Espinoza, and Daniel Castañeda Rincón
Synopsis: In a remote village in Costa Rica, Clara, a withdrawn 40-year-old woman, experiences a sexual and mystical awakening as she begins a journey to free herself from the repressive religious and social conventions which have dominated her life.
I think it is fair to say that Brian de Palma's adaptation of the beloved Stephen King novel, Carrie, changed the horror landscape for good. Since its release back in 1976, many filmmakers have been inspired by that film. That inspiration may arrive not only from its coming-of-age and horror elements, but its take on religion, femininity, and the sin that develops through that mystical and horrifying tale of a woman experiencing extreme amounts of torment. Like the stories that derive from this classic, its strongest of horrors do not come from a supernatural form or act; it's developed by the suspicions and contempt for women. Hence, the fear for the feminine prowess in the respective films. The debut feature of Costa Rican-Swedish director Nathalie Álvarez Mesén, Clara Sola, projects these same ideas with a different style, while also implementing small dashes of mythicism and magical realism into its naturalistic atmosphere. Clara Sola does not indulge too much in the horror side of things; it is mainly implied or subdued, with no scenes of pure violent rage. 
It's a stripped-down version of the familiar tale to reflect the atmosphere and locations it is presenting on-screen. Set in a remote village in Costa Rica, the film follows the titular Clara (Wendy Chinchilla Araya), a 40-year-old woman whose life is about to change entirely in the next couple of days its narrative transgresses through. Clara is off on a journey that will break her free from all of the permanent religious conventions in her small village. From the initial moments, the viewer sees there is some magical realism being smeared slowly onto the screen, and Clara is going to be the host of what happens with those elements in the narrative through her exploration of her sexuality and the confinement created by the religious traditions. Like Margaret White in Carrie, Clara's mother, Fresia (Flor María Vargas Chavez), is very religious and overprotective. She must protect her daughter from these dangers that arise outside of the repressive religious conventions and doesn't allow her space for self-discovery. 
The only times where Clara expresses herself the most are with her white horse, Yuca, and its caretaker, Santiago (Daniel Castañeda Rincón). Santiago is the equivalent of Billy Nolan, the only person who gives her the light of day. There are various parallels between the De Palma picture and Clara Sola. Still, both develop pretty differently from each other, yet, in some manner, end up with some of the same concluding ideals. Unfortunately, the audience is one step ahead in this one and knows what is about to come. Hence, losing its sense of tension and the interest along the way – slowly developing toward a culminating scene of rage and a presentation of violence of some sorts (as well as some arson amidst its blossoming). But what's most interesting about Clara Sola is its balancing act of religion and culture. The film doesn't indulge much in its representation of both aspects, so there could be a more significant effect on the lead character by both ends. However, this same decision causes the final product to feel less effective. Clara Sola is distant. Although thematically relevant, it is to a fault. 
Not so much cold in demeanor, but instead departed in some manner that doesn't help the viewer be entranced or appropriately connected to the story being told. At least, on a relatively positive note, there's a soothing atmosphere in the Costa Rican village, primarily thanks to cinematographer Sophie Winqvist (Pleasure, Aniara). The fog, the various plants and trees, and even the spiderwebs feel tactile; you can sense the multiple elements (rain, sunlight, mountain breeze) while watching. The scenes where the camera lingers on and carefully watches Clara connecting with the earth are the film's best and most reflective. The movie contains its heftier thesis in those quick, yet fascinating sequences. There's one specific scene where Clara just lays down on the mud while it is still raining outside, showcasing how deeply in sync Clara is with nature. It reminded me a bit of a scene in Lars von Trier's Antichrist in which Charlotte Gainsbourg's character blends with the earth as a coping mechanism for her lost child and repressed desires. 
Nathalie Álvarez Mesén's depiction of the said connection in Clara Sola between womanhood and nature is truly fascinating. It is the most exciting and engaging concept that Clara Sola has to offer. This is even further explored with the representation of how her sexual awakening resembles a flower blooming and the connection of her experiences with the mimosa pudica (known as the touch-me-not or shame plants). The film doesn't go beyond the lead character's experience, as it studies her progress through femininity and desires. However, it did have a moment where it could have expressed a broader depiction. Perhaps, it could have shown the various reflections in her household (sister, mother, neighbors). It shines when it focuses on nature, both literally (the beauty of it all) and figuratively (its connection with the various forms of expression and lusts). Unfortunately, Clara Sola's connections to Carrie bring it down a notch as it heads toward a familiar conclusion. Still, there's great potential for the director's future career, Nathalie Álvarez Mesén, for what it is, especially in that realm between naturalism and magical realism. 
Grade – C+