Movie Review: 'Mr. Malcolm's List' Checks All The Boxes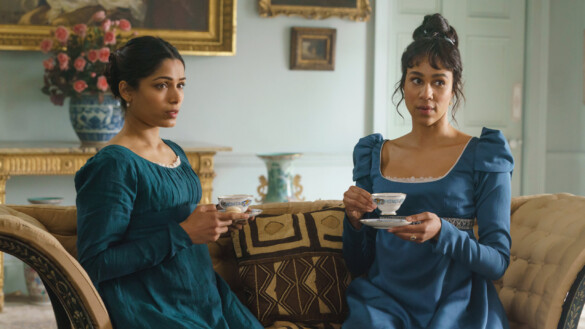 Director: Emma Holly Jones
Writer: Suzanne Allain
Stars: Freida Pinto, Sope Dìrísù, Zawe Ashton
Synopsis: A young woman courts a mysterious wealthy suitor in 19th century England.
The modern movie theater experience seems to have little room for romance. If it's not got a man on a mission or a tough woman, because she can't be in any way vulnerable, on a mission, a film will be drowned out by the sea of capes and 'quels (se, pre, legacy, and otherwise). Yet, bubbling underneath is the growing, diversifying market of romance books. Most of the biggest series, Virgin River, Firefly Lane, and Bridgerton have been adapted and absorbed into the streamer content mills, but a small amount are beginning to appear again on the big screen like The Hating Game and, now, Mr. Malcolm's List..
Like a handful of period pieces of the last few years that are based on fictional works, Mr. Malcolm's List eschews the narrow minded thinking that a film set in the past has to have a homogenous cast. Mr. Malcolm's List's diversity of actors is one of its biggest strengths. Sope Dìrísù smolders with the best of them. He is able to pull off the titular Mr. Malcolm's introspective brooding with ease, but when he lets Malcolm's veil drop it's like a charm bomb has exploded. His million watt smile makes you melt and his heartbreak comes right off the screen to clutch at your chest.
Though Freida Pinto's no slouch either. Always cast as the love interest and rarely the romantic lead, Pinto is an actress who is best when she can show her range. In Mr. Malcolm's List, she deftly balances comedy, romance, and drama with the slightest of looks and gestures. Her chemistry with everyone is palpable and keeps you guessing as to whom she might lavish her affections on. Pinto's performance makes you yearn for the happiness of Selina.
The two of them together are a force of radiant desire. One particular scene, at a masquerade ball encompasses this perfectly. The whispers start both positive and negative about the pair. They dance, only having eyes for each other, and as they come closer together, the other voices, the other people drift away. The music takes over the soundtrack and accents the scene beautifully. It melts you to watch as Selina and Malcolm steal glances at each other, smile, linger on each touch, and get so close to a kiss; it's agony.
Director Emma Holly Jones builds these moments perfectly. She and editor Kate Hickey know how long to let the shots linger. She and cinematographer Tony Miller know just what to show us. There's even a terrific melding of the three creatives in a lovely long take. As John (played by Divian Ladwa), footman to Miss Julia Thistlewaite (played by Zawe Ashton), delivers a note to Lord Cassidy (played by Oliver Jackson-Cohen), the message of the note traverses the room. It's a complicated shot with a lot of moving pieces that all work so well in complement to one another.
Suzanne Allain's script makesroom for more than just the main story. The secondary romance for Julia evolves as beautifully as the one between Mr. Malcolm and Selina. Though, what is most heartening to observe is as John and Molly (played by Sianad Gregory) create a sort of Rosencrantz and Guildenstern comedy duo in the background. John obviously seeks a life beyond his current station and Molly is content. Yet, Molly's not above giving John pointers by the end. The two of them even share a dance at the close of the masquerade ball that's sweet and charming. Mr. Malcolm's List will lull you into familiarity while surprising you with inventive subplots.
The story beats are very familiar and there are parts that can drag, yet Mr. Malcolm's List is a delightful film. It's comforting to escape to a world of decadence and uncomplicated living. It's comforting to watch as two charming, attractive people fall in love. Mr. Malcolm's List is a comfort and well worth the big screen experience.
Grade: B