Movie Review: Calvary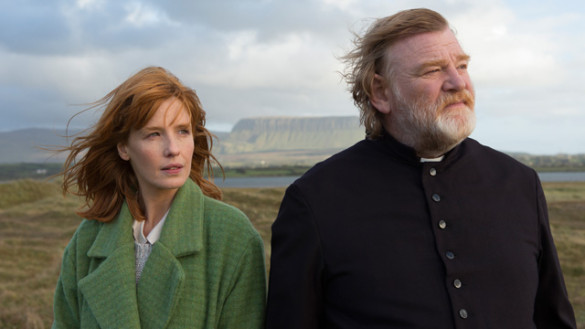 Director: John Michael McDonagh
Writers: John Michael McDonagh
Stars: Brendan Gleeson, Chris O'Dowd, Kelly Reilly
Synopsis: After he is threatened during a confession, a good-natured priest must battle the dark forces closing in around him.
DIRECTION
From the opening scene till the end credits, Calvary will have you hooked. It's not just the film's thrilling mystery, but it's themes and performances are just riveting. John Michael McDonagh again re-teams with Bendan Gleeson and it's even more magical than last time. The cinematography is stark at times, but also beautiful and used wonderfully. The pacing is great and the story is fluid, which is what's most important.
Grade: A
SCRIPT
The film opens with Father James (Gleeson) sitting in a confessional booth where one patron enters and confesses that he will kill Father James in a week. He has seven days to prepare himself, but at the end of it, he must atone for the sins of others. While the film does play as a "whodunit" mystery, it's much, much more than that. There are obvious Christ parallels, but the film also explores ideas of faith in general, doubt and forgiveness, which are all fleshed out wonderfully. We see Father James reconnect with his daughter in some amazing heartfelt ways, all while providing counsel for various people seeking his services though out the movie. We see raw sides of Father James as well as his spiritual sides, which makes him feel more authentic and relatable. McDonagh ultimately takes us through a journey of consequences, the effects of past hurts and how you respond to those emotional layers matters. The story is rich, layered and extremely fascinating.
Grade: A+
RELATED: Wish I Was Here Movie Review
PERFORMANCES
Brendan Gleeson gives one of the best performances of the year, hands down. He's masterful at showcasing every side of him, pummeling though every layer and giving us something special to behold. His revelations are alluring at times, but you can't help but feel riveted. Chris O'Dowd is also wonderful, as is Kelly Reilly and Aidan Gillen. All of the performances have a purpose, have weight behind them and elevate the film fantastically.
Grade: A+
SCORE
Patrick Cassidy, I applaud you. Cassidy's score is absolutely gorgeous and was the perfect anectode to the music need for this film. The tones add emotion and layers that fit the story masterfully, but also never seems forced or too much. The theme is used quite heavily, but it serves a specific purpose that never felt trite. Amazing work.
Grade: A
FINAL THOUGHTS
Calvary is not for everyone but the film's exploration of faith and how raw it can be, is a visual reminder of how imperfect it is but also how good it can be. It's not about a specific religion or faith, but rather how deep it's connections are, whether it's good or bad, and how you decide to respond to it effects other people. Father James' story is intriguing, provocative and one of the best experiences I've had in 2014.
Overall Grade: A+