Movie Review: 'Bad Boys For Life' is hilarious, exhilarating and surprisingly poignant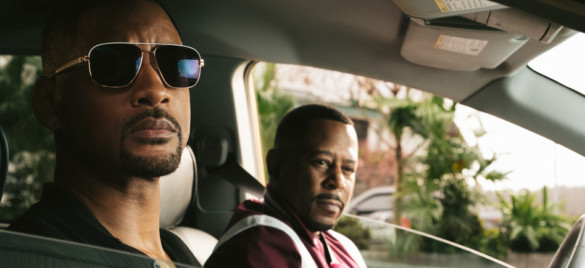 Director: Adil El Arbi, Bilall Fallah
Writer: Chris Bremner, Peter Craig, Joe Carnahan
Stars: Will Smith, Martin Lawrence, Joe Pantoliano, Paola Nuñez
Synopsis: The Bad Boys Mike Lowrey and Marcus Burnett are back together for one last ride in the highly anticipated Bad Boys for Life.
The Bad Boys films aren't necessarily the best films in the world (although I'd argue Bad Boys 1 is quite good), but they're quintessentially popcorn fun thanks to the chemistry of Will Smith and Martin Lawrence, the over-the-top action staged by Michael Bay, and the exciting thrills along the way. Well, Bad Boys For Life, even without Michael Bay (technically speaking), continues to be all those things while upping the ante emotionally. This is everything we love about the previous two Bad Boys films, but there's something a little extra this time around.
Bad Boys for Life picks up 16 years after the last one with Marcus Burnett (Martin Lawrence) and Mike Lowrey (Will Smith) experiencing the challenges of getting older while still trying to keep their edge and cool. At least for Mike. He still wants to be a cop. He still likes to shoot and intimidate. He still has his suave. Marcus on the other hand is now a grandfather (the revelation of that is one of the best comedic gags in the entire film). He's flirted with retirement before, but now with the birth of his grandson, he is serious about handing in his badge. However, after things take a drastic turn with Mike, Marcus is forced to go on one last ride with Mike to oppose a new, and very imposing, threat.
Bad Boys for Life, like its predecessors, starts with Martin Lawrence and Will Smith. Its their chemistry and banter that makes those films endlessly enjoyable. And it's no different here. In fact, it's captured immediately in the first scene of the film where we see Marcus and Mike in a "car chase" on the streets of Miami. However, and not to give anything away, but the crystallization of that sequence is very clever and fun. The banter, the constant bickering, the yin and yang of these two characters is back and it's as good as it's ever been.
There is one key difference though. For as hilarious and energized as Bad Boys for Life gets at times, it's equally reflective and poignant. There's a key scene early on that dramatically leaves Mike and Marcus in serious peril. And as they cope with what's happening to them, we see Marcus praying to God, emotionally coming undone in a way we haven't seen yet, and it's surprisingly very affecting. Similarly, as the film progresses, there are more than a few scenes where Mike reflects on his life and the choices he's made along the way. It's not often in films this bombastic where things slow down to focus on character and emotion in this way. Even if it doesn't all work, and I think it mostly does, you have to give credit to Chris Bremner, Peter Craig and Joe Carnahan's screenplay for attempting to humanize these characters, something we didn't see much in the previous two installments.
Speaking of the script, it's also worth noting that there are several major twists to Bad Boys for Life. I'm obviously not going to reveal any details, but each of them add further emotional heft that adds to the surprising nature of this film. The turn near the third act may be a bit contrived and manufactured, yet it also works because of how it comes together in execution. Either way, the screenplay does a captivating job of building stakes and raising uncertainty. At the mid-way point of the film, you start to question the possibility that one of our major characters may not make it out alive.
Bad Boys for Life also features a new supporting cast that is excellent. While I enjoyed the likes of Detective Reyes (Yul Vazquez) and Detective Vargas (Jason Manuel Olazabal) in the previous films, it makes sense that changes were needed. The players around Mike and Marcus include a younger team, a new police unit called AMMO, with new technology and tactics. This, of course, takes some getting used to as M & M are stuck in their old ways, but it makes for great hilarity along the way as the everyone comes together as the stakes amplify. Credit to Paola Nuñez, Vanessa Hudgens, Alexander Ludwig and Charles Melton for their performances and bringing solidarity to all of that.
I mentioned earlier that Michael Bay is technically not a part of this film, at least as a director, but his thumbprint is all over Bad Boys for Life. Directors Adil El Arbi and Bilall Fallah channel their inner Bay as the camera swoons and pans in Bay-like fashion throughout the film. The action in staged similarly as well, sometimes mimicing Bay a little too closely, but overall Arbi and Fallah create a familiar aesthetic that maintains the same sense of rhythm and style that we love about this franchise. A key difference though, is the editing of Bad Boys for Life. It's not quite as frenetic and incoherent as Bay's films tend to me. This is more smooth and fluid in its editing.
It's early in 2020, but Bad Boys for Life could end up going down as the biggest surprise of the year. It's everything we love about pure popcorn cinema. It's bitingly funny, it's tender and poignant, its action is thrilling, it narratively features unexpected twists and turns, it looks beautiful with its cinematography. Hell, it even features a blisteringly great score from Lorne Balfe. Bad Boys for Life has it all. It does have a few issues here and there, it's not perfect, but it's as enjoyable as anything I'll see this year from mainstream cinema.
Overall Grade: B+