Movie Review: 'Annette' is the Film Leos Carax Has Been Building To His Entire Career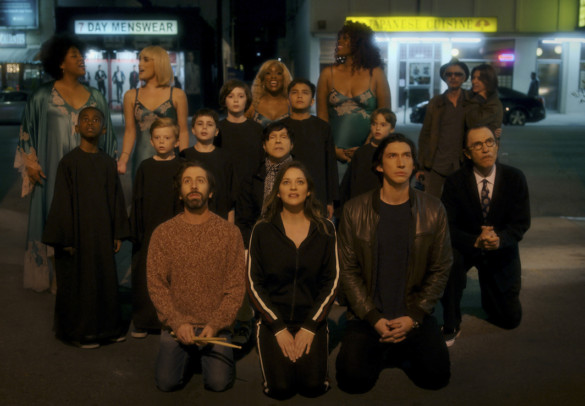 Director: Leos Carax
Writers: Ron Mael, Russell Mael, Leos Carax
Stars: Adam Driver, Marion Cotillard, Simon Helberg, Devyn McDowell
Plot: A stand-up comedian and his opera singer wife have a 2 year old daughter with a surprising gift.
From the moment filmmaker Leos Carax announced his next film would be a musical, it was guaranteed that Annette would be unlike anything we've ever seen before. That promise has been fulfilled with what can only be described as a cinematic rock opera, an overwhelming cacophony of sounds and emotions that soars through each and every scene. 
It feels inevitable that Carax's journey would eventually take him to a full-fledged musical experience. As early as 1986's viral romance Mauvais Sang, he was featuring detours into rambunctious dance numbers through the streets set to David Bowie's "Modern Love" – a scene which Noah Baumbach and Greta Gerwig lifted for their 2013 hit Frances Ha. Carax's most recent feature, the unclassifiable 2012 wonder Holy Motors, similarly featured a vignette that burst into full-on musical for one standout sequence. With an almost decade long wait for his follow-up to that film, one of the most acclaimed of his career, all eyes were peeled for what cinematic delight Carax would bestow upon us next. 
Annette stars Adam Driver as Henry McHenry, a rebellious stand-up comedian who we're introduced to as the punk rock God of the comedy world, moving his audience wherever he wants as they sing in harmony with his stage routine. McHenry is engaged to Ann Desfranoux, a soprano played by Marion Cotillard. The two are the talk of the town, with their every move followed feverishly by demanding paparazzi and gossiping nightly entertainment news. Carax turns that television standard that we all know into his very own Greek chorus, observing the developing trials and tribulations of the McHenry/Desfranoux romance with top of the hour breaking headlines. 
Carax's reflections on the nature of fame are layered deeper by the arrival of Henry and Ann's child, Annette. Jarringly portrayed as a wooden marionette puppet treated as a living, breathing child, the artificial nature of Annette serves as a further peeling back of the separation from reality that comes from being a celebrity. When it's revealed that Annette has a gift of her own, a practically supernatural singing ability, she becomes commodified as the latest in the factory line of celebrities for the culture to worship and destroy. 
Ron Mael and Russell Mael, also known as the rock duo Sparks, co-wrote the script with Carax, and provide the musical compositions that accompany the entire film. Fitting the operatic tone that Carax achieves from the moment the film begins, there's rarely a word of dialogue spoken rather than sung, calling to mind the way that Jacques Demy used the music of Umbrellas of Cherbourg to channel emotion and character beats through song. It provides a swell of wonder and visceral engagement with feelings that mere words wouldn't be able to accomplish. Every note of music strikes an inner chord with the audience throughout Annette, as Carax, Sparks, and the actors charge through nearly two and a half hours of overwhelming sensations ranging from swooning love songs to haunting notes of despair. 
The Maels provide the instruments for Carax to conduct his symphony, the true epic musical that he has always been destined to make. At times, Annette threatens to become too much, working in commentary on toxic masculinity, the corrosive impact of fame, the shattered bond between a child and parent, and so much more. A lesser filmmaker may have buckled under the sheer ambition of what a big swing Carax is taking here. The fact that he manages to pull this off is nothing short of a stroke of genius, a master filmmaker at the top of his game, fulfilling a promise that he started teasing 35 years ago to combine sound and image for the entire duration of this wholly unique experience. 
Grade: A-