Podcast: The Martian, Top 3 Abandoned Characters, Sicario – Episode 137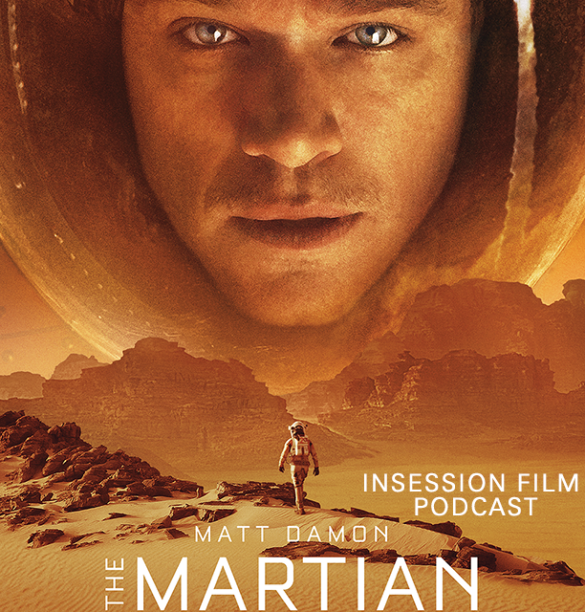 This podcast is brought to you by the InSession Film Store. Get your IF t-shirt today!
This week on the InSession Film Podcast, Chris from Geekscholars Movie News joins us to discuss Ridley Scott's, The Martian and our Top 3 abandoned movie characters. And this week we forgo our normal discussion segment to review Denis Villeneuve's latest film, Sicario.
Chris was once again a fantastic guest and if you missed him the last time he was on the show, check out our review of Veronica Mars from last spring. Also, forgive us for our football talk at the beginning. We know many of you won't care or know what we're talking about, but just know, it's a good catharsis for us. So thanks for putting up with it!
Anyway, check out this week's show and let us know what you think in the comment section. Thanks for listening and thanks for supporting of the InSession Film Podcast!
– The Martian Movie Review (8:28)
Grades
JD: A
Brendan: A
Chris: A
– Top 3 Abandoned Movie Characters (36:29)
There are several ways you could define abandonment within the context of film. Characters in a survival film could be defined as "abandoned" or perhaps a character that finds himself in isolation. Criteria here is important and we refined ours enough that we feel our list's represent "abandonment" pretty well. That being said, what would be your Top 3?
Top 3 Sponsor: First Time Watchers Podcast
RELATED: Listen to Episode 136 of the InSession Film Podcast where we discussed Everest!
– Sicario Movie Review (1:19:17)
Grades
JD: A+
Brendan: A
– Music
Making Water – Harry Gregson-Williams
August Rush – Mark Mancina
The Beast – Jóhann Jóhannsson
The Return of the Eagle – Atli Örvarsson
Subscribe to our Podcasts RSS
Subscribe to our Podcasts on iTunes
Listen on Stitcher
InSession Film Podcast – Episode 137
Next week on the show:
Main Review – Pan
Top 3 – TBD
Help Support The InSession Film Podcast
If you want to help support us, there are several ways you can help us and we'd absolutely appreciate it. Every penny goes directly back into supporting the show and we are truly honored and grateful. Thanks for your support and for listening to the InSession Film Podcast!
VISIT OUR DONATE PAGE HERE