Podcast: Luca / Top 3 Coming of Age Scenes in Animated Films – Episode 435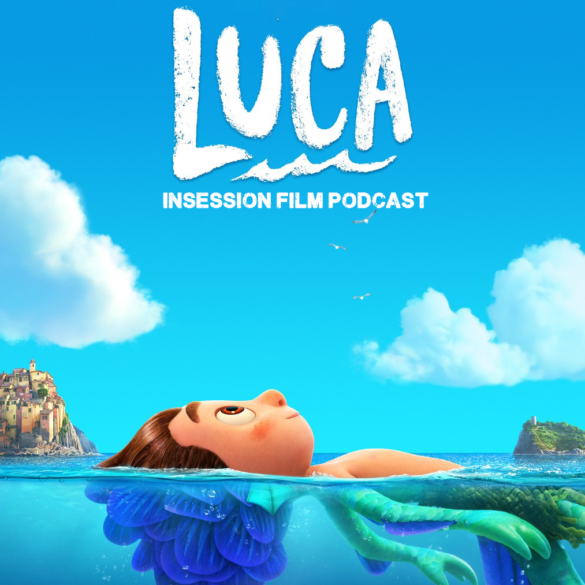 This week's episode is brought to you by TeePublic and the InSession Film Store. Get your InSession Film T-shirt today!
This week on the InSession Film Podcast, we discuss Pixar's latest in Luca and our Top 3 coming-of-age scenes in animated movies! Plus, JD gives a few brief thoughts on F9 since he will be out next week.
This may just be the quintessential JD/Brendan episode. It's always a fun time when we get to talk about Pixar, or animation generally, but it's even more poignant when we get to discuss coming-of-age stories in film. It's a "genre" that we deeply love and it fits animation immaculately. So, discussing the best coming-of-age scenes in the world of animation just seems too perfect for us. And spoiler alert, we had a ton of fun with it on this week's episode.
On that note, check out this week's show and let us know what you think in the comment section. Thanks for listening and for supporting the InSession Film Podcast!
– Movie Review: Luca (6:26)
Director: Enrico Casarosa
Writers: Enrico Casarosa, Jesse Andrews, Simon Stephenson, Mike Jones
Stars: Jacob Tremblay, Jack Dylan Grazer, Emma Berman
– Notes / F9 (48:12)
For our break segment, JD offers up a few thoughts on the latest Fast & Furious film F9 since he will be out next week on Episode 436.
RELATED: Listen to Episode 423 of the InSession Film Podcast where we discussed The Tree of Life!
– Top 3 Coming of Age Scenes in Animated Films (1:12:51)
As mentioned above, this topic is right up our alley in just about every way. Coming-of-age stories are very personal to us, and when coupled with animation it often makes for some magical experiences. Which is to say, there is no shortage of great scenes to pick from for our lists, making this exercise a bit challenging. But also a lot of fun simultaneously. That said, what would be your top 3?
Show Sponsor: First Time Watchers Podcast
– Music
Meet Luca – Dan Romer
Go Find Out For Me – Dan Romer
Bundle of Joy – Michael Giacchino
The Return of the Eagle – Atli Örvarsson
Subscribe to our Podcasts RSS
Subscribe to our Podcasts on iTunes
Listen on Spotify
Listen on Stitcher
InSession Film Podcast – Episode 435
Next week on the show:
Review: F9
Top 3: N/A
Help Support The InSession Film Podcast
If you want to help support us, there are several ways you can help us and we'd absolutely appreciate it. Every penny goes directly back into supporting the show and we are truly honored and grateful. Thanks for your support and for listening to the InSession Film Podcast!
VISIT OUR DONATE PAGE HERE