List: Top 3 Sense of Scale Movies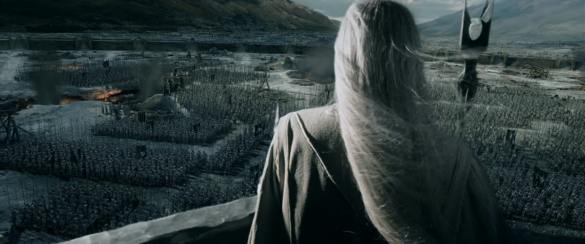 This week on Episode 281 of the InSession Film Podcast, inspired by Ant-Man and the Wasp, it felt appropriate to talk about films that have best utilized a sense of scale in film. This topic was challenging to define let alone narrow down the films that fit that criteria. Despite the rigorous homework, we all ended up conjuring lists that hopefully comes through as compelling. At the very least, it sparked some enjoyable conversation. On that note, what movies would make your list? Here are the one's that made ours:
(Note: Please keep in mind that we each had different criteria for our selections)
JD:
1) The Lord of the Rings
2) Brazil
3) Gravity
Brendan:
1) Alien
2) Synecdoche, New York
3) Ran
Paul:
1) The Lord of the Rings
2) Inception
3) King Kong
Honorable Mentions (Combined)
Honey I Shrunk the Kids, Innerspace, Ant-Man, Metropolis, Jurassic Park, The Matrix, Toy Story, Inside Out, Titanic, Blade Runner, Rear Window, Moon, Star Wars, Rogue One, Th Walk, The Impossible, Hereditary, Godzilla, The Wizard of Oz, Trip to the Moon, anything Wes Anderson and Charlie Chaplin
Hopefully you guys enjoyed our lists and if you agree or disagree with us, let us know in the comment section below. This list is going to be quite different for you depending on how you define sense of scale and what you're looking for. That being said, what would be your Top 3? Leave a comment in the comment section or email us at insessionfilm@gmail.com.
For the entire podcast, click here or listen below.
For more lists done by the InSession Film crew and other guests, be sure see our Top 3 Movie Lists page.