List: Top 3 Scenes in Clint Eastwood (Directed) Movies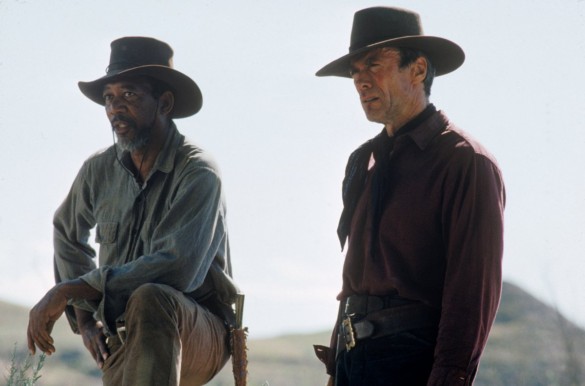 This week on Episode 186 of the InSession Film Podcast, we reviewed Clint Eastwood's new film, Sully. Going off of that, we thought it would be fun to discuss our favorite moments from Eastwood directed film. And despite his last four outings, Eastwood is a proven director with a lot of rich material on his resume. There are many scenes one could choose from for this list and we found some great scenes to talk about. It's clear that Eastwood has a robust vision in many of his movies, and our discussion here is very representative of that fact. We were also joined by ESPN's Adnan Virk for this specific discussion, who was a great guest with wonderful insight.
On that note, which Clint Eastwood directed scenes would make your list? Here are the one's that made ours:
*Keep in mind we have different criteria for our lists as well*
JD
1) Jimmy Markum discovers his daughters fate – Mystic River
2) The Kid reveals the truth to William Munny – Unforgiven
3) Robert / Philip run into family – A Perfect World
Brendan
1) Jimmy Markum discovers his daughters fate – Mystic River
2) Japanese soldier / American soldier have a conversation – Letters from Iwo Jima
3) Ending shootout – Unforgiven
Adnan
1) Ending hospital scene – Million Dollar Baby
2) Ending shootout – Unforgiven
3) Jimmy Markum discovers his daughters fate – Mystic River
Honorable Mentions (Combined)
Raising of the Flag – Flags of our Fathers
Ending Sacrifice – Gran Torino
Sniper / Child Scene – American Sniper
Bar Scene – American Sniper
"I want my son back!" – Changeling
Tsunami Scene – Hereafter
Hopefully you guys enjoyed our lists and if you agree or disagree with us, let us know in the comment section below. Clearly there are a lot of other great Clint Eastwood scenes that battled for our lists, that just missed the cut. That being said, what would be your Top 3? Leave a comment in the comment section or email us at insessionfilm@gmail.com.
For the entire podcast, click here or listen below.
For more lists done by the InSession Film crew and other guests, be sure see our Top 3 Movie Lists page.