Movies in the summer of 2013 can mostly be associated with disappointment, but depending on how you look at it, there was plenty of rich content still going around. Yes, there wasn't a lot of great big budget action but there were some gems that made the summer not as bad as you would think. So, let's break it all down and see what this year had to offer in terms of film.
White House Down and After Earth have to top this list in terms of summer blockbuster action. Both movies were filled with some descent action sequences but fell extremely flat in terms of story and character. While White House Down was better than Olympus Has Fallen, it still doesn't have a ton to offer. Jamie Foxx and Channing Tatum were kind of funny and brought a little bit to the table. While After Earth left Will Smith wondering how he can get back into the summer spotlight. And son Jaden isn't quite the lead actor material quite yet.
Other losers have to include The Internship which is pretty disappointing since I loved Vince Vaughn and Owen Wilson in Wedding Crashers. Other comedies such as We're the Millers, The Hangover III, and Grown Ups 2 somehow did well at the box office but offer nothing in terms of likability if you ask me. You can skip these and you won't be missing anything.
R.I.P.D. is sad to me since I love Jeff Bridges and it's hearbreaking he had to be a part of this but this is arguably up there with White House Down and After Earth. R.I.P.D. is the perfect example of how to ruin the talent given to you and how to waste money on CGI.
Even though I love Denzel Washington and Mark Wahlberg, I have to put 2 Guns into this category as well though. Walberg and Washington were funny and had good chemistry but overall this movie is average and isn't anything that separates itself in anyway. The story is dry and very mundane. I would recommend catching this on TNT when it comes to TV in a few months.
The biggest disappiontment of the summer is actually two movies; Man of Steel and Iron Man 3.
Man of Steel had so much potential but ultimately fell flat with the story and character. The CGI was awesome but the action and destruction also became a downfall for the film. Some elements were explored well but given the hype this movie had, it was a big heartbreak to walk out of the theater with the feeling I had. The biggest problem was there was no joy. I can lay down expectations and realism for this environment but with Christopher Nolan and Zack Snyder, I think it's safe to say that having better expectations is okay here. And Man of Steel didn't deliver on that.
Iron Man 3 was probably more disappointing though honestly. The Mandarin was shaping up to be the best comic book movie villain of all-time and Ben Kingsley looked like he was going to destroy the world and for the first time I wasn't sure who'd win the battle. Of course, Iron Man would win in the end but my point is, is that it looked like it was going to be epic. When the movie revealed itself, it completely changed everything and the rest of the movie almost didn't even matter to me. The way the rest played out was cheesy, dumb and it lost everything that made the Iron Man movies great. It was a big risk, but Shane Black struck out here.
Other disappointments have to be include Neill Blomkamp's Elysium. The visuals were amazing and given how much District 9 was awesome, we had good expectations for Elysium. But again, the focus was lost and some bad performances strangled the movie. This had some great action though.
Kick-Ass 2 and The Wolverine also fit into this category. While I did like Kick-Ass 2 overall, it doesn't quite have the heart of the first film and lacked in some of the story weaving which ultimately keeps it here in this category. The Wolverine was much, much better than Origins: Wolverine but still lacked in the story, especially in the third act.
And finally, outside of big budget action, we have to include Lee Daniels' The Butler and Jobs here too. Both of these films had great premises but were poorly executed. Lee Daniels' The Butler still has something to offer and I would recommend a one-time watch but it's one you can wait to see on Blu-ray.
Okay before we get to the winners, there are a few special categories that I wanted to throw out there. You're probably thinking, why isn't The Lone Ranger in the Losers category? Well there's a reason for it. So here is my first special category.
The Best and Worst Movie in One Movie: The Lone Ranger
The Lone Ranger is pretty bad. We'll throw that out there to begin with. Johnny Depp is an indian version of his Captain Jack Sparrow character and Armie Hammer isn't that great either. The first two hours of the film is mundane, boring and not very much fun at all. It's not the critics fault that movie bombed. It's bad all around and it had bad marketing. However, the last 20 minutes is the best movie I've seen all summer. Hans Zimmer's (William Tell Overture) score ramps up and the action is awesome. If The Lone Ranger was just the last 20 minutes, it'd be my favorite movie of the year so far. It's incredible and I'd recommend a DVD rental just for that alone.
The Biggest Surprise: Turbo
Turbo was a huge, huge surprise for me. I really didn't even want to see it but I'm glad I did. It's a ridiculous premise but it's also an animated movie so there's always an element to that. And while this is a classic underdog story, it has heart and human elements that everyone can relate too. It has depth, good character and is way more fun than you think you'd have. But the big thing, the music is INCREDIBLE! They have great original songs, re-mixes that include Eye of the Tiger mixed with Tupac (and it was awesome!), and an original rap that is a play on YouTube video remixes. The score by Henry Jackman is also really great and the music elevates this film to a whole new level! The visuals were used well and the camera work was not bad. It's easily one of the better films that no one saw this year.
The One People Don't Get: Pain & Gain
Okay, so this technically isn't a "summer movie" but I have to talk about it. And it's close enough to summer. Michael Bay's Pain & Gain was much different than I thought it would be but I still liked it. But it was ripped by media and the public alike. All I kept hearing was, "Michael Bay is making a mockery of a real-life tragic situation and it's a joke what he's doing." Yeah that was the point. It's a satire people. It was a crazy situation with dumb people doing really dumb things. The joke isn't about the situation itself. He's making a mockery of the idiots who thought they could pull this off in real life. Of course it was a serious situation. It was a satire to exploit the bad guys that did this. And for Bay, this is a very different step and kudos to him for doing something different. Yes, the movie did have problems, but again, for Bay this was really good and good for him to swing at something else. If Woody Allen was listed as the director for this movie, and I mean the exact content this movie was, people would have praised it. People just like to hate Michael Bay.
Finally we get to the fun part. The movies that were fun, entreating or gave us something to grapple with.
For me, the best was Pacific Rim. Yes, I know that it had some problems and the leads here weren't stellar but again, for what this movie was doing, I thought it was extremely effective. The visuals were absolutely stunning and the design of the Kaiju were incredible. The Jaegers were also designed well and Guillermo del Toro put you right into the cockpit with his practical effects. The big difference with Pacific Rim vs all the others was the joy you can experience. Yes, it's a little cheesy, it's a little stereotypical but it was fun and it was great. It bombed at the box office in the U.S. but for me, that's not what defines a winner or loser (as you can see from this list). However, this movie did go on to make the same amount as Star Trek: Into Darkness.
Speaking of, Star Trek: Into Darkness is another big winner. It's debatable whether this movie is as good as the first one, but if not, it's close and it's still a lot of fun. Chris Pine and Zachary Quinto are amazing reprising their roles and James Kirk and Spock. Benedict Cumberbatch as the villain was amazing and was easily a better villian than that of the first J.J. Abrams Star Trek film.
You also got to love World War Z. It wasn't anyhthing like the book but what Brad Pitt and company did was bring us a fun, intense "zombie" thriller. We have a theory they aren't really zombies, which you can hear in our World War Z podcast. The story came together well and the performances were great. This was a good win for the summer as well and very unexpected. A lot of people expected this to bomb but now sequels are possibly in the works.
Fast & Furious 6 wasn't as good as Fast 5 but it was still miles above the previous 4. These characters are fun and the new style this series has taken is much better. It's rare to see a franchise get this much better this far into the franchise. Yes, this one was a little cheesy and some of the action was absurd. But overall it was a fun summer movie.
Other winners have to be comedies This is the End, The World's End and The Heat. Both were big successes at the box office and both were pretty funny. This is the End was a hilarious, dirty movie that is what you'd expect but want from these guys. James Franco and Danny McBride were especially hilarious. This could still be the best comedy of the year. However, The World's End is also amazing and, in my opinion, it's the best in the Cornetto trilogy. It's very funny and has some of the best action we've seen all summer as well. To me, it definitely comes to those two for the best comedy. The Heat was pretty funny though and was way better than ever anticipated. Melissa McCarthy started out rough but really came into her own as the film went along. The story is cheesy as all get out but it's fun and it made a buttload at the box office. This was an unexpected win.
The animated film Despicable Me 2 and Monsters University were also wins. These could have gone into the "disappointment" category for some people as these sequels didn't live up to their predecessors but I think they were great on their own and the critics gave them too much of hard time. The minions were really great in Despicable Me 2 and for what Monsters University was doing, it was effective.
The other big winners were the amazing indie films this summer!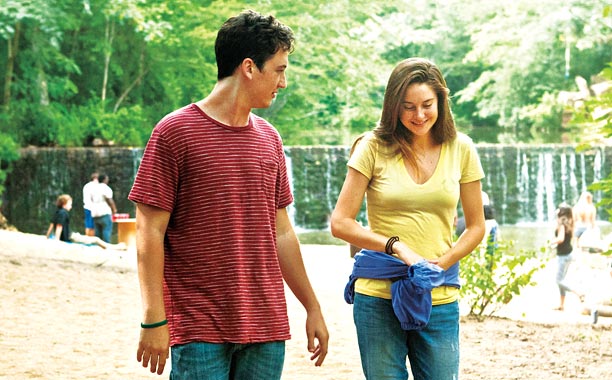 Fruitvale Station is among the best and we probably will get a Best Actor Nominee for Michael B. Jordan in his portrayal of Oscar Grant. This is an incredible film that everyone should see. It's sad, heartwrenching but incredibly captivating at the same time.
Jake Johnson and Olivia Wilde steal the show in Drinking Buddies, which is great. You know what will blur the lines between friends and more than friends? Beer. And this movie explores that dynamic really well.
The Spectacular Now is perhaps the best indie of the year so far and features an incredible coming of age love story between an unlikely pair. Shailene Woodley was terrific alongside Miles Teller who brings really great depth to his character, which we haven't seen before from him. Highly recommended and amazing film.
The funnies and perhaps most heart-warming indie of the summer was The Way, Way Back. Sam Rockwell steals the show and is incredibly hilarious. This is one of the best performances he's given but his character also shows some depth which makes the film even better. The dynamics between Liam James and AnnaSophia Robb were great though and what makes this film elevate to another level. The performances all around were terrific and hilarious.
Woody Allen's Blue Jasmine also features a future Best Actress Nomination in Cate Blanchett which is probably the best female performance of the year.
Prince Avalanche was a big upgrade for director David Gordon Green and features amazing performances from Paul Rudd and Emile Hirsch.
Finally, the last big winner of the summer was Blackfish. This is a documentary that makes this film a winner but will make Sea World a loser. This film does an amazing job of exploring the ridiculousness going on behind the scenes at Sea World and why their actions have caused the lives of several trainers and other people involved. It's heart-wrenching, incredible and will change the way you look at Sea World. Amazing documentary.
Well that's our look at the summer of 2013. What do you think? Do you agree or disagree? Did we miss anything that you would have liked to talk about? Let us know in the comments and we look forward to a big fall at the movies!