As I continue down the rabbit hole that is interviewing SAG voters, I have come by a first time voter who recently joined SAG due to the unions opening to influencers, and as an influencer with over 3 million followers this is a first time for this person, as well as a 25 year long SAG member who you've seen in projects like American Horror Story. We will be referring to the influencer as "SAG Voter 2" and the actor as "SAG Voter 3".
*Note- these interviews were done separately, but for this piece I combined them for the sake of time.
Joey Gentile: Welcome and thank you for giving me some of your time to talk about your plans for your SAG ballot. 
Sag Voter 2: Hey, thank you.
Sag Voter 3: Of course, glad to do this.
JG: So, here we are again. Another crop of SAG nominations are out and I'm curious to know your thoughts and if you have an idea of who you want to vote for yet?
SV2: I think I do.
SV3: This is the first year where I've seen everything in a long time. I usually don't get the time to watch all the shows (the movies I definitely see) but everything nominated is something I've seen.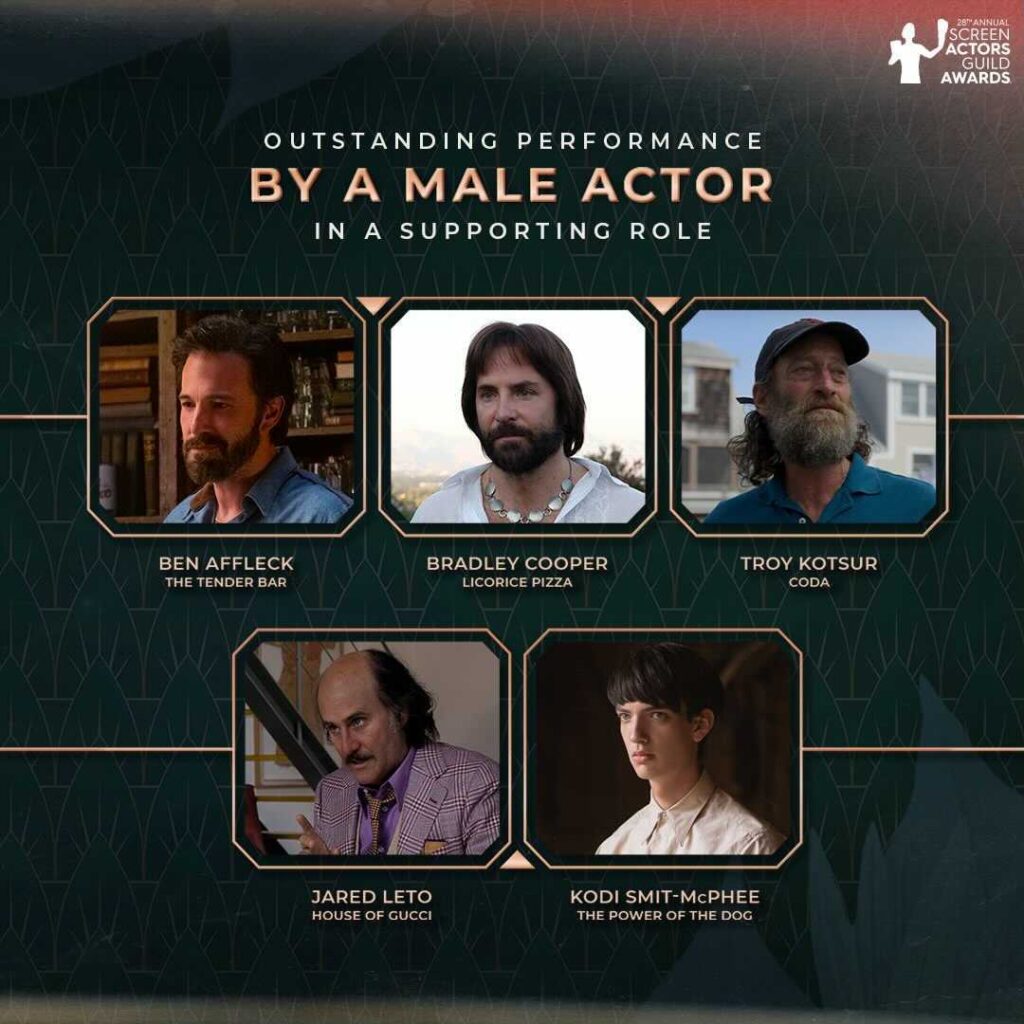 JG: Perfect, let's start with Supporting Actor.
SV2: Looking at the nomination list in front of me I think I would go with Jared Leto for House of Gucci.
JG: Oh I'm sorry, let's go through each of the nominees and tell me what you think of them in their films and then at the end of each category you can reveal out of the five who you would vote for.
SV2: I haven't seen these.
JG: ….I'm sorry, what?
SV2: Yeah, I'm not going to watch these. Although I did see WandaVision and that Tammy Faye movie, I just am excited to vote for the first time.
JG: So you're going to vote without seeing the movies? 
SV2: I know, I know it sounds awful but it is what it is, but yeah I want to vote for Jared Leto and Lady Gaga because I like their music. So I'll vote for House of Gucci for best film too. 
JG: Okay, sure. 
SV2: That leaves the other categories, and I really loved Bring it On growing up so I'll vote for Kirsten Dunst, and then I don't really care who wins actor but I did love Benedict as Doctor Strange, so him too, I guess. 
JG: So to be clear, just so myself and the eventual readers are aware, you are voting for people you love for their music and past films and not so much this year with their work?
SV2: I know, I know how it sounds. But yeah.
JG: Okay then. 
SV3: Supporting Actor-
Ben Affleck, The Tender Bar: I really like this performance, it doesn't feel like it's that much of a stretch for an actor like Affleck but that doesn't mean it's not good. This is one of those performances where you leave the movie thinking about him and I like that. 
Troy Kotsur, CODA: I really like this one too. Troy is really able to tug at the heart strings here without pulling focus from the story. Not only is his comedic timing really on point here, but this performance is also just right on the dramatic effect too. 
Kodi Smit-McPhee, The Power of the Dog: There is something beautifully haunting about this performance. At first I wasn't sure if there really was a role here as there is a solid chunk of the movie that he's missing from but once he's back it's electric, the type of silhouette Kodi is projecting here is so intriguing. 
Jared Leto, House of Gucci: I mean this with no foul intent, but what is he doing? Legit I don't mean that negatively, Jared is putting on a show here and taking no prisoners. Does it feel like a lot at times? Sure. But that doesn't mean he's bad because he's not bad at any point in the film, but he's not blowing the socks off of me like his brilliant performance in Dallas Buyers Club or even his solid work in last year's The Little Things.
Bradley Cooper, Licorice Pizza: It's odd to me that Bradley is the sole representation for this film, and it's not to say he's bad either because he's not. I just find it odd that SAG didn't eat this film up. The small screen time is exactly the type of performance that the Supporting category is made for and I love it. Really funny and a fun performance all around, I find myself missing him in the film once he exits. 
This whole category has not one sour apple in the bunch and I'm pretty sure I would be voting for Kodi Smit-McPhee based on just performance but I would be lying if I were to say I'm not not voting for JARED LETO based not only on his performance but because whether you like it or not he's the most memorable in this lineup, love him or hate him in the movie he's the one everyone is talking about and he's the stand out. 
JG: I actually did not see that one coming, but I completely get what you're saying. How about Supporting Actress?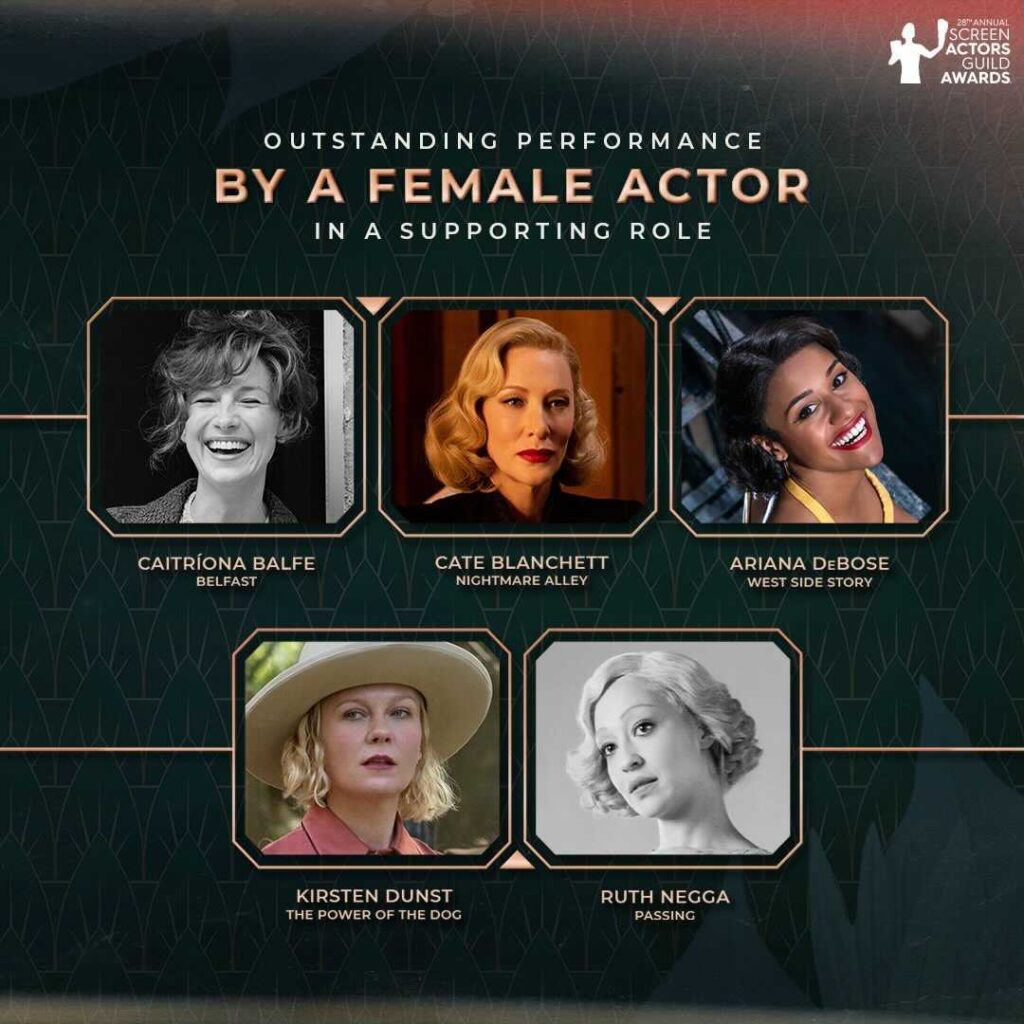 SV 3: Supporting Actress, okay-
Ariana DeBose, West Side Story: I saw this film opening night on the big screen and I enjoyed it a lot. There are some choices that Spielberg made that I enjoyed more than others and DeBose falls right in the middle of that feeling. She's good in this role and her dancing is super impressive but it feels like it's on the cusp of needing something more. I never felt connected with Rita Moreno's version of Anita, so at least I'm connecting here with DeBose's but something is missing that I cannot put my finger on. If I was voting solely based on dancing she would win hands down. 
Caitriona Balfe, Belfast: The movie is nice but I'm not sure if there's much of a story behind it. It feels like a generic, by the book, Oscar bait film. With that said though, I found Balfe to be absolutely wonderful, she is funny and heartbreaking in one smooth take and that's true talent there. She's the highlight along with Hinds in a movie that's nice but forgettable. 
Kirsten Dunst, The Power of the Dog: She is truly a spectacle here, not only does she hold the whole film in her hands I'm not sure if it would work as a whole without her here. If Kodi is magnetic, Kirsten is the charge of the movie. Absolutely sublime.
Ruth Negga, Passing: I like what she's doing for her character here but I'm not for sure if this is much better than her co-star Tessa (Thompson) who seems to be getting snubbed by the precursors. Ruth is silent and effective but I'm not sure THIS is the one that should be getting the nominations. 
Cate Blanchett, Nightmare Alley: Cate is definitely a surprise in this category and not because she is bad here (she isn't) but because this seemed to have come from nowhere. While I would've personally nominated Toni Collette over Cate I don't hate this, but let's be honest on this she isn't winning here. 
KIRSTEN DUNST is edging out Balfe for me for the win. Dunst is not only WAY overdue but she's easily the best in this lineup that this should feel like a deadlock in any of the categories.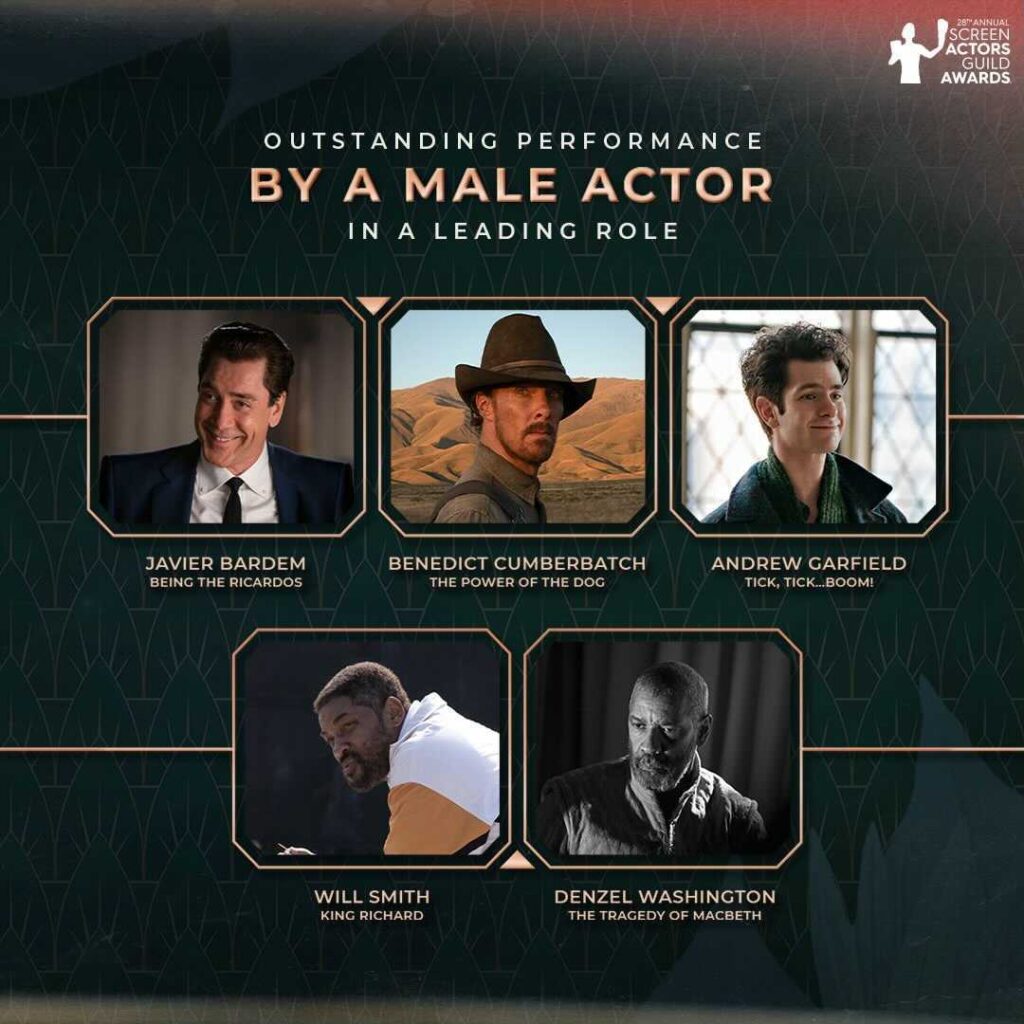 JG: Moving onto Actor.
SV 3: 
Will Smith, King Richard: If there is a sure way to be disappointed this season for me it was Will in this movie. Not only was the movie just completely uninteresting, going into this I heard the buzz about this being "the one" for Will, but I ask you- what does he do? I cannot figure out what he's doing here to warrant a nomination, it's like a bad SNL sketch performance. 
Andrew Garfield, tick, tick… BOOM!: I really wanted to love this performance, I really did but I also found this movie to be unbearable. It was so pretentious that it made Don't Look Up bearable. If Will Smith is a bad SNL sketch, this is a MadTV sketch gone bad. Also, Eraserhead called and wanted it's hair back…
Javier Bardem: Being the Ricardos: (Silence filled the call for what felt like a solid 3 minutes) It takes so little for men to be given praise, it really does. 
Note* I actually did a spit take on the zoom call here.
JG: THE SHADE OF IT ALL! 
SV 3: Tell me I'm lying.
JG: How about Denzel? 
SV 3: Okay- 
Denzel Washington, The Tragedy of Macbeth: I am a complete classics snob, and not only did the film completely satisfy my itch for that genre of film to make a comeback but this is top tier Denzel Washington. I have never seen such a rich and layered take on Macbeth but I am literally pointing my finger at how numb society has become to these types of films because this should easily be sweeping every category possible. BRAVO! 
Benedict Cumberbatch, The Power of the Dog: We love our closested gay cowboys don't we? This is really good, and I was mesmerized by what Cumberbatch was doing here. The whole Dog trio is so good but he only gets my runner up position because- 
DENZEL WASHINGTON is easily getting my vote, please let him win this one!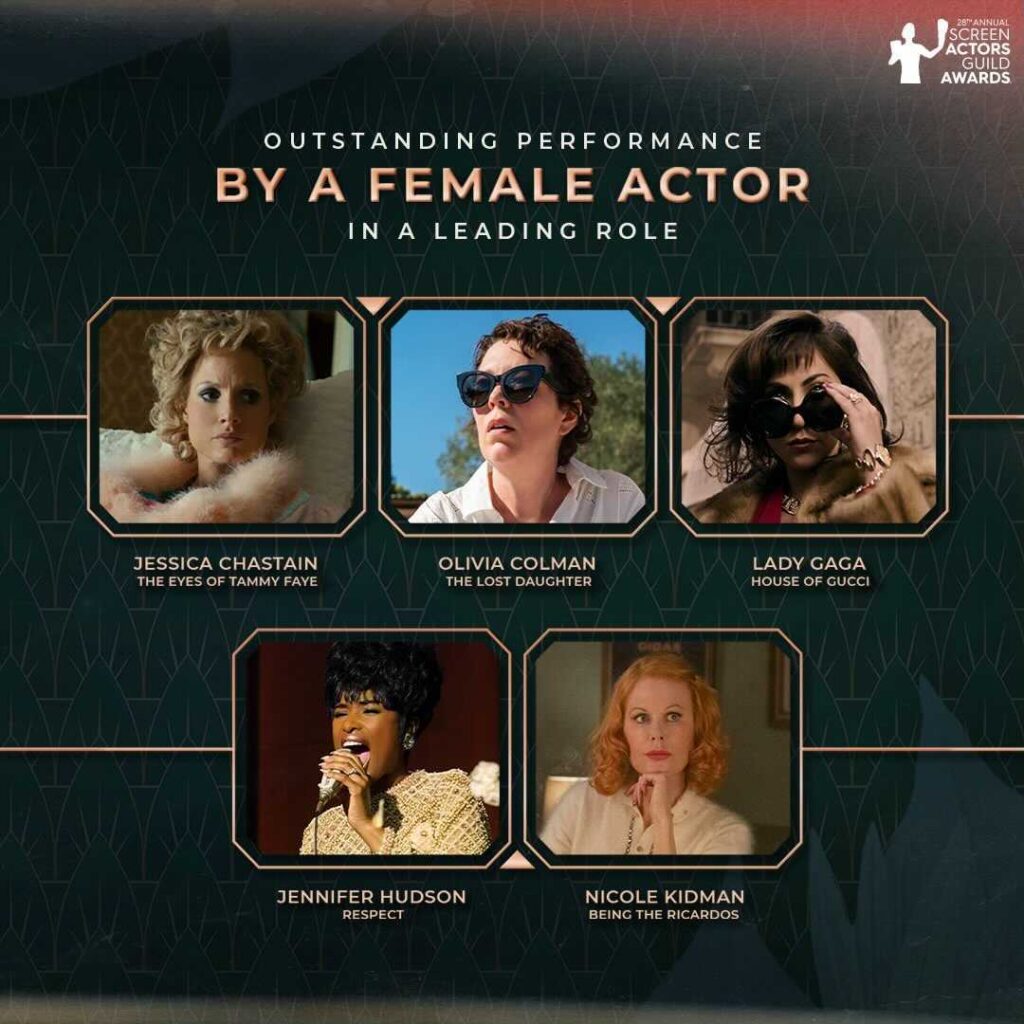 JG: How about Best Actress? 
SV 3: Full disclosure- 
JG: Yes? 
SV 3: I have been voting for these awards since 1997 and never once has my vote been the winner. 
JG: Ever?
SV 3: Ever. So let's see if I continue my Susan Lucci moment this year.
Nicole Kidman, Being the Ricardos: Unlike her co star I can see why she has this nomination and I'm not mad about it. I've never really been enamored with a Kidman performance outside of Lion really, and this is very much in the vein of being okay with it but not blown away by her. 
Lady Gaga, House of Gucci: If Jared (Leto) is the thing you think of the most from the movie in general, Gaga is the thing you remember second. Her performance is really good and I actually like her a lot in this. I don't have any complaints when it comes to her here. I will say this is much better than her work in A Star is Born.
Jennifer Hudson, Respect: Jennifer is really playing Jennifer here, and I can't see Aretha Franklin in there, it's just Jennifer and I cannot get past that. Plus the movie isn't very good so that doesn't help her chances. 
Jessica Chastain, The Eyes of Tammy Faye: The thing with this is that I don't hate this performance at all, in fact I think she's damn good and I get lost within her performance. What I have issues with is that makeup job. Tammy Faye was larger than life but for some reason (especially when she was young) that makeup team decided to make her have chipmunk cheeks, in fact she looked like Greta in A Nightmare on Elm Street 5 when Freddy is murdering her by force feeding her and she pops out in Alice's refridgferator, THAT is what Chastain looks like here, but for an entire movie. Outside of the terrible make-up job, Jessica is really good here. 
Olivia Colman, The Lost Daughter: In a very odd year of a Best Actress lineup, Olivia Colman, like Denzel in the lead actor category, is the biggest stand out and it shows. Not only is she doing the trifecta of acting ( visual, mental, verbal) all at once she is able to balance it perfectly while never making us bored with what she's bringing to the table. 
I'm voting for OLIVIA COLMAN and I hope this is the year where I break my Actress curse. This lead race is really a 3-way race between Colman, Gaga, and Chastain. Hudson is happy to be here and Kidman is here like Helen Mirren, not a filler, could have a chance at a nomination but nothing more. This whole category made me sad, how do we ignore people like Taylour Paige, or Riley Keough in Zola, Alana Haim in Licorice Pizza, Renate Reinsve in The Worst Person in the World, or hell even the Mass women with Ann Dowd or especially Martha Plimpton?! It makes no sense.
JG: Well speaking of Mass, ensemble. What are you choosing there?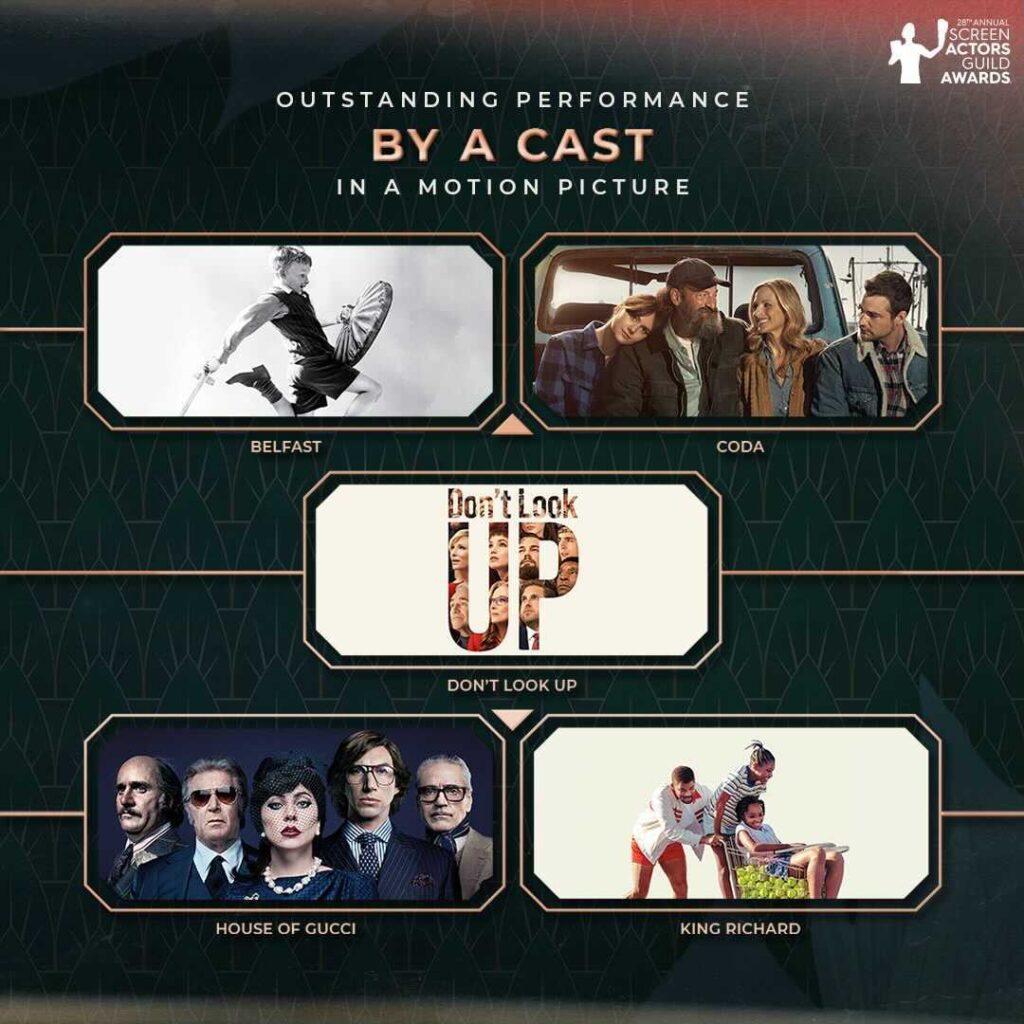 SV 3: 
Belfast: Outside of Balfe I have no connection to it.
King Richard: No, on every level, no.
Don't Look Up: Somebody stop Adam McKay.
CODA: Is wonderful yes, but an ensemble win?
House of Gucci: This really is the only option I think, it's a wide ensemble and the only one here where I like more than 1-2 people.
HOUSE OF GUCCI is my vote here, sure. 
JG: Let's knock out the TV winners for you.
SV 2: 
STUNTS: Black Widow
MALE TV: Evan Peters 
FEMALE TV: Cynthia Erivo 
MALE DRAMA: Kieran Culkin
FEMALE DRAMA: Reese Witherspoon 
MALE COMEDY: Brett Goldstein 
FEMALE COMEDY: Juno Temple 
ENSEMBLE DRAMA: The Morning Show 
ENSEMBLE COMEDY: The Great 
SV 3: 
STUNTS: No Time to Die 
MALE TV: Murray Bartlett 
FEMALE TV: Jennifer Coolidge 
MALE DRAMA: Brain Cox 
FEMALE DRAMA: Kate Winslet 
MALE COMEDY: Brett Goldstein 
FEMALE COMEDY: Hannah Waddingham 
ENSEMBLE DRAMA: The Handmaid's Tale 
ENSEMBLE COMEDY: Only Murder's in the Building 
JG: Thank you both for your time, appreciated.