Chasing The Gold: How Was THAT Nominated For Best Picture? (2012)
At the 85th Academy Award nominees for Best Picture, Argo won Best Picture, despite not receiving a Best DIrector nomination for Ben Affleck.  There were some interesting films this year; The LIfe of Pi, based on a best-selling novel, Django: Unchained which was both funny and violently satisfying, and Silver Linings Playbook, a romantic comedy that also provided insight to mental illness. While there were many interesting films this year,  one traditional, Oscar bait film was nominated. Lincoln was designed to win awards. However, in my opinion, it was also the Best Picture nominee that was least deserving of a nomination.
Lincoln is a movie I should absolutely love. Steven Spielberg is a brilliant film director. Tony Kushner, who wrote the screenplay, is one of my all-time favorite playwrights. The screenplay was based on the book Team of Rivals, by Doris Kearns-Goodwin.  I love Doris Kearns-Goodwin!  I saw her speak at my sister's college graduation! Her book on the Roosevelts is a family favorite! And, obviously, any performance by Daniel Day-Lewis is going to be amazing. I was hoping this movie would be more than a basic retelling of how the Thirteenth Amendment was passed.  Sadly, I was disappointed. I feel that if one is going to make a film based on a historical event, it should either be on something relatively unknown to the public (like Argo), or shed an interesting or fresh perspective on something very well-known. Lincoln did neither of these things. 
The film reaffirmed the already established American belief that President Lincoln was one of the greatest presidents we ever had, that he was more god than mere human being. As a product of the American public school system, literally nothing in this movie was new. This movie beats you over the head with the "Lincoln was the greatest man who ever lived" from literally the opening scene. In this scene, it's dark and raining, and we are in the midst of the Civil War. Daniel Day-Lewis is sitting under a cover, looking at the soldiers. All of the soldiers are in awe of him, and try to recite the Gettysburg Address. Day-Lewis smiles upon these dirty, wet, tired soldiers, like a king smiling at his humble subjects. When I was watching this for the first time in the theater, I knew I was going to spend the rest of the film cringing and rolling my eyes. I did eventually have to watch this movie for a second time to record a podcast on it, and unfortunately, on my second viewing, my opinion didn't change. This is one of the most heavy-handed, least nuanced films I have ever seen. 
I won't tell you that this is a poorly made film.  It's just an unremarkable film. The period costumes are very nice, and there are lots of scenes where people are walking around talking, making deals.  The cast is wonderful in their parts. Tommy Lee Jones did a wonderful job playing Thaddeus Stevens, the Radical Republican who, quite honestly, should get most of the credit for getting the 13th Amendment passed.  Lincoln pushed for it, but it was Stevens who was doing the actual fighting for it in Congress. If the movie had focused on Thaddeus Stevens, perhaps I would have enjoyed it more.  We all know Lincoln was the greatest human being who ever lived, tell us more about the OTHER people involved in passing the 13th Amendment. Teach us something we don't know! Another interesting aspect of the film was Lincoln's relationship with his wife.  This also would have made a much more interesting film, given us a chance to see Lincoln outside of how he is usually portrayed, his human side. And, if the film is supposed to only focus on the 13th Amendment, and how it was passed, why didn't the film end when it was passed?  Why did they tack on the ending where Lincoln was shot? We all took US History.  We know how he died.  If this film hadn't been made by Steven Spielberg, the man who gave us the story of little known Oskar Schindler, and made us cry in ET, maybe I wouldn't have had such high expectations. I said it before, and I'll say it again, this was not a bad film.  It just offered nothing new to the discussion of Abraham Lincoln, the kind of man he was, or the 13th Amendment.  The audience leaves thinking Lincoln was one of the greatest Americans who ever lived, but this is something they came into the film already knowing.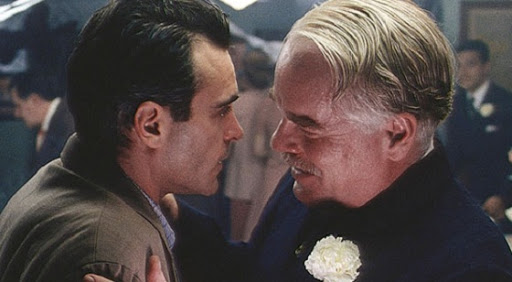 One film that did take an interesting perspective on a subject many people don't know a great deal about was Paul Thomas Anderson's The Master, which is loosely based on the life of L. Ron Hubbard, of Scientology fame. Rather than make a biopic inspired by the life of Hubbard, Anderson focuses on a very troubled man named Freddie Quell (played by Joaquin Phoenix, in the role I personally think is his best). Freddie is a man who is barely getting by in life, the type of person looking for salvation, who will eventually meet the charismatic leader, Lancaster Dodd (played by the always wonderful Philip Seymour Hoffman), and join his religious movement called "The Cause." 
Both actors give some of the best performances of their careers, and, in my opinion, should have won the Oscars in their categories. One scene that really stood out is when Dodd goes through an interrogation of psychological questioning that Dodd calls "Processing." Dodd asks a series of very personal questions, and if Freddie even blinks, they have to start the questioning over again.  The intensity of both actors in this scene is amazing, and you wonder how they had the endurance to finish the scene.  Phoenix, as we know, plays dark, brooding, psychologically damaged characters very well. Hoffman, as always, owns every scene he is in.  We, the audience, relate to Freddie, because, who can resist and not get pulled in by the charismatic Philip Seymour Hoffman? 
Like all Paul Thomas Anderson films, it features a great cast of characters.  Amy Adams plays Dodd's loyal current wife, full of admiration for her husband. She is the young, sweet, pregnant, and utterly loyal wife to a man that we begin to learn is not all he claims to be. Jesse Plemons plays Val, Dodd's son, who deep down knows his father is a charlatan. One of my favorite moments in the movie is when he states this fact to Freddie, wondering why he hasn't picked up on the fact that his father is "making this up as he goes along.'  Laura Dern plays a society patron of his, who begins questioning his beliefs once they begin to start becoming inconsistent with things he has previously said. Dern wants to believe in "The Cause," but points out correctly, that if things start being inconsistent, it will be more difficult to maintain followers. 
Paul Thomas Anderson has always made extremely thought provoking and interesting films, often based on ideas or novels most of us do not think about on a regular basis.  I know I never really thought about the evolution of the porn industry from the late 1970s-1980s until I saw what I believe is his masterpiece, Boogie Nights. There Will be Blood is based on a lesser-known novel by Upton Sinclair, and Phantom Thread shows the obsessive lifestyle of a brilliant designer. Paul Thomas Anderson frequently takes things the audience member might not think about, and makes us all ponder it.  He gets great performances from all of his actors, and leaves us with memories of eccentric, interesting characters and scenes that we would never see in any other film.  Films like The Master should be recognized in the Best Picture category over safe films that add no new perspective, like Lincoln.