The Warner Brothers Civil War And How Jack Won It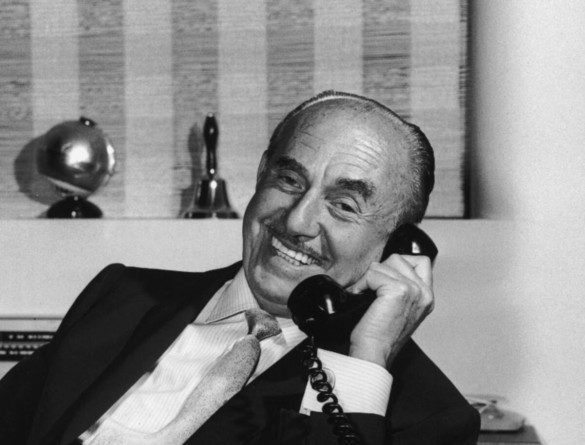 In three years, Warner Brothers will have its centennial birthday as a studio. As one of the Big 5 Studios, it was an afterthought behind the likes of Universal, MGM, Paramount, and United Artists when it began in 1923. Now, like the rest of the main studios, it has divested itself into TV, music, and video games and is currently owned by AT&T. With its looming logo on the water tower at Gate 4 where the Animaniacs come out in their opening credits, the studio itself has another cartoon as its mascot: Bugs Bunny. But as the name says, the seeds of its massive growth came from the minds of four brothers, immigrants from Poland who, like other studio heads, built the place we know as Hollywood. However, in terms of responsibility, it fell upon one man who has taken most of the credit: Jack Warner.
All In The Family
Harry, Sam, Albert, and Jack. Born with the surname Wonskolaser, the family turned into Warner when the family settled first in Baltimore, then later to Ontario, Canada, and then back to the U.S. in Youngstown, Ohio. When Jack was still a schoolboy, Harry, Sam, and Albert returned to Baltimore to get involved in the fledgling movie theater business by buying a movie projector to tour rural Ohio and Pennsylvania before buying their first theater. Jack, meanwhile, got into acting vaudevilles, but his older brothers weren't having any of it, so they brought him into the fold when Jack was 17. By then, the brothers had a strong business going in film distribution, but with Thomas Edison's trust of New York-based studios charging high fees to show their movies, the brothers sold the business in 1909 and used the money to start their own film production company.
The brothers went to California to avoid Edison's trust from harassing them more as they worked separately to pool money together. They first started producing their own films during World War I, buying their first studio (which is still in use for multiple television shows), and carefully balancing their finances to build enough credit for a bank loan to establish Warner Brothers Studios. On April 4th, 1923, the incorporation of the studio was finally made. Their first star was a dog, Rin Tin Tin, which Jack called him "The Mortgage Lifter." Its first major human signing was Broadway star, John Barrymore. One of its first producers was Darryl F. Zanuck, who would branch out to 20th Century Fox later and establish his reputation as a successful studio head. In its first two years, they became the most successful independent studio, but the brothers wanted to make their big splash equal to the major studios and quickly sought to release the first talkie picture.
The First Sound And The First Blow
Their deal with Vitaphone allowed Warner Brothers to use sound effects in various films, which was expensive and resulted in their first losses financially wise. Yet, they forged ahead to break the silent barrier that other studios refused to touch, and in 1927, they finally did it with The Jazz Singer, starring Al Jolson, whose singing made the film a massive hit and was the death knell for silent films. Sam, who split head duties with Jack, was the leading figure in making deals with Vitaphone and Western Electric to help take part in improving synchronized sound in film and spent every day working on The Jazz Singer. But in the weeks before the film's premiere, Sam fell ill, was hospitalized, and would never recover. He died on October 5, 1927 – one day before the premiere – of pneumonia. The brothers didn't attend the first screening.
With Sam's death, young brother Jack usurped all control and began making the newly crowned major studio into his image. It came into conflict with Harry, the Vice President, and Albert, the studio's treasurer. Still, the trio soldiered on as Sam would have wanted them to do, building the current studio that stands today, but that was all in the past by the 1930s. Interest in musicals waned because of the costs during the Great Depression, so they turned to inexpensive, untouched areas such as the criminal underbelly of gangster films that remain part of Warner Brothers' legacy. Out went John Barrymore and Rin Tin Tin and coming in was Edward G. Robinson and James Cagney. They made Little Cesear, The Public Enemy, and the true story crime drama I Am A Fugitive From A Chain Gang. Two other noted actors through their system they put out would be considered among the greatest ever, Bette Davis and Humphrey Bogart. Behind the success, Jack started separating himself from the family, divorcing his first wife to marry another woman that the others would never approve of.
Jack's Power Grab
Warner Brothers would grow into multiple genres and multiple stars coming out of its studios, but the power of Jack Warner with his shrewdness and intimidation grew with it. His management style created massive conflicts with actors, producers, directors, and writers, claiming Warner would do this for his sadist pleasure. As comedian Jack Benny put it, "Jack Warner would rather tell a bad joke than making a good movie." Zanuck left in 1933 after quarreling with Jack; his successor, Hal Wallis, fought Jack over the making of Casablanca, and when the film won the Oscar for Best Picture, Warner rushed to the stage first to accept the trophy – even though it belonged to Wallis. One of Jack's biggest mistakes was selling off their cartoons made before 1948 for $3,000 each, saying he didn't care for the medium. A Republican, his influence politically supported the fight against Nazi Germany early alongside FDR (a Democratic) and the government's crackdown on communists in Hollywood.
In 1956, the three surviving Warner brothers were getting old and they announced they were selling their stocks in the studio their name was on. But it was a ploy by Jack for the ultimate coup. Under a syndicate, Jack bought his brothers' shares, and both Harry and Albert discovered this when it was too late. Jack was President, with no challenger. Harry never spoke to his brother again and when Harry died in 1958, Jack was on vacation in France but didn't come back to attend the funeral. Albert also never spoke to his brother again, but would return to the company's board of directors to see what else his thieving brother would do. He died in 1967. Another person who cut ties was his own son, Jack Jr., who also worked for the company, but was fired by his own father. Jack would march on until his retirement in 1969 and die in 1978, aged 86. The press eulogized his legacy with his brothers in changing cinema and considered Jack, "The Last Mogul," of the old Hollywood system.
Follow me on Twitter: @brian_cine (Cine-A-Man)