Top Ten: Sean Bean Essentials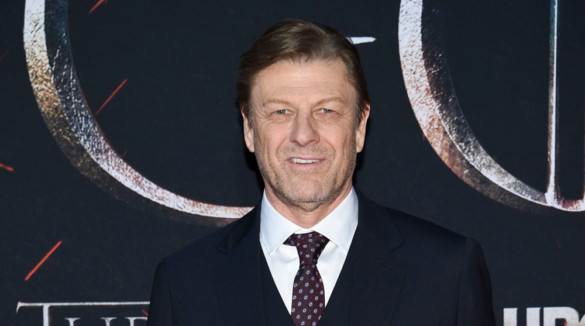 Superb television such as Sharpe, Lady Chatterley, and Game of Thrones or cameos and tent poles like GoldenEye and Lord of the Rings aside; Sean Bean has been smirking, cursing, and dying onscreen for decades before his walking spoiler notoriety became a meme. Here's an eclectic sample of vintage Bean baddies, heavies, and impressive dramatic turns.
10. National Treasure
Knights Templar clues and a treasure map on the back of the Declaration of Independence lead Nicholas Cage (Leaving Las Vegas) – and his former business partner Sean Bean – to hidden Free Mason riches in this 2004 Disney adventure. The ambitious premise falls prey to logistical plot holes, geographic flaws, and basic historical exposition. The script is both broad and witty in the wrong places, and despite a talented ensemble, including feisty doctor Diane Krueger (Troy) and FBI agent Harvey Keitel (The Piano), the secondary characters are underwritten with no time to be properly showcased amid van pursuits, perilous staircase mazes, and death defying avalanches. Fortunately, the Smithsonian heists, Philadelphia chases, and New York underground escapes create fantastical what-ifs, and Cage is clearly having fun with the lighthearted one-upmanship riddles. Although he's the cliché wealthy European villain bent on acquiring treasure simply because he can, Bean's subtle threats and big ambitions elevate a fun story that really isn't meant to be taken so seriously. This may not hold many re-watches for adults, however, history teachers might appreciate a fact or fiction classroom viewing, and younger audiences will delight in the set pieces, secret puzzles, and treasure quest.
9. Stormy Monday
Call girl Melanie Griffith (Working Girl) is under the thumb of corrupt businessman Tommy Lee Jones (The Fugitive) but finds romance with business rival and jazz club owner Sting's (Dune) everyman Sean Bean in this smooth, moody 1988 noir written and directed by Mike Figgis (The Loss of Sexual Innocence). The very blonde and baby faced Bean is a down on his luck musician drawn into the crooked New Castle underground amid brewing plotting, strategic business deals, and deadly political maneuvers. Griffith's Kate also starts out bright eyed and hopeful, but her despair over the inescapable situation increases – a depression only alleviated by tender moments with Bean's younger, daring Brandon. Though underutilized, Tommy Lee Jones has a wicked presence, raising the dangerous cat and mouse territorial games with the suave Sting as our couple and an innocent but humorous Polish jazz band interfere. Although the on location production looks eighties poor now and the "American Week" celebration themes may miss the Reaganism mark today, the blues ambiance unifies the somewhat routine story. The atmosphere, music, chemistry, and performances make Stormy Monday a must for fans of the cast.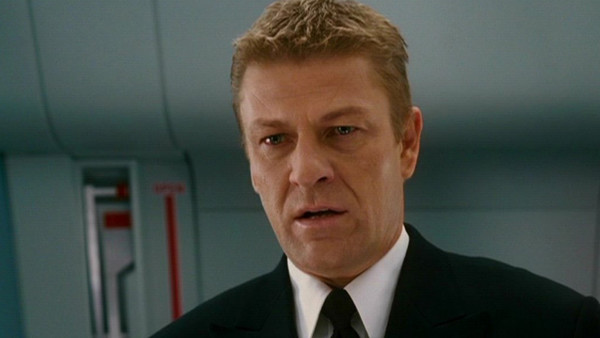 8. Flightplan
Widowed engineer Jodi Foster's (Silence of the Lambs) daughter goes missing on a transatlantic flight in this claustrophobic, turbulent 2002 thriller. In fact, it seems like the six year old never existed at all – leading passengers, crew, air marshal Peter Sarsgaard (Kinsey), and captain Sean Bean suspicious of the bereaved pills, drinking, and paranoia. Foster's facial realizations and intelligent actions are sympathetic rather than hysterical, but her absurd requests make Bean's captain increasingly curt. He placates her with plane searches at the expense of the other passengers' needs, ultimately choosing what's best for everyone else onboard instead. No one is on her side, invoking a Twilight Zone unreliable as we aren't sure who to believe. It's certainly possible for a child to go missing on an airplane; there are so many places to hide thanks to the double decker passenger lounges, a spacious cockpit, massive cargo holds, and dark underbelly avionics. It's not like she could leave! How the crew and passengers react to the frantic situation remains more suspenseful than typical losing cabin pressure scenarios or shaking prop planes. Aeronautics knowledge and aviation skills provide smart setups and realistic in-flight action while multiple languages add continental flair. There are unfortunate Arab stereotypes and younger viewers may be frightened, but the elevated performances and family doubts provide food for thought entertainment.
7. Bravo Two Zero
This 1999 Gulf War drama based on the book by SAS Sergeant Andy McNab is not for the squeamish or sensitive audiences thanks to the extensive torture, abuse, dirt, and shame endured. As McNab, Bean takes his team through a disastrously compromised Baghdad mission and a race to the Syrian border in hopes of rescue before an arduous capture and escalating prison anguish. It's not all pretty uniforms, shiny medals, and heroics here, for knowing the operation fails increases the gut wrenching disturbing. The ensemble looks the career soldier rugged and they certainly don't end up pretty amid authentic looking weapons, desert gear, and dusty, drab locations. Sean Bean is known for his rough and tumble portrayals and is by no means a glamorous actor, however, this stripped bare tour de force is tough to watch impressive. The things are done to him. The things he made to do. Such strength, courage, and will to survive are inspiring, and accolades should have followed. Although now it is very nineties dated in scale, score, style, and slang; Bravo Two Zero provides a unique, realistic portrayal of the first Gulf War with a touch of SAS grit. Despite its ruthlessness and scary realism, this is an important tale shedding light on the ugly side of modern warfare.
6. Essex Boys
Brutal violence, a fine cast, and a complex story based on real life criminal events anchor this 2000 British ride. Recently freed felon Sean Bean quickly returns to his criminal ways, but his crew has moved up the gang ladder without him and his abused wife Alex Kingston (ER) acerbates the drug dealing love, loyalty, and betrayal. The players keep us guessing as to who is double crossing whom as one mess after another begets more twists and turns. Bean's Locke is an acid loving, rapacious, wife beating lush. He's crazy but has a mastery of weapons, women, and brutality. Most actors couldn't or wouldn't portray the demented here, but Bean leans into the well done vile. Alex Kingston likewise makes the most out of a seemingly homely role. Her Mrs. is strong, coy, and loyal yet weak, stupid, and desperate. We feel for her and loathe her at the same time. The behind the times looks and zany fashions add to the low end world as well while violent action, shoot outs, and chases supplement the intricate plot. Nothing is given away or dropped too soon, raising the unexpected and clever finale. Granted the thick dialects, thorough Englishness, and dated gritty will not be for everyone, but the juicy gangster action remains worthwhile.
5. Cleanskin
Secret Service agent Sean Bean goes on a covert mission to find a young, radical terrorist in this 2012 espionage thriller. Unfortunately, the deeper he digs, the more he sinks into the corrupt spy game. Writer and director Hadi Hajaig (Puritan) opens with intercut steamy and news footage, building intrigue with attention to detail, ordinance technicalities, and political divides. The violence is realistic, frightening, and shocking with crisp London locales and tense underscoring to match. Mishandled flashbacks, however, should have come earlier to invoke sympathy instead of halting the forward moving spy pursuits. There's material enough for two separate films, but fortunately, the parallel plots converge for an intense finale. When does one cross the line between defending his country and becoming exactly like his terrorist prey? Soft-spoken, unassuming, professional man of action Sean Bean makes mistakes in his undercover, off the deep end desperation. He doesn't want things to get ugly but is damn effective at scaring people into giving him what he wants. Charlotte Rampling (Swimming Pool) also brings her usual excellence and grace as a sophisticated handler with her own motivations making us doubt who we can trust and who the villains really are. Though somewhat muddled with potentially offensive depictions and flashbacks hampering the attempt to shed light on the often misconstrued face of terrorism, this is a gripping, thought provoking piece.
4. Ca$h
A suitcase filled with over a half a million dollars literally lands on a Chicago couple's station wagon in the 2010 heist Ca$h, but the now jailed Reese (Sean Bean) wants his ditched loot back and calls his twin brother Pyke (also Bean) to handle it. The stylish, never sleeping, genius with numbers Pyke, however, isn't content with merely taking the swag. He insists on retrieving the mere $75,000 the couple has already spent – forcing them into a dangerous life of crime. Writer and director Stephen Milburn Anderson's (Dead Man Can't Dance) dark but sardonic script satirizes America's obsession with wealth and greed, laughing at the things we do for money. This shady Chicago reiterates the slippery slope toward a life of desperation or illegal means while swanky scoring and suave pop tunes add a classic edge and sexy mood to the clever humor. Bean is bemusing as the mullet wearing Reese, but Pyke slicks back his hair and straightens his tie after some violent intimidation and his dominating presence drives the picture. This is one of Bean's best performances since he should have been nominated for Supporting Actor in the Fellowship of the Ring. A pre-Thor Chris Hemsworth is also surprisingly good as his previously honest, upstanding Average Joe escalates to anger, robbery, and cruelty once Pyke leans into his possible cowardice. The camera work is both fast and intense for violent scenes or claustrophobic and askew for revealing character moments, and this gruff yet witty examination of money, corruption, and power does not shy away from telling it like it is.
3. The Field
Richard Harris (Camelot), Tom Berenger (Major League), and John Hurt (Alien) join Bean in this 1990 Irish tale about one stubborn man who refuses to back down against outside developers over the titular land. The Oscar-nominated Harris is stellar, balancing the hardened laborer and tortured father while despising those who gave up during the Potato Famine. Bull McCabe is willing to sacrifice himself and his family to purchase this plot, descending into murder and madness to stop anyone who stands in his way. The unrecognizable town idiot do-anything-for-a-drink John Heard is a sad representation of what happens to those who lose their livelihood, and Sean Bean is admirable as the tormented son with big dreams. He's not the brightest and he's not at all interested in the field – placing him in direct conflict with his father. The at odds generations parallel the dwindling community, quaint ways, horse drawn carriages, and thatched homes versus the vintage cars, lush greens, and stunning cliffscapes, and the on location filming is a character unto itself. No effects, obvious mysteries, and numerous monologues may make The Field seem slow today, but delicate zooms, tracking shots, and vast panoramas capture both the fertile scope and the bittersweet characterizations, and the potent performances make this tragic little ode worthwhile.
2. Black Death
Monk in love Eddie Redmayne (The Danish Girl) joins zealous knight Sean Bean's quest to investigate a nearby plague-free village lead by supposed necromancer Carice van Houten (Game of Thrones) in director Christopher Smith (Triangle) and writer Dario Poloni's (Wilderness) 2010 historical horror thriller. Devout and superstitious ideologies place viewers in the Dark Ages state of mind alongside emotional characters, lofty concepts, questions of faith, and deadly circumstances. Fear of pestilence as a punishment from God drives the sword fights, battles, shocks, and scares; but the performances, emotion, and spiritual intrigue are not at the mercy of the violence, torture, and blood. Rhythmic dialogue is delivered seriously despite talk of demons, and righteous Bean has a job to do, unflinching in his gruesome killings. Our warrior and priest both kill in the name of God, but what happens when the knight is more of a believer than a monk led by his own desires? van Houten's eerie performance adds to the temptations, creating devilish promises to counter the divine love. Is one or the other right or wrong? Dirty realistic photography matches the Latin chants, robes, chain mail, and ecclesiastic designs as choice red flavors an otherwise natural, devoid palette. Despite its deadly subject matter and morbid outlook, this is a beautiful film with stunning locales and an accurate, aesthetically pleasing atmosphere – a thrilling, intelligent drama with horrific slice and dice debates.

1. Patriot Games
After thwarting a radical IRA attack, Harrison Ford's (Star Wars) former CIA analyst Jack Ryan is pursued by vengeful Ulster terrorist Sean Bean in this 1992 Tom Clancy adaptation from director Phillip Noyce (Dead Calm). Jack Ryan is not a superhero – his family's life is taken out of his control – and Ford delivers the tears and need to defend his castle. Bean only speaks about ten times in the picture, disturbing dialogue to match his intense stare and ruthless vengeance. We hate the silent killer yet root for the family man to take matters into his own hands. What would you do if it were your dead brother? How would I react if my family were in danger? While the action and choreography may seem small scale to contemporary viewers, the camera remains up close on Bean's face as he kills – revealing his smiling, cold joy at murder. The focus is on the people involved during the large set pieces, maintaining the emotion, suspense, and drama. Put on accents and red wigs acerbate Irish stereotypes, however, the Celtic score amplifies the cultural analogies. Patriot Games may be simplified as a man versus man vehicle, yet the fine ensemble keeps the IRA relations, politics, and patriotism personal and relatable for today. Readers of Clancy's novel will find significant changes and a rushed ending, but fans of sophisticated capers need look no further.