Top Ten: Jake Gyllenhaal Films (as of October 2021)
One of the best actors of his generation, the Oscar-nominated Jake Gyllenhaal continues to impress in brilliant performances and take chances on challenging material year after year. In a career that goes back thirty years to his film debut in 1991's City Slickers, Gyllenhaal has appeared in more than forty films—but what are his ten best? With his newest film The Guilty now available in select theaters and on Netflix, it's time to look at Gyllenhaal's finest work in cinema!
10. Life (2017)
The Guilty offers another superb Gyllenhaal performance in a film that is unfortunately otherwise fairly tedious and routine, and as much fun as he is in 2019's wildly different pair of films Velvet Buzzsaw and Spider-Man: Far from Home, the most recent Gyllenhaal film to make the list is the surprisingly great science fiction film Life. The banal title and familiar storyline shouldn't deter you from this excellent chiller that features not only tremendous state-of-the-art effects but lots of genuine surprises and major thrills along the way.
9. Prisoners (2013)
Gyllenhaal worked with the great Denis Villeneuve on two 2013 releases—the weird, slow-moving drama Enemy, and the tense thriller Prisoners, co-starring an astonishing Hugh Jackman. The film is overlong at more than two and a half hours, but it keeps you in its grip with a fascinating core mystery and an excellent stacked cast that also includes Viola Davis, Maria Bello, Terrence Howard, and Melissa Leo. Prisoners is the American film that put Villeneuve on the map after his Oscar-nominated Incendies impressed a few years prior all around the world.
8. The Good Girl (2002)
One of Gyllenhaal's most memorable early roles was the young object of Jennifer Aniston's affection in the tender and funny drama The Good Girl, written by Mike White and directed by Miguel Arleta. The film was notable at the time for featuring Aniston in a juicy role wholly unlike Rachel from Friends, but it also gave Gyllenhaal an opportunity to flex his muscles as an actor in a year that also gave us two other terrific performances from him in Lovely & Amazing and Moonlight Mile.
7. End of Watch (2012)
After a few missteps with underwhelming films like Rendition and Prince of Persia: The Sands of Time, Gyllenhaal began a string of memorably mature and complex performances starting with David Ayer's End of Watch. Shot documentary-style and filled with moments of almost unbearable tension, End of Watch showcased Gyllenhaal's most adult role yet as an L.A. police officer going up with his partner Mike (Michael Pena) against a Mexican drug cartel who has ordered their deaths. The shocking ending of this film I will never forget.
6. October Sky (1999)
Gyllenhaal's starring-role breakthrough from the late 1990s remains a compelling and emotionally resonant film that can be enjoyed by the whole family. Laura Dern and a fantastic Chris Cooper co-star in Joe Johnston's inspiring true story about a coal miner's teenage son in 1950s West Virginia who becomes inspired to take up rocketry. The film is warm and heartwarming and was the first to showcase Gyllenhaal as a great young actor with so much promise.
5. Nocturnal Animals (2016)
In the middle part of the previous decade, Gyllenhaal appeared in a few lackluster projects—Everest or Demolition, anyone?—but Tom Ford's Nocturnal Animals from 2016 was a total stunner, a film that begins with one of the most memorable opening title sequences in recent history and continues to thrill and surprise all the way to its downbeat conclusion. Ford's debut feature A Single Man was my favorite film of 2009, and although Nocturnal Animals is not at the same level of quality, it delivers a unique dual-story about writers and artists that's beautifully accompanied by a lovely Amy Adams performance and Abel Korzeniowski's haunting score.
4. Zodiac (2007)
More than any of his other movies, David Fincher's Zodiac seems to get better with each subsequent viewing, the richness of the cinematography and the power of the mystery and the compelling performances by Gyllenhaal and Robert Downey Jr. never failing to impress. There was a long gap without a Fincher project after 2002's Panic Room, but Zodiac was worth the wait, with individual moments that stick with you forever, like the disturbing murder scene beside a tranquil lake and a terrified Gyllenhaal walking through a dark basement.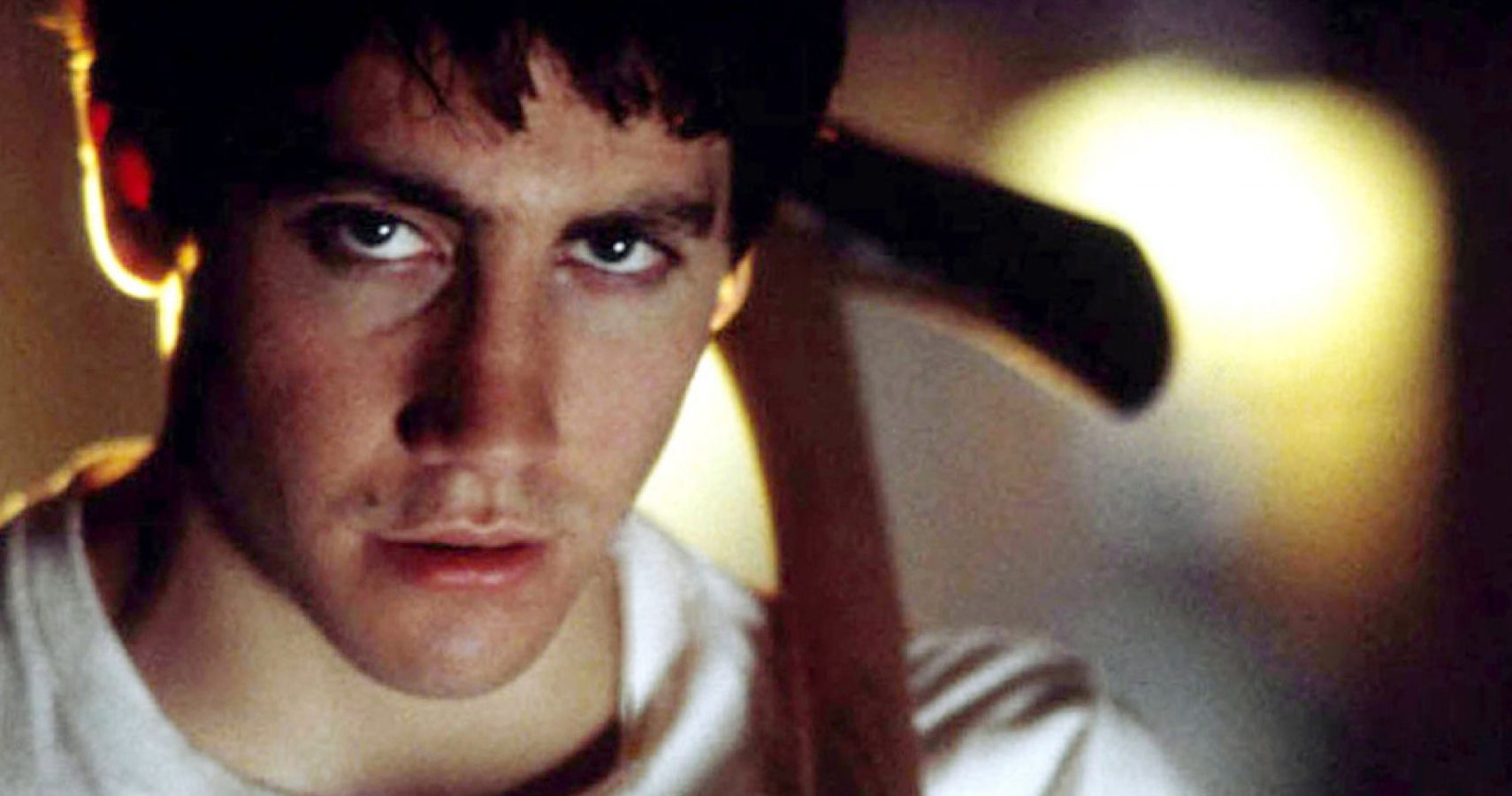 3. Donnie Darko (2001)
Celebrating its twentieth anniversary this month, Donnie Darko might have proven to be a one-hit wonder for its writer-director Richard Kelly, but what a wonder it is, a film that enraptured me in complete awe the first time I saw it in high school and that remains one of my favorite films of the early 2000s. Gyllenhaal was lucky early in his career to appear in projects with so many extraordinary ensemble casts, and that's definitely the case here, with Jena Malone, Mary McDonnell, Maggie Gyllenhaal, and a creepy, against-type Patrick Swayze all remarkable. The strange nightmare visions of this eerie film are still marvelous two decades later.
2. Nightcrawler (2014)
The riveting, disturbing, endlessly absorbing Nightcrawler features Gyllenhaal's finest performance on film, still one of the best lead performances of the past ten years to not earn an Oscar nomination. Gyllenhaal is on another level of greatness in this movie, not only transforming himself physically for the role of Louis Bloom, an L.A. crime journalist who will stop at nothing to succeed, but emotionally too in moments big and small. Dan Gilroy fills the heart-pounding, hypnotic tale with Riz Ahmed and Rene Russo in gloriously complicated supporting roles and a look at dark, eerie Los Angeles in a way we've never seen it before.
1. Brokeback Mountain (2005)
Gyllenhaal's best film to date is the timeless gay love story Brokeback Mountain, which shockingly remains his only Oscar nomination, for Best Supporting Actor. Director Ang Lee is brilliant in his use of restraint and silence, letting the friendship between Ennis and Jack slowly unfold in the early scenes before it ultimately becomes something more. Heath Ledger had been solid in other projects before this, but Brokeback Mountain showed for the first time his incredible range and depth as an actor, the same way it did for Michelle Williams, and Gyllenhaal, too, so moving in his portrayal of a man who wants desperately to share his love with someone who, because of the times and expectations, almost never can reciprocate it. Brokeback Mountain is powerful, devastating, a landmark of LGBTQ cinema.