The season of giving is upon us, and my gift to all of you is this top 10 list. We've argued too long about what qualifies as a Christmas movie, and what movies are just set at Christmas, not to mention the ones that somehow feel like Christmas – now it's time to rank all the Christmas scenes in non-Christmas movies!
You know what it's like. You're watching a completely regular movie, then suddenly, out of nowhere, it's Christmas all of a sudden! Usually, this will be a film that takes place over a considerable period of time, and these scenes do really well at revealing character. Do our characters feel out of place in the merriment, or show their inner child in the festive celebrations? But more importantly, they make us feel all cozy. Which one comes out on top? Which is the most Christmassy in a decidedly non-Christmas movie?
The Perks of Being a Wallflower
Stephen Chbosky adapted his own novel about a nostalgic wonderment for our teen years, the struggles to deal with trauma and how we see ourselves. Charlie (Logan Lerman) falls in the alternative crowd of Patrick (Ezra Miller) and Sam (Emma Watson), and things have been looking pretty good for our gang as they gather for a fun Secret Santa. The mystery and melodrama of who each character's Secret Santa is dialed up to the extreme, and whether or not you'll be moved by their giddy affection for each other really depends on how annoying you find these characters. I'm a sucker for people getting emotional when they're given nice presents, so this Christmas scene managed to sneak on this list.
American Psycho
We're taking a big leap in tone to number 9, to the seething, grisly cynicism of Mary Harron's American Psycho. Murderer Patrick Bateman (Christian Bale) is thoroughly out of place at a Christmas party with his Wall Street colleagues, gazing with a disgusted scorn at the joviality around him, and delivering with such bitterness the line, "Hey Hamilton, have a holly, jolly Christmas." The carol music is blasting uncomfortably loud, and everything the guests do or say sounds hollow and performative, revealing their superficiality even at the especially heartfelt season. It's no wonder a serial killer like Bateman can hide amongst them.
Hustlers
Lorene Scafaria's Hustlers is one of the most fun crime films in recent memory. Focusing on a band of strippers who start drugging and ripping off Wall Street brokers, the Christmas scene comes when ringleader Romona (Jennifer Lopez in the best performance of her career) hosts a decadent dinner in her penthouse for all their friends, family, and partners-in-crime, funded by their stolen cash. The energy is infectious, the charisma is overflowing, but it's all tinged with this unspoken guilt that the amazing, thoughtful presents they're giving to one another are all the ill-gotten gains of serious criminal activity. A highlight is when Destiny's (Constance Wu) grandmother (Wai Ching Ho) reveals she once danced with Frankie Valli.
Little Women (2019)
Little Women is one of these films that feels like a Christmas movie even when it isn't. It's a heartfelt, family film that was released at Christmas, the first scene in the book is on Christmas day, and the narrative returns to the holiday numerous times to show how quickly the years pass by. The first Christmas scene showcases writer-director Greta Gerwig's brilliant gift for dialogue, the bubbling sparring quality of the March sisters' conversation is great at showing their energy and warmth, plus establishing different characteristics, as they learn the true rewards of charity. Meg (Emma Watson) getting hit in the face with a cushion is still one of the funniest gags I've seen in years.
About a Boy
Hugh Grant's best role came in this late-era rom-com as Will, a man whose immaturity is challenged through his friendship with a child, Marcus (Nicholas Hoult). Grant's bumbly-ness is dialed down to a more cynical, sarcastic note, and Hoult gives a wonderful performance as the odd, bright-eyed child whose sentimental way of looking at the world would soften any heart. All of this is shown brilliantly in the scene where Will spends Christmas at Marcus' and is awed by his ability to receive bad presents with enthusiasm. It's filled with excellent British awkwardness and a very confronting moment for Will's character development.
Catch Me If You Can
Two Christmas scenes from Steven Spielberg's crime caper are included here, both of them pivotal moments in the chase between forger Frank Abagnale (Leonardo DiCaprio) and FBI agent Carl Hanratty (Tom Hanks), but what's more, both of them are crucial in revealing Frank's insecurities. The first is a phone call on Christmas Eve where they toy with each other on a very lonely night, ending with Carl realizing that Frank has, "no-one else to call." This is mirrored in the Christmas scene when Frank is finally caught, as he gazes through the window of his mother's new family house, aching for the warmth and safety she now enjoys. They're loaded with great melancholy, and great for showing how lonely the festive season can feel to those on the outside.
Goodfellas
Goodfellas' Christmas party has what every good Christmas party should have – Robert De Niro yelling at you at the door. After the Lufthansa heist, Jimmy Conway (Robert De Niro) has made it very clear that no-one is to buy anything too flashy or expensive, but what does everyone do? Exactly that. Like a lot of great Scorsese scenes, it starts out amiable, filled with warm atmosphere, The Ronettes are playing and the alcohol is flowing, then the tension is dialed up, arguments break out and it turns unpleasant. It's great at showing the gangsters' lack of restraint that will inevitably be their downfall.
Billy Elliot
Clocking in as the saddest entry on this list, Billy Elliot shows the hardship of the UK's coal miner's strike on a divided family, with young Billy (Jamie Bell) wanting to train as a ballet dancer. The short Christmas scene perfectly captures their impoverished Christmas, the enduring spirit that pushes the Elliot family ahead, and how their pride stops them from admitting weakness. Wrapped in blankets, gathered around the fire, they toast to Christmas in a muted chorus, before Billy's dad (Gary Lewis) breaks down in tears at their situation. It's a deeply moving reminder of hardship faced by struggling families at Christmas.
Mean Girls
Tina Fey's script for Mean Girls is just outstanding, and the 'Jingle Bell Rock' scene is a particular highlight. Cady (Lindsay Lohan) is climbing the ranks in the 'Plastics' clique at her new high school, which means performing an inappropriate dance accompanied by 'Jingle Bell Rock'. Gretchen (Lacey Chabert) kicking the tape player into Jason's face is hysterical, the whole number is a perfect mix of cringe and slapstick, coming together in a heartwarming rendition of the song by the whole auditorium.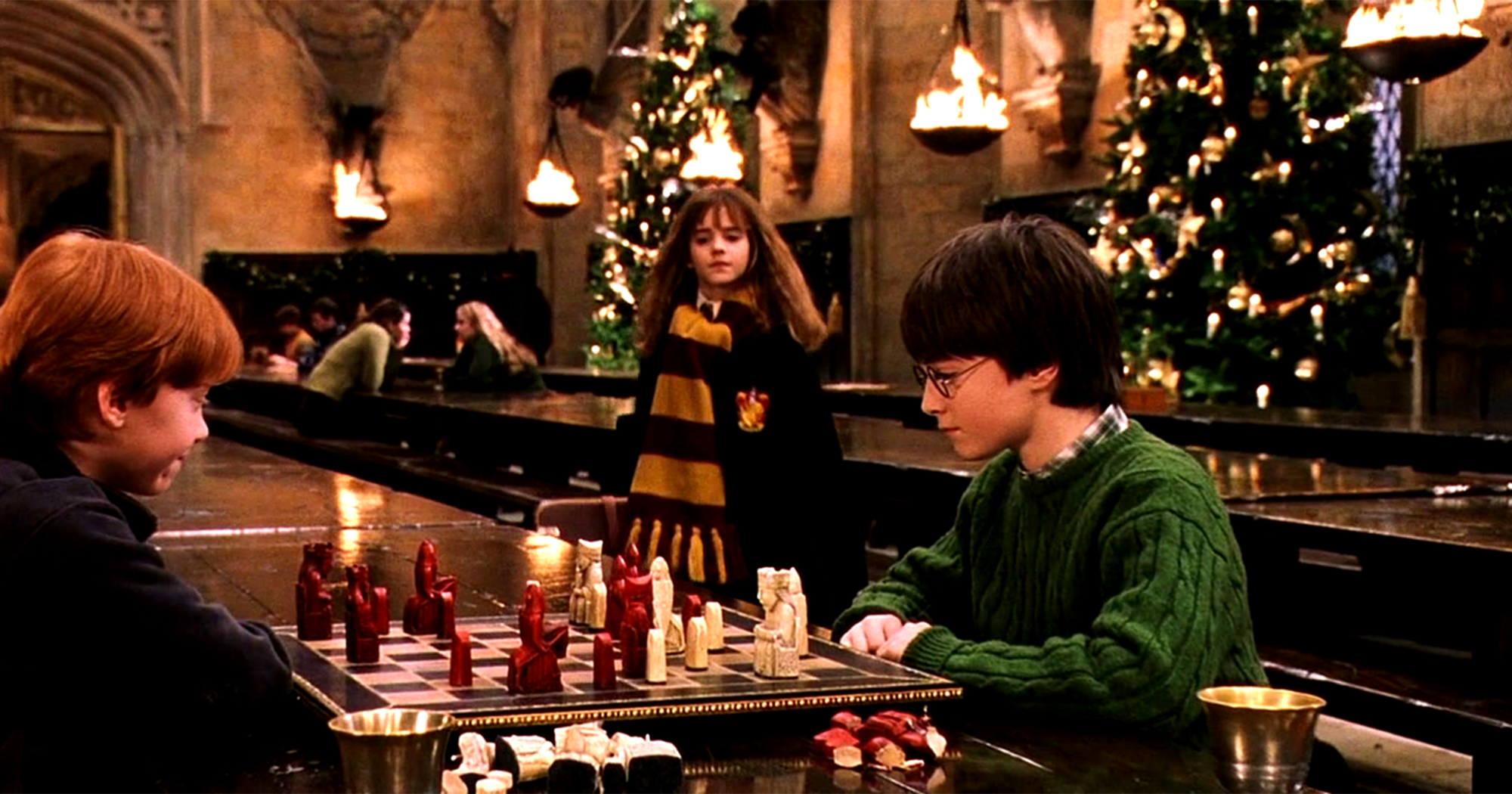 The Harry Potter Series
This is absolutely cheating to include multiple films in one spot, but Christmas is all about forgiveness, so please indulge me. Maybe it's because Christmas appears in most of them, or that they're always playing on television in December, but the Harry Potter films always feel like Christmas to me. Each film shows Christmas in a unique way to the director at the helm. The pure whimsical magic of the Chris Columbus entries, mixed with the Gothic leanings of Prisoner of Azkaban, not to mention the Yule Bale of Goblet of Fire – every variant of Christmas is included here. It's always a nice respite from the dread of battling dark wizards, even if Harry feels increasingly guilty about celebrating Christmas when there are baddies to fight. He was always robbed of feeling welcome at Christmas, and his new wizarding family is happy to have him. Plus, Emma Watson has now featured three times in this list.
I hope all of you have a merry Christmas! Don't let anyone tell you what is and isn't a Christmas movie, watch whatever you want!