The Underseen Rachel Weisz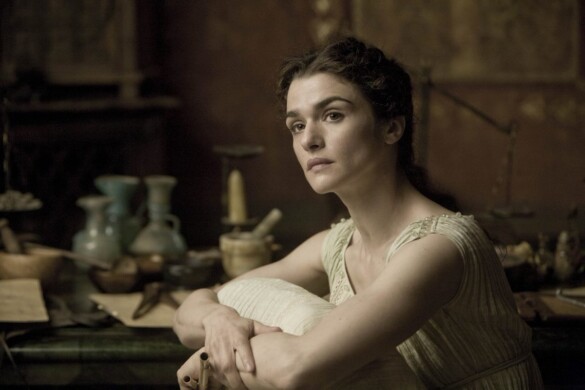 Acclaimed actress Rachel Weisz is known for beloved adventures such as The Mummy and lauded support as seen in The Constant Gardener or The Favourite. However, her repertoire includes emotional truths and period piece intrigue that deserve more attention.
Agora
This obscure 2009 Spanish film directed by Alejandro Amenabar (The Others) starring Rachel Weisz as the mathematician Hypatia wonderfully tackles the 4th century strife between paganism, slavery, philosophy, science, Judaism, and Christianity in Alexandria before the fall of the Roman Empire. Despite the expected historical liberties, such turbulent subjects work with the convincing romance versus career and women's issues without contemporary intrusions, thanks to fine scripting and honest discussions. Rather than sword or sandal romps making this era more about action and adventure, the subtle statements here remain on the individual tale at hand. Period music accents well-dressed Library of Alexandria backdrops and practical sets that feel authentic compared to today's digital recreations. It's fascinating to compare then flat-earthers and small mindedness with our current foolish consistencies. We need to make more performance based, stylized, intelligent films like this.
My Cousin Rachel
Sam Claflin (The Hunger Games) inherits all instead of enigmatic widow Rachel Weisz in this 2017 Daphne du Maurier mystery. Mourning gowns, black satin, and lace veils add to her half-Italian allure amid secret letters, charismatic storytelling, and smitten heirs. Interesting conversations on femininity, childbirth, and bewitching ways break Victorian taboos as our passionate, but now dependent widow wraps her wealthy cousin around her finger. Holiday romance, generous feasts, and heirloom gifts could be healing for them both, but the recreation of the late benefactor between them grows awkward thanks to bank overdrafts, previous lovers, and unsigned wills with careful clauses on remarriage and the predeceased. Why must Rachel's life be defined by a man's piece of paper? We aren't sure who is really telling the truth as she lays on the grief. Unanswered doubts, erroneous conclusions, and suspicious melodrama overcome the slow pacing before cliffside shocks, birthday saucy, drunken visions, and poisonous plants. Rachel can only cry wolf so many times, but is this really a carefully orchestrated seduction or merely a foolish infatuation?
Complete Unknown
Mexican misadventures, no nonsense nursing, and a disappearing magician's assistant who are all Rachel Weisz open this 2016 Amazon Original/ IFC production. Our so-called Alice has done a bit of everything with hook ups and tall tales bending to fit her current workplace stalking. Her about the globe, on the go state of mind wins people over, but stuffy, pragmatic Michael Shannon (Take Shelter) spots holes in her overlapping experiences. Alice calls out others for not having the courage to change their lives, rolling with the exaggerations and off the cuff embellishments. However, her habitual running away and unhealthy detachment are disturbing, even criminal, as she assumes unqualified identities and forges documents. She's rightfully called out for her cruel deception, yet it's almost as if she wants to be caught. Being the manic pixie dream girl gets old and lonely when no one knows who you really are. The psychological twofer in the latter half may be slow, even frustrating to some, thanks to diegetic sound and an uneasy lack of a swelling score to gain the audience's sympathy. Rather than a youthful coming of age experience, here bitter adults question the unsatisfying choices they've made be it the adventurous scam or the day to day monotony.