Movie Review: After Earth is an above-average sci-fi film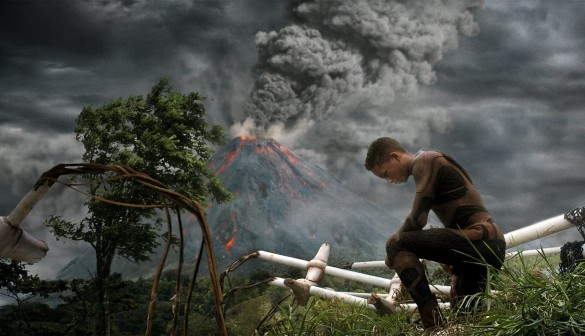 Director: M. Night Shyamalan
Writers: Garry Whitta, M. Night Shyamalan, Will Smith (story)
Stars: Will Smith, Jaden Smith, Zoe Kravitz, Sophie Okonedo
Synopsis: A crash landing leaves Kitai Raige and his father Cypher stranded on Earth, 1,000 years after events forced humanity's escape. With Cypher injured, Kitai must embark on a perilous journey to signal for help.
DIRECTION
M. Night Shyamalan has gotten so much hate since he was hailed as a promising up-and-comer after The Sixth Sense, Unbreakable and Signs. And with good reason as the quality of his films dropped dramatically after his initial success. After Earth probably won't change your opinion of him but it is a step in the right direction. And while there are no twists and turns this time around, After Earth is certainly an M. Night film as it shines and suffers in the same areas as most of his previous films. M. Night has always had an eye for shots and that's no different here. The visuals are amazing with beautiful vistas of mountains and woods and the camerawork is equally as impressive. Whether it's a wide, sweeping shot or a tight corridor shot, the camera is always right where it needs to be. The only aspect keeping the overall look of After Earth from being superb is the hit-or-miss special effects; it's either really good or very Syfy Channel-ish. And while M. Night's films have always looked good, they also always have the tendency to have average acting and a story that doesn't quite reach it's full potential. Both of those problems are prevalent here and keep After Earth from being more than just an above-average sci-fi film.
Grade: B
SCRIPT
When it comes to M. Night films and their scripts, a twist is usually expected. Not this time. There are no surprises in After Earth, which is about as straightforward as you can get. The basic premise is a ship crashes on Earth, which has now become a dangerous, inhabitable planet, and the father-son combo of Cypher and Kitai Raige are the only survivors.  The father is hurt and can't move, so it's the job of the son to traverse the planet and find a distress beacon to call for help and keep them both alive. That's it; nothing more, nothing less. It's a solid premise; however, it doesn't quite reach its full potential. Cypher and Kitai have a strained relationship as Kitai hasn't seen his father in a long time. For a film that is primarily about the father-son relationship, they don't quite explore it deep enough for it to have any sort of emotional impact – which is needed for a film that doesn't have much action.
Grade: B-
PERFORMANCES
After Earth  is a two-man show with the father-son (in real life and in the film) combo of Will and Jaden Smith. And really this is mostly Jaden Smith's show. Jaden Smith, whose biggest role before this was as The Karate Kid, does an adequate job but isn't quite at that stage of his acting career to really carry a film – unlike his father who has proven he can with I Am Legend. Speaking of his father, Will Smith doesn't give the greatest performance here; he's very stiff and wooden with his expressions and line delivery. But I think that may have more to do with his character – a tough, been-through-a-lot general type – than his acting. The other main actors – Sophie Okonedo, who plays Will Smith's wife, Zoe Kravitz, who plays his daughter – do solid work, but are more in the background and Kravitz only appears in flashback sequences.
Grade: B-
SCORE
After Earth is an M. Night film so that makes it pretty easy to guess who composed the score: James Newton Howard. And like he did with some of M. Night's previous films – particularly The Sixth Sense and Signs – is produce music that fits the setting and the tone of the film really well. The score for After Earth is very somber and almost has an other-worldly feel to it. And using an assortment of instruments (with a special nod to the flutes and piano) throughout adds a lot of variety and makes the score standout even more.
Grade: B+
Overall Grade: B-