Preview: April brings an indie war of infinite proportions…and an actual Infinity War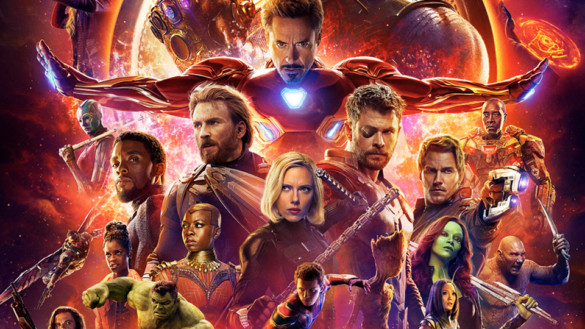 If you were to look at April 2018 a couple of weeks ago, it would have looked like a rather scarce string of films to watch out for, as far as commercial blockbusters are concerned. This isn't too uncommon, as April tends to simply stand on deck waiting for May to step up to the plate and swing into the summer movie season. But a little birdie by the name of Robert Downey Jr. went to Twitter and provoked Marvel Studios to release Avengers: Infinity War early, for him and all his friends (aka the whole world); April showers instantly got more interesting.
Out of nowhere, the next superhero crossover we've all been anticipating comes out a week earlier than originally scheduled. This was, of course, a nicely planned marketing gimmick by Marvel Studios, whose plan to release Infinity War early was simply due to business reasons, but suddenly April 2018 has large-scale excitement to offer, in addition to hits from South by Southwest and independent films galore. Let's take a look.
Wide Releases
I've already mentioned it above, but if there's only one film you're genuinely interested in this month, and that's Avengers: Infinity War. The Russo Brothers (The Winter Soldier and Civil War) return to bring literally every single superhero movie character together (well, at least from the Marvel Cinematic Universe) to battle the mad titan Thanos, whose sinister presence was first stung at the end of 2012's The Avengers. I hate to use the phrase "We've been building to this one", but Marvel literally has, and plans on using this film (and the still untitled Avengers 4) to close the loop on many of these characters' arcs. While that conclusiveness is very exciting, there's a lot riding on Infinity War that still raises concerns, the big one being Thanos himself; normally a lesser villain can be forgiven by the joy of the film he/she populates, but in this case, if Thanos doesn't work the entire film may not work. However, the Russo's have already given what are arguably the two most human and grounded films in the MCU thus far, so why should we doubt them now? I'll keep all reservations at bay.
If superhero movies aren't your thing (and many have already expressed their boredom by the overwhelming amount of them these days), look no further than some hits from South by Southwest, making their way to public cinemas this month. In particular, John Krasinski's nearly silent horror flick A Quiet Place is already garnering critical acclaim, featuring himself alongside his wife Emily Blunt and young actors Millicent Simmonds (Wonderstruck) and Noah Jupe. (Wonder and Suburbicon); this one indeed looks frightening. Also hitting big with audiences at SXSW was Blockers, a raunchy comedy starring John Cena and Leslie Mann as parents attempting to stop their daughter from losing her virginity on prom night; is this when we universally recognize John Cena for his comedic chops?
Speaking of laughs, the remaining wide releases this month stick pretty closely to the comedic realm. There's the ridiculousness of Rampage, starring the ridiculous but always charming Dwayne Johnson; could this end up being the best video game adaptation of all time? Also the sequel to the cult hit Super Troopers comes out this month; color me unimpressed with this one, as I am actually not a fan of the original, but I understand the following it has. And then there's the controversial but always daring Amy Schumer, starring in I Feel Pretty, which could either succeed or crash and burn in its notions of femininity.
Limited Releases
This is where things get a little overwhelming, and for cinephiles like us, this is always a great problem to have; the more artistic films to choose from, the better. And even better when one of those films is your most anticipated film of the entire year, and for me that honor goes to Lynne Ramsay's You Were Never Really Here, starring the great Joaquin Phoenix as a traumatized and violent war veteran tracking down young missing girls for a living, and with Ramsay's wonderfully gritty style (Ratcatcher and We Need to Talk About Kevin), just this idea has the hairs on my neck standing up; the film was already a big it at Cannes last year, so expectations are high. There's also the sci-fi horror flick The Endless, from the duo behind Spring in 2014, which has already been garnering some positive attention, as well as the latest from Andrew Dosunmu (Mother of George) with Where Is Kyra?, starring Michelle Pfeiffer and Keifer Sutherland, also seeing some positive early buzz.
Also seeing some massive critical love is The Rider, from Chloe Zhao (Songs My Brothers Taught Me), starring newcomer Brady Jandreau as a young cowboy searching for identity after suffering a nearly fatal head injury. There's also the biographical sports rivalry Borg vs McEnroe, about tennis players Bjorn Borg and John McEnroe, starring the always…interesting Shia LaBeouf, as well as the latest thriller from Brad Anderson (Session 9 and The Machinist) with Beirut; written by Tony Gilroy and starring Jon Hamm and Rosamund Pike, this CIA thriller is already seeing some early positive buzz.
And for those who loved the Chilean Oscar winner A Fantastic Woman, writer and director Sebastian Lelio hits the year hard yet again with his first English-language film Disobedience, an erotic romantic drama starring Rachel McAdams and Rachel Weisz, already garnering high praise. Also for fans of William Friedkin's The Exorcist (his best film if you ask me), be on the lookout for his documentary The Devil and Father Amorth, about real-life Father Gabriele Amortha and the exorcism he performed (his ninth!) on an Italian woman; I expect to have the demons scared out of me. And also keep The House of Tomorrow on your radar, a comedic coming-of-age drama starring Asa Butterfield, Nick Offerman, and Ellen Burstyn about a desire for punk rock stardom (and getting laid of course).
They say "April showers bring May flowers"; this will be especially true if the seeds that April plants do indeed blossom into quality entertainment next month. I'm an optimist, and certainly think we will have plenty to look forward to, regardless if we lose the infinite war.
Summary of films to look out for this month: Avengers: Infinity War, Beirut, Blockers, Borg vs McEnroe, The Devil and Father Amorth, Disobedience, The Endless, The House of Tomorrow, I Feel Pretty, A Quiet Place, Rampage, The Rider, Super Troopers 2, Where is Kyra?, You Were Never Really Here