Podcast: Top 3 War Movie Scenes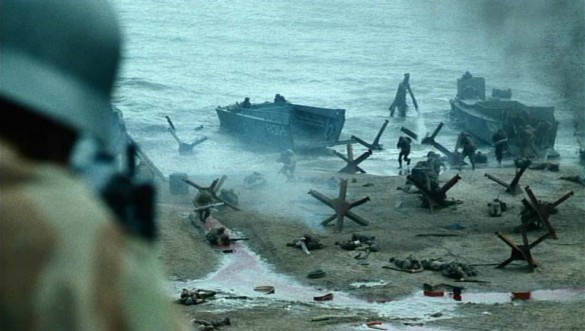 This week on the InSession Film Podcast, we looked at David Ayer's new WWII tank film, Fury, starring Brad Pitt, Logan Lerman and Shia Labeouf. War movies have always been an entertaining genre with films that feature some incredible highlights, somber journey's, rough characters and heroism that most of us will never understand. Some war movies feature some really powerful moments that have become to define and represent the genre, as I think Fury will in the future. We scoured through many and we found some really great scenes to talk about.
That being said, what war movie scenes would make your list? Here are the one's that made ours (Keep in mind we all have different criteria for our lists as well):
JD
1) Saving Private Ryan – Stabbing of Private Mellish
2) Apocalypse Now – Ending Sequences
3) Pearl Harbor – Dogfights
Barry
1) Braveheart – The Battle of Falkirk
2) Enemy at the Gates – Battle of Stalingrad
3) Starship Troopers – The Battle for Klendathu
Mike
1) Star Wars Episode VI: A New Hope – The Battle of Yavin
2) Saving Private Ryan – Beach Landing
3) Independence Day – President's Speech
Honorable Mentions (Combined)
Star Wars – All other Battles, Apocalypse Now – Village Raid, The Matrix – Final Battle, The Lord of the Rings – All Battles, 300 – Battle of Thermopylae, Gladiator – Opening Battle, Schindler's List – Ending Sequences, The Great Escape – The Escape, Raestrapo, Korengal, Black Hawk Down – Surgery Scene, We Were Soilders – Ending Narration, Lone Survivor – Died W/ Full Heart, Platoon – Ending Death, Full Metal Jacket – First Act, The Hurt Locker, The Thin Red Line
Hopefully you guys enjoyed our lists and if you agree or disagree with us, let us know in the comment section below. There are obviously a lot more war movies and scenes that we did not cover or talk about, especially regarding some classic films. That being said, what would be your Top 3? Leave a comment in the comment section or email us at insessionfilm@gmail.com.
For the entire podcast, click here or listen below.
For more lists done by the InSession Film crew and other guests, be sure see our Top 3 Movie Lists page.