Podcast: IT Chapter Two / Top 3 Stephen King Characters – Episode 342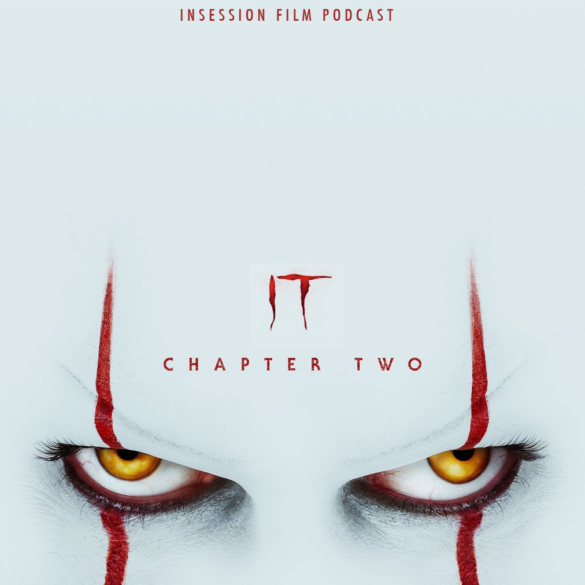 This week's episode is brought to you by GoDaddy. Sign up today and get 30% off your order!
This week on the InSession Film Podcast, Ryan McQuade fills in for Brendan and former IF co-host Nate Parsons joins us as we discuss IT Chapter Two and our Top 3 Stephen King characters in film. JD also gives his thoughts on The Nightingale, The Peanut Butter Falcon and Hail Satan?
So, we need to ask for some grace up front because as you could imagine, with JD and Ryan hosting together, this week's show is a bit longer than usual. To be fair though, IT Chapter Two had a lot to discuss at two hours and forty-five minutes long. Plus, JD had several catch up reviews after being out last week and having to hold out on some films he saw recently. This week's episode may be long, but we promise, it's worth your time. Especially because of our great and special guest. It's always wonderful to have Nate on the show and he did not disappoint.
On that note, check out this week's show and let us know what you think in the comment section. Thanks for listening and for supporting the InSession Film Podcast!
– Movie Review: IT Chapter Two (6:12)
Director: Andy Muschietti
Writer: Gary Dauberman (screenplay by), Stephen King (based on the novel by)
Stars: Jessica Chastain, James McAvoy, Bill Hader
– Notes / The Nightingale / The Peanut Butter Falcon / Hail Satan? (58:02)
As mentioned above, JD had several catch-up reviews to get to this week, so he offered up his thoughts on Jennifer Kent's The Nightingale, the incredibly charming film The Peanut Butter Falcon, and the fascinating documentary Hail Satan?. Plus, a big thank you to everyone for their support over the years.
RELATED: Listen to Episode 341 of the InSession Film Podcast where we discussed Apocalypse Now!
– Top 3 Stephen King Characters (1:30:21)
Stephen King has written dozens of novels, and it seems as if most of them have been adapted to film, so this topic has no shortage of options. Some of these characters will go down and some of the best of all-time. It's nearly impossible to hear the name "Stephen King" and not immediately think of Jack Torrence or Andy Dufresne. King is a master storyteller and his characters are iconic for a good reason. Hopefully we did him some justice here. That said, what would be your Top 3?
Top 3 Sponsor: First Time Watchers Podcast
– Music
27 Years Later – Benjamin Wallfisch
Nothing Lasts Forever – Benjamin Wallfisch
Shawshank Redemption (Stoic Theme) – Thomas Newman
The Return of the Eagle – Atli Örvarsson
Subscribe to our Podcasts RSS
Subscribe to our Podcasts on iTunes
Listen on Spotify
Listen on iHeartRadio
Listen on Stitcher
InSession Film Podcast – Episode 342
Next week on the show:
Main Review: Hustlers
Top 3: TBD
Help Support The InSession Film Podcast
If you want to help support us, there are several ways you can help us and we'd absolutely appreciate it. Every penny goes directly back into supporting the show and we are truly honored and grateful. Thanks for your support and for listening to the InSession Film Podcast!
VISIT OUR DONATE PAGE HERE