Op-ed: LGBT Cinema In Latin America
Queer cinema really hit it off in the 1990s and 2000s with more LGBT actors, directors, and stories being portrayed more openly than in years prior. Primarily, they were outside-the-box productions with very little big studio support that would get enough recognition from critics and sometimes were recognized in major outlets, such as Gods And Monsters and Boys Don't Cry. Considering its liberal culture, LGBT stories would presumably be primarily made in the United States, Great Britain, France, Germany, and Spain. In Latin America, an area mixed with heavy-handed conservatism because of the influence of the Catholic Church, it wouldn't be a place you'd expect with great LGBT films. And yet, from the 1990s onward, Latin America has produced plenty of positive films about the usually marginalized community.
The word "maricón" is Spanish for the horrendous slur, "faggot." The genre of "New Maricon Cinema" was first written by film critic Vinodh Venkatesh. But, as with the word 'queer,' it is a word being taken back and being used as pride and Latin America has plenty of LGBT pride. Like Spain after the downfall of its far-right dictatorship, these countries opened up after brutal military dictatorships in the 70s and 80s were ending, bringing peace to the region and a breath of fresh air to a liberalized world. Things once-taboo finally became freer to speak about such as same-sex relations, women in the workplace, and divorce. The social conservatism, although still present, was no longer shackling the region. But, like Almodovar, the first films released were independent features.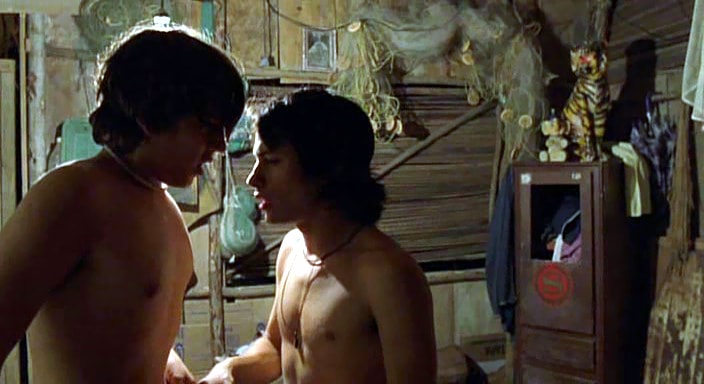 A common theme portrayed is the machismo culture where men are tough, drinking and smoking with no fear, and are dominant in every position. To show a sign of feminity is to be weak. Yet, there is a contrasting element between the machismo man and the leading gay figure. In dramas, these characters try to bring down the gay characters, male or female. In comedies, they are the subject of jokes and almost aloof to what gay characters are saying about them. Straight characters are also teased that they are hiding their inner feelings, that they are bisexual, such as the singular moment in Y Tu Mama Tambien when the two hormone-raging best friends end up kissing one another. The stereotypes are there and it is only by confronting them do they begin to crack.
Also, Latin American cinema has produced stories that are groundbreaking and focus straight on the character instead of tip-toeing around it. The coming-of-age tale is the standard for going into the reflexive nature of such a discovery, especially in the context of being within the family. The 2007 film XXY centers around a fifteen-year-old who born intersex and lives on an island where her family. The main character, Alex, struggles to grasp his/her identity while Alex's parents say it is up to Alex to decide, aware that the society around Alex expects conformity within the traditional male-female role. Trans characters have become an important fixture thanks to the acclaim of Chile's A Fantastic Woman. It's a country that more conservative than its neighbors Argentina. But the sympathetic lead played fiercely by Daniella Vega still deals with discrimination and from authorities and family members of her late lover.
Argentina is certainly more progressive than in other countries for having a more cosmopolitan feel from Buenos Aires onward. In 1969, writer/director Armando Bo, grandfather of the same namesake who won an Oscar for co-writing Birdman, released his sexploitation comedy Fuego, which had the first depiction of a lesbian relationship in Latin American cinema. In 1975, a loose remake of Victor/Victoria was released called My Girlfriend, The… about a man and his fixation with a trans woman, referred to as a "travesti." It was only until 2000 did more LGBT-themed films from Argentina were being produced a lot more. One director, Marco Berger, has his trademark gaze shot, where instead of focusing on the face of a person, his camera will point at the crotch of a man. This is the so-called "Berger Shot." It provides a homoerotic tone for viewers' imagination, floating as we close in on a man wearing tight briefs in contrast to gazing shots of breasts commonly seen in straight-driven movies.
Mexico also has a history of progressive LGBT films dating back to the 1970s. The sex comedy genre, known as ficheras, had gay characters that were based on underground drag shows. While in small, supporting roles, they are part of society and are used for scenes of comic relief. 1985's Dona Herlinda and Her Son are known for portraying a same-sex relationship in positive ways and its director, Jaime Hermosillo, had already produced LGBT-themed films in this era parallel to Pedro Almodovar in Spain. More of these films continued an uptick past 2000 coinciding with the New Mexican Wave as well as the introduction to gay characters in Mexican soap operas.
While progress has been made in Latin American society, the LGBT community in certain countries still struggles underneath the stigma, social conservatism, and the chauvinism which rules. Several countries don't have things as open and supportive for these communities, and very few gay-friendly movies have come out from these nations. Thanks to Mexico, Argentina, Chile, and others, this still caters to a thriving community that lives proudly in a region once under dictatorial rule, where homosexuality was censored but is now freely open.
Follow me on Twitter: @brian_cine (Cine-A-Man)