Op-ed: Ain't Baseball Great?
"You can't sit on a lead and run a few plays into the line and just kill the clock. You've got to throw the ball over the damn plate and give the other man his chance. That's why baseball is the greatest game of them all." – Earl Weaver
I love football. No, you didn't read the title wrong–this is an article about baseball films. No–I'm not trying to be cute and yell "touchdown!" when someone hits a homerun–so hear me out, because I promise I'm going somewhere with this. I am a huge Baltimore Ravens fan and have been extremely loyal to them for 20 years. I have season tickets and almost never miss attending a home game (only two in those 20 seasons). I was willing to spend whatever money I needed to so I could be at Super Bowl XLVII, and I did it–I was there when the confetti fell. I love football, and the Super Bowl was an amazing, once in a lifetime experience that I would not trade for the world. I will never forget it. That being said: I would sell my soul for a Baltimore Orioles World Series Championship in my lifetime. Baseball is my first love.
Like most American children, I grew up on baseball. Before the now popular sports like soccer and lacrosse took off, every American child was signed up for tee-ball every spring. That is when and how I fell in love with the sport. Of course, I transitioned to competitive fastpitch softball when my tee-ball days expired, but it all started with baseball. Every spring I look forward to Opening Day at Camden Yards, the best ballpark in baseball (this is not up for discussion). I get strange looks from most people when I say that I actually love to watch baseball, as most people find it boring. My most controversial sports opinions are that I do not think curling is a sport* and I believe playoff baseball is the most exciting round of playoff games. As the strangest year in sports (and the world?) somehow continues, I got to thinking about how much I love October baseball, but how weird this year has felt not being able to attend any game or event in person. This led me to reflect and rely on my favorite baseball films to get me excited.
*Curling is literally a coffee pot being thrown down an ice rink with brooms.
My top 5 baseball films and why: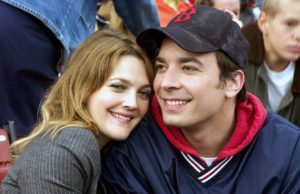 5. The One About Being a Fan – Fever Pitch (2005)
Would I be an Orioles fan if I didn't loathe the Boston Red Sox? While I'm at it–the Yankees suck, too. I think we can all agree on that. Is it possible to hate the Red Sox and love Fever Pitch? Absolutely. What makes this baseball film so great is that is centers around Ben (Jimmy Fallon) who is not just a Red Sox fan–but the definition of a fanatic. His life centers around the Boston Red Sox. He ranks the Red Sox more important than sex and breathing. There is a moment when Ben has an epiphany that perfectly sums up what life is like being a dedicated, loyal fan of any sport. Even if and when your team loses, they still somehow never let you down and that is what keeps people coming back. They are consistent: every season they are here and if a game gets canceled they make it up to you, Ben says, like a real family. That is what it's like to be committed to your team even though losing seasons, hardships, and curses. Plus, I think Jimmy Fallon and Drew Barrymore have incredible chemistry overall throughout this narrative, and the craziness of the Red Sox actually defeating the "Curse of the Bambino" to close out the film will give you chills, even if you loathe the Red Sox as I do.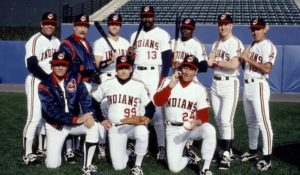 4. The One About Being the Underdogs – Major League (1989)
Most underdog stories in sports are tearjerkers, right? A heartfelt story with a character that faces adversity and then triumphs in an emotional way. That is definitely the opposite of what Major League is, and that is why I love it. This is not meant to be an inspiring, uplifting, emotional story. This is about the gritty washed up "has been and a couple of never will be's" given an unexpected chance and barely scraping by, yet still coming out on top. The characters are gritty misfits and oddballs and yet still loveable. They are not only underdogs because they are not the best team on paper–but even their owner wants them to fail. She desires their failure so she can move the team out of its current home city, Cleveland, and to Miami instead. When this is discovered, it is what ends up rallying the team to come together and prove everyone wrong, especially their owner. The best part is the end of the film because it stays true to the gritty persona it has created over the course of the narrative. This game is a big game, an important one–but it's not the World Series. They win, but not with a big, show-stopping walk-off homerun. No, the has-been catcher with bad knees legs out a bunt to score the winning run. It's not pretty, but it works. Just like the characters and the story. Plus, there are many funny, memorable moments that just heightens the viewing experience.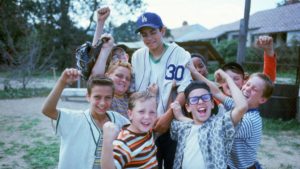 3. The One about Childhood Nostalgia – The Sandlot (1993)
Every 4th of July just before the fireworks begin I say, "time for the only night game of the year!" to see if anyone knows what I am referencing. The real ones know. Of course, The Sandlot is the one that pulls at my childhood heartstrings. Remember the days when you would meet up with your friends and play outside until the sun went down and you only went home because you were hungry? I miss those days. This film is so great because this kid, who had no friends and no connections, made a life because of baseball, neighborhood backyard baseball at that. The entirety of the film just undeniably feels like summer. Yes, the premise of the narrative is silly–but that is what it is like to be a kid. The end-all-be-all was losing the one baseball in possession and then wanting to fit in so badly and save the day that you go a get your dad's baseball signed by the most famous player of all time and then you lose that, too? Absolutely devastating and funny. When the narrative comes full circle, Benny "The Jet" Rodriguez making it as a professional ballplayer, and Scotty Smalls following him as an announcer it just warms my heart. It captures the full circle of falling in love with a sport as a child and it carrying you through your whole adult life.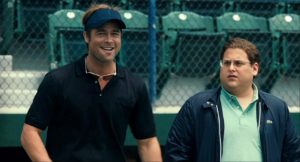 2. The One about the Game – Moneyball (2011)
How can you not be romantic about baseball? Some teams make it about the players in contrast to making it about the game. The star athletes with well-known names are what draws crowds, fans, and put butts in seats, and the front office knows that. But what else puts butts in seats? Wins. It doesn't matter who is hitting the ball and scoring the runs, as long as they're doing it. That is where the value is even if it isn't sexy. Moneyball displays this perfectly through the mastery of dialogue by an Aaron Sorkin script, and the profile of a man who truly loves the game. This story is about how this man, Billy Beane, portrayed by Brad Pitt in his most underrated roles, went against the odds and looked completely at the statistics and numbers. His obsession and superstitions are relatable and empathetic. The story becomes emotional although it is cold in many ways. The growth of friendship between Billy Beane and Peter (Jonah Hill) and their belief in the approach of creating a winning team is contagious–the audience believes in it, too. So when it happens and there is success, it is our win too.
1. The Best of All – A League of Their Own (1992)
The one about women playing baseball. Call me biased, however, I truly believe this is the definitive baseball film–the best of them all. A perfect combination of the all aforementioned qualities that make the other baseball films great, this has it all and more. This film is based on a true story with a rich history of the sport included, too. During the war, a lot of professional baseball players were pulled away from the sport, and the All-American Girls Professional Baseball League (AAGPBL) was created. Obviously, I resonated with this story so strongly because I know what it is like to be a woman athlete. I understand that women in sports are treated completely differently than men in sports, both amateur and professional.
I know this film by heart, front, and back, and I actually apologize to everyone I watch it with because I cannot help but recite so many lines as they are delivered. The most famous line, of course, is the one most people know delivered by none other than America's film dad, Tom Hanks: "There's no crying in baseball!" The beauty of A League of Their Own is the story-telling and direction by Penny Marshall. The film's pace, starting in the future and telling the narrative through a flashback allows the audience to see the entirety of the experience, ending with the real-world reveal and induction of the AAGPBL into the Baseball Hall of Fame. Women playing softball, being recruited to play in this newly created baseball league. Action montages, hitting streaks, slumps, errors, getting traded to other teams. Women expected to be feminine and athletic, women struggling with love and loss of their partners at war, sibling and team rivalry, an emotional underdog triumph–this film really does have it all.
There are many films about baseball that deserve to be on a list for a good reason, but this list is mine. Honorable mentions go to Major League II (1994), 42 (2013), Rookie of the Year (1993), Hardball (2001), and The Rookie (2002). I could go on and on, like many other fans of the game and films. They say you never really get over your first love, and I am so glad baseball is mine.