Op-Ed: AFI's 100 Years…100 Passions – 'Working Girl' (#91)
I will be watching and reviewing all of the films included on AFI's 100 Years…100 Passions list. The list contains the 100 greatest love stories in American cinema and I plan to consider how our views on romance and social issues have changed over the years as well as judge whether the romances in these films actually made me swoon. As a fan of the romance genre, I expect to love each and every one of the nominees but I also don't know if I would consider all of them romantic.
Working Girl (1988) is the rare romantic comedy to earn the distinction of receiving a nomination for Best Picture. It was sold as something classier and tonier than your average chick flick and snobs in Hollywood looked at it as something deep and meaningful. When you have When Harry Met Sally… (1989), Crossing Delancey (1988), and Big (1988) lying around, I find it hard to see why Working Girl was viewed as the creme de la creme of the genre. I know that Mike Nichols, Michael Ballhaus and Sigourney Weaver have all earned their pedigree but I can't help but feel as though people were responding to the reputation of the people involved and not the film that they ended up seeing. 
I won't deny that this could have been a fascinating story about the evils of Capitalism and the corrupting power that yuppie culture had. Tess (Melanie Griffith) is your typical ambitious ingenue who wants a good job, dependable friends, and a devoted, loving husband. In chasing those goals, she gets caught up in petty little concerns and begins to use immoral tactics to get ahead. She is thrust into a ruthless, cutthroat world and can't find a way to keep her hands clean while still being a part of it. Her main conflict is with her boss, Katharine Parker (Sigourney Weaver), who steals her ideas and obsequiously compliments the people around her while planning all of the ways in which she can stab them in the back. Tess sees an opportunity to rise through the ranks when Parker is incapacitated and pretends to be a powerful businesswoman instead of being a lowly assistant. At the same time, she falls in love with Parker's boyfriend, Jack Trainer (Harrison Ford), and finds herself growing increasingly confident. She can have it all if she just keeps her deceptions up. 
I kept hoping that this would turn into a female led version of Carnal Knowledge (1971). Nichols knew how to make fairly disturbing relationship dramas back in the 1970s and highlighted all of the ways in which societal norms prevented people from feeling secure in relationships that they had. He also managed to tie stories about rotten individuals to wider social issues and political movements. It feels like he lost the desire to create something challenging and painful to watch by the late 1980s. Working Girl is warm, fuzzy, and willing to present its protagonist as a Cinderella of sorts and not a complicated corporate flunky who gets sucked into a dehumanizing system driven by greed. There are occasional nods toward commentary on dodgy business practices but the film is desperate to turn Tess into somebody who will revolutionize the way that her business functions. It sucks all of the ambiguity out of the premise and inserts a sharp dividing line between the good characters and bad characters. Nichols should have recaptured some of the misanthropy and anger that he brought to his previous works. It almost feels like he turned into Gary Marshall lite in an effort to make a commercial hit.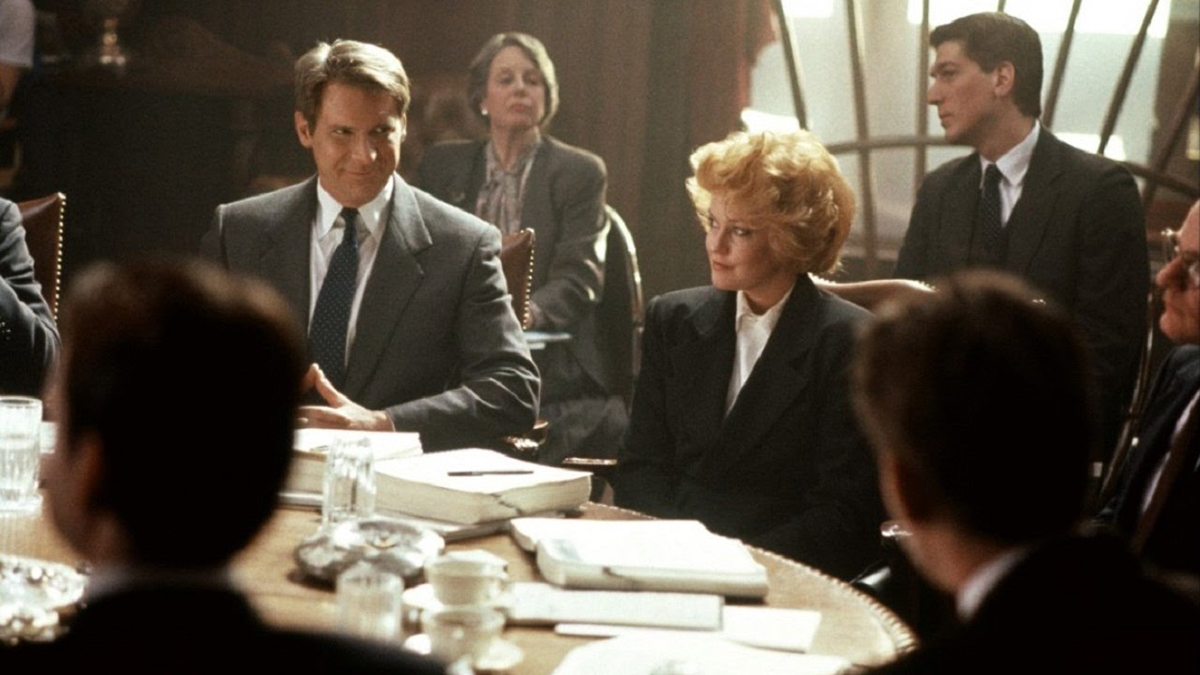 In an ideal world, this would have been a story about a Becky Sharp-Esque heroine who seeks to rise through the social ranks by manipulating the people around her and using love like most people use money. I didn't want her to be wide-eyed and idealistic, I wanted her to feel like a full-blown product of the 1980s. It would have been more interesting to see her slowly becoming depressed as she realizes that her materialistic ambitions are never going to satisfy her. There could have been something thought provoking about seeing a shallow, avaricious woman waking up to the fact that her life is absolutely empty and meaningless. I wouldn't want the script to preach about how society has to change immediately and I wouldn't even like to see Tess change that much. I simply believe that it would have been better to make the point that people should not aspire to climb up the corporate ladder by having sex with their colleagues and impersonating others. 
I have mostly spoken about the film's focus on the business world and my disappointment with how bland Tess is. I have done that because I feel like that content takes up the bulk of the film's running time. We get occasional romantic interludes that feel like they have been awkwardly wedged into scenes that are mainly focused on business negotiations. You'll groan when Griffith, in her childlike voice, says "I have a head for business and a bod for sin" before cutting to Ford's perplexed face. There is no sexual tension between the two and because their characters are deeply unlikeable figures, it is difficult to tolerate the cheesy romantic music that plays over most of their scenes. We're meant to see them as the ideal couple and overlook the fact that Trainer cruelly casts aside his former lovers when they are no longer fresh and exciting to him. I kept wanting to see the moment when Tess understands that he has moved on to yet another young businesswoman who can be subservient to him. In a perverse way, they deserve one another but the film doesn't seem to be aware of how disgusting they are. 
It's easy to figure out that I didn't respond to the 'love story' that was on display in Working Girl. I don't think of this as a primarily romantic film and I think that it fails as a deconstruction of myths about what it means to be a successful businesswoman. The 1980s produced better romantic comedies than this and we should all be thankful for that. If Mike Nichols had just stayed in his lane, we wouldn't have gotten something that was so lightweight and ineffective.