Movie Review: 'White Noise' is a Hilarious and Erratic Social Satire About Our Fear of Death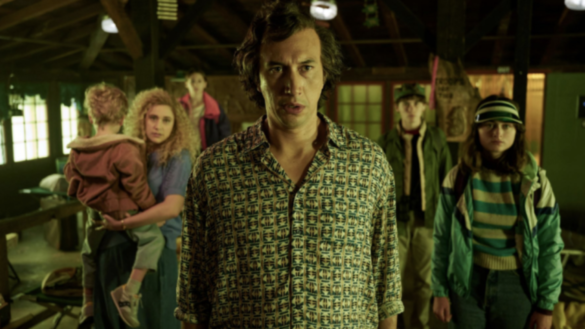 Director: Noah Baumbach
Writer: Noah Baumbach
Stars: Adam Driver, Greta Gerwig, Don Cheadle
Synopsis: A contemporary American family attempts to deal with the mundane conflicts of everyday life while grappling with the universal mysteries of love, death, and the possibility of happiness in an uncertain world.
While there might be occasions where we see Noah Baumbach struggling a bit with the so-called "unfilmable" source material, White Noise ultimately thrives because of its self-aware, genuine heart and keen intellect on contemporary America. It's a film fueled by our fear of death (the essence of nothingness and existential angst) and embalmed in brilliantly executed darkly comedic melancholy.
"All plots tend to move deathward. This is the nature of plots. Political plots, terrorist plots, lovers' plots, narrative plots, and plots that are part of children's games. We edge nearer death every time we plot. It is like a contract that all must sign, the plotters as well as those who are the targets of the plot." These are some of my favorite lines in the world-renowned novel White Noise. Out of all the memorable and impactful texts written by the American novelist Don DeLillo, why was this the one that stood out to me? Well… because it is obviously true. Every narrative (no matter the genre), in some way, shape, or form, tends to move toward the eternal abyss of nothingness, whether it's a story about two young lovers, a man chasing his dreams, or a person who has lost it all. Even if the central death (the end of the narrative's leading character) isn't showcased on-screen, you tend to think about its ending and what may occur in the future of the character(s).
This line brilliantly opens your eyes to the cinematic or artistic reality that every person with a vision and a knack for creativity often tends to deliver their stories with a sense of cessation in the air. And, somehow, that translates back into 'White Noise', whose main narrative gadget is an airborne toxic event – a black noxious cloud caused by a chemical spill from a rail car crash. That's what's occurring in the background; meanwhile, the characters are all experiencing a set of side effects that causes a deep sensation of desolation, melancholia, and depression. What's brilliant about the book is that it fits this particular time we live in, specifically the last two years that have transpired. Because the pandemic had us all reflecting on our own mortality (our fear of death being more apparent than ever before), the safety of our loved ones, and how we would go back to normal after all of this time, people got inspired to write projects that didn't mainly center around the virus but felt perfect for our times.
One of those projects was Charlie Kaufman's I'm Thinking of Ending Things, which related to our constantly blurred state of mind and our contemplation of mortality as we stared into the ever-growing walls and ceilings of our rooms as the days passed each time, feeling as if it grew two sizes. It was morbid and truthfully melancholic, but Kaufman managed to capture what many of us felt during the time. Now, you can add another film to that small list of movies with yet another adaptation of what is considered an "unfilmable" novel: Noah Baumbach's White Noise. This is not unlike any other project Baumbach has delivered in every single one of its aspects – visually, tonally, budget-wise (almost eighty million dollars), and its playfulness in genre trappings. It creates an absurd yet brilliantly effective Molotov cocktail that contains a deadly combination of dark comedy, horror, thriller, disaster movie, and drama tropes. That burning bottle is thrown to the audience and immerses us in the flames of chaotic despair enhanced by the film's erratic behavior.
White Noise centers around a contemporary American family, the Gladneys, as they attempt to face the prosaic conflicts of everyday life while other problems arise – love, death, and uncertainty meet with one another in the form of a black cloud that blurs the sanities of this loving family and the people around them. It begins with a lecture by Murray J. Siskind (Don Cheadle), a professor at The College on the Hill in Ohio obsessed with American icons, most specifically Elvis Presley. However, the lesson isn't about the rock n' roll star but about the "American optimism" found in car crashes. He's enthusiastic about it, often feeling as if he's trying to convince the audience to agree with his sentiments. While he talks about the spectacle of the roaring flames caused by such accidents, the viewer notices that he's emphasizing the aspect of death. That's what draws the students' attention. They seem to agree with what's being told. Meanwhile, J.A.K. (pronounced as Jack) Gladney (Adam Driver), a professor in Hitler studies, is putting his attention on the station wagons – seeing the "fresh off the bus" people walking into campus.
After a hard day's work, he goes home to his wife, Babette (Greta Gerwig), and his four kids (from four different marriages), Denise (Raffey Cassidy), Heinrich (Sam Nivola), Steffie (May Nivola), and Wilder. The first chapter of the film, titled "Waves and Radiation", tells the story, in a satirical fashion, of how contemporary family functions and mocks the academic system in America. The capitalist consumerism and the allure that comes from supermarkets – shopping serves as a coping mechanism to figure out the strange world around them. Its beginning is all about displacement, mostly the disillusion and disconnection that characters have with one another, and the supermarket scenes help express that lack of association. Along with television, drugs, and news tabloids (icons of postmodern lifestyles), supermarkets serve as a way to help their inner worries – as an escapist gateway where everybody interacts without concern. It keeps them from losing their sense of control in a world constantly feeding fears and chaos into their minds.
Each time they visit a supermarket, they feel complete; the bigger the number of purchases, the more fulfilled they feel. The commodities drive their world, and avarice devours their mentalities surely, but slowly. When the second chapter arrives, "The Airborne Toxic Event", that's where we begin to see J.A.K. confronting his biggest fear: death. The chemical cloud flies through the skies, chasing the Gladney clan everywhere they go. And it haunts all of them, not only J.A.K.; they are pretty worried, even questioning how scared they should be regarding what's happening. This is the key to the film; this is where everything starts to unravel – dread is added to the already darkly melancholic atmosphere. As The Gladneys experience different dilemmas to survive all this chaos, J.A.K. and Babette are struggling with getting a hold of themselves; because of this situation, death is swallowing their souls. A loss hasn't happened, but just the fact that this toxic event might kill them, even if there is no proof, is causing them to panic severely.
The beauty of these hilarious yet saddening moments is presented not only because of the sharp script by Baumbach but the performances. Driver submerges himself into J.A.K.'s persona, delivering monologues about fame, death, and motherhood with ease. Meanwhile, Gerwig does what she does best, embrace the awkward to the point of brilliance. There might be a purposefully imbalance of tones in White Noise, but Gerwig and Driver manage to get a hold of everything DeLillo's source material throws at them. Then there's Don Cheadle, who does not have enough screen time and does a fantastic job giving Murray life on the big screen. His line delivery is acute and precise, matching the tone of the script perfectly. However, one of the essential factors in White Noise that some people might miss out on is the various sounds – the overlapping chatter and conversations, the background noises, static of the television, amongst others. Baumbach throws the idea that the racket and cacophony of the ongoing chaos in their daily situations distract them from embracing the harsh facts of reality.
They feel they can "cheat" death (and their fear of it) as long as there's noise constantly buzzing in their ears. The white noise of its title refers to those same elements of distraction and disallowance to abide. There's an ongoing intersection between death and sound (life), where they can even be confined in an eerie chime. And it is true; many of us use sound or even play something in the background to try and fall asleep. It's brilliant that decades later, DeLillo's work can still apply to today's society, with little differences. The mechanisms of our existence have changed but in a more technological route. Yet, at its core, everything remains the same. While I don't think it surpasses the emotional effectiveness of his previous feature, Marriage Story, Noah Baumbach's White Noise truly serves its purpose, causing chills down your spine as you contemplate your own mortality and laugh at the pain of your insecurities and doubts toward the great beyond.
That's why I genuinely love this movie; it moves the viewer because we all have had those days where, out of the blue, existential panic kicks in, and your mind blurs for a quick minute until you relax. And at the same time, one remains at ease because of its hilarious dialogue. This duality between hysterics and pang generates images in your mind that stay with you for an extended period of time. In the end, it is satirical and effervescently funny, poking fun at contemporary America for its banality, the resonance of capitalist consumerism, and the obsession (and the conduct that arrives) with impending doom. Nevertheless, there are moments of honesty where you feel that the cast and crew's own fear of death power their respective work – Baumbach's script, Adam Driver and Greta Gerwig's performances, the score by Danny Elfman, etc. It's an apocalyptic film that doesn't revolve around the cataclysmic event that transpired but around how humanity copes (or at least tries to) with the fear of extinction, both as individuals and as a family.
White Noise is a weird experience that's worth watching at the cinema to undergo its purposefully erratic and hilarious behavior, ending with an original dance sequence that involves LCD Soundsystem's new track, "New Body Rhumba", which serves as a "coming to terms with death" anthem (and it's a smashing record to be completely honest). Although the dance-punk record might have a The B-52's vibe and lively sensation, the song contemplates the film's themes. Its first lyrics are "climbing the down escalator to the frigid bardo", giving the listener (and viewer) their first hints that this is indeed an anthem about the liminal state between death and the great beyond. And the outro refers to the light at the end of the tunnel, where people tell the dying not to reach it because they don't want them to go away. This reminds me of the bickering between Jack and Babette, where they talk about wanting to die before their partner because it would break their heart entirely – a conversation ending with "let's just live forever".
Through energetic guitars, clapping percussions, and funky synths all intertwined for seven minutes long, the track captures the slow road of embracing death while the cast of the film dance as if nobody was watching in the colorful supermarket aisles. This perfect conclusion complements what was presented beforehand and adds a level of cinematic magnetism. The more I have thought about and analyzed White Noise, the more I have found myself enjoying it. White Noise is one of those films where your conversations with other people about its dark topics can heighten your opinions towards it. I spent all night thinking about it and concluded that I loved it for all of these specified reasons; how it makes us contemplate life and laugh through the morbid makes up for a unique experience. This is by far Noah Baumbach's most creative and distinctive, coincidentally being the one that has made me ponder the most. There might be occasions where you see Bambach struggling with the hefty source material, but, in conclusion, he delivers a worthy adaptation filled with empathy and dismay, both in captivating equal measures.
Grade – A